Former President Donald Trump took a swipe at Senate Minority Leader Mitch McConnell (R-Ky.) after the senator suggested Trump would be "unlikely" to secure the Republican nomination in 2024 because he met with controversial commentator Nick Fuentes, sparking a torrent of negative media coverage.
"Mitch is a loser for our nation and for the Republican Party who would not have been reelected in Kentucky without my endorsement, which he begged me for because he was going down," Trump told Fox News in a Nov. 29 interview, after being asked to comment on McConnell's remarks.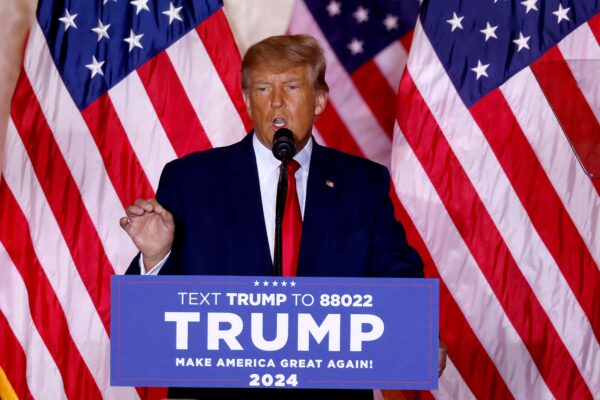 A spokesperson for McConnell did not immediately return a request for comment from The Epoch Times.
While McConnell didn't name Trump in comments during Tuesday's press conference on Capitol Hill, he opened his presser with a reference to the media fallout from the former president's recent meeting with Fuentes and others.
"There is no room in the Republican Party for anti-Semitism or white supremacy, and anyone meeting with people advocating that point of view, in my judgement, [is] highly unlikely to ever be elected president of the United States," McConnell said at the top of the presser.
The Republican senator later added that this "would apply to all of the leaders in the party who will be seeking offices."
Fuentes has been described by the Department of Justice (pdf), some news outlets, and the Anti-Defamation League as a "white supremacist."
Fuentes has denied the characterization, saying in a statement obtained by the Washington Examiner that "I reject all labels other than Christian American."

McConnell, who previously said he would "absolutely" support Trump, was on Tuesday asked by reporters pointedly whether he'd back Trump if he were to win the Republican nomination in 2024.
"There is simply no room in the Republican Party for anti-Semitism or white supremacy," McConnell said in a circumspect response that was another likely reference to the chorus of critical media coverage that followed from Trump's dinner with Fuentes and others at Mar-a-Lago.
Trump said he didn't know who Fuentes was when he met with him, Kanye West, and others.
He also told Fox News in the Tuesday interview that he had "no idea" what Fuentes's views were and that those views "weren't expressed at the table in our very quick dinner, or it wouldn't have been accepted."
Another prominent Republican, House GOP Leader Kevin McCarthy (R-Calif.), weighed in on the matter when asked by reporters to comment.
"I don't think anybody should be spending any time with Nick Fuentes," McCarthy said after a meeting at the White House with President Joe Biden. "He has no place in this Republican Party."
It comes weeks after Trump formally announced his bid for the White House in 2024.