WASHINGTON—President Donald Trump said on Tuesday that the United States is "totally prepared" for a military option against North Korea if needed, but that it's not the preferred option.
"If we take that option, it will be devastating, I can tell you that. Devastating for North Korea," Trump told reporters in the Rose Garden at the White House during a joint press briefing with Spanish Prime Minister Mariano Rajoy.
North Korean Foreign Minister Ri Yong Ho said on Monday that statements made by Trump had amounted to a declaration of war. White House Press Secretary Sarah Sanders dismissed the North's suggestion as "absurd," saying "we've not declared war on North Korea."
Trump said North Korean dictator Kim Jong Un was acting "very badly."
"He's saying things that should never, ever be said. And we're replying to those things," Trump said.
"North Korean nuclear weapons and missile development threaten the entire world with unthinkable loss of life. All nations must act now to ensure the regime's complete denuclearization," Trump said, adding that the North Korean problem should have already been handled years ago by previous U.S. administrations.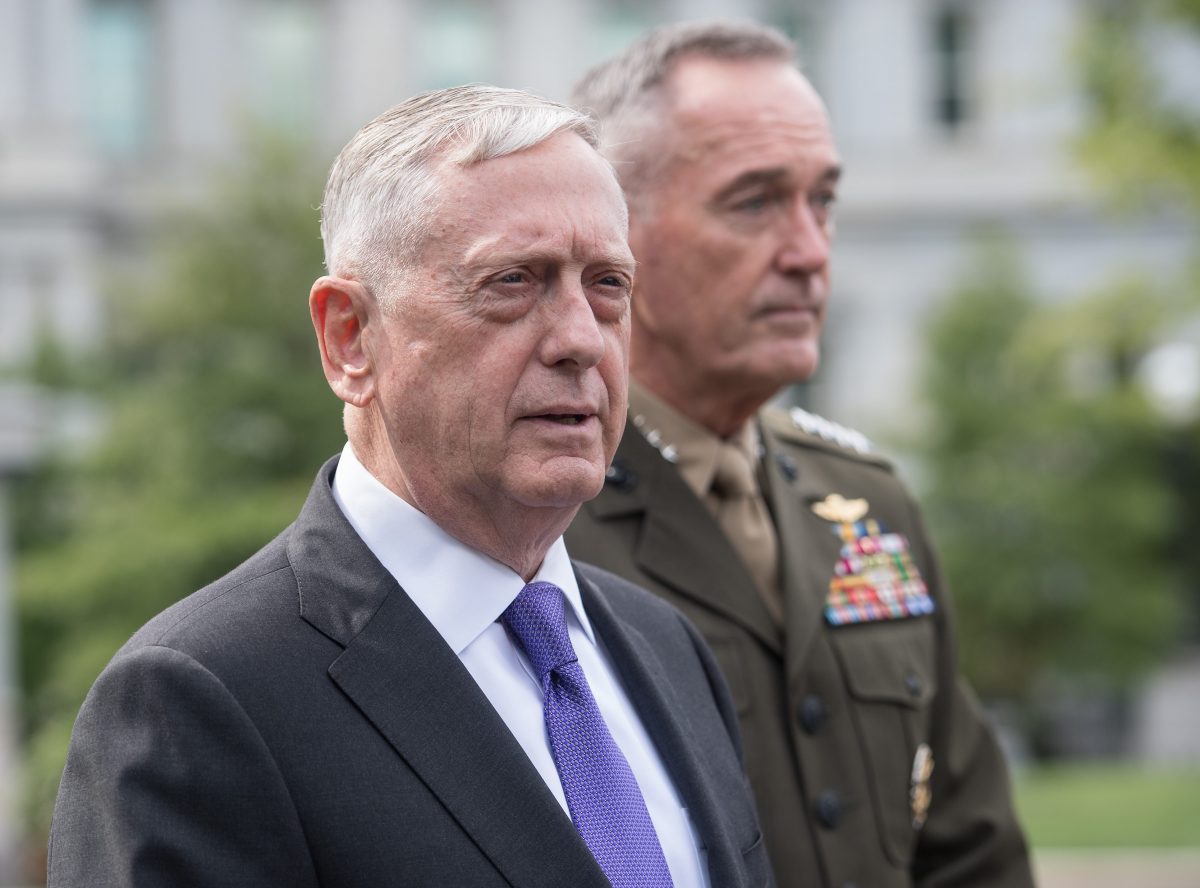 "It is time for all responsible nations to join forces to isolate the North Korean menace," Trump said while thanking the Spanish Prime Minister for his support to "isolate the brutal North Korean regime."
A real declaration of war by the United States against North Korea would not have gone unnoticed.
Defense Secretary James Mattis said earlier this month that the United States has options for the "total annihilation" of North Korea. Trump made a similar statement in his speech at the United Nations General Assembly last week, saying that while the United States has great patience and strength, it could totally destroy North Korea if it has to defend itself or its allies.
Mattis said that the president had been briefed on all military options.
Part of the challenge of a military response for the United States and its allies is that North Korea has an estimated 14,000 pieces of artillery—many of which are located in mountain bunkers on its border with South Korea. Its capital, Seoul, is well in within firing range.

On Monday, North Korea threatened to shoot down U.S. bombers flying in international airspace. Foreign Minister Ri also said that the communist country had almost completed the development of a nuclear arsenal, saying that it can now add a miniaturized nuclear warhead into an Intercontinental Ballistic Missile (ICBM).
Earlier this month, North Korea conducted an underground test of a nuclear bomb, which resulted in new sanctions on the country by the U.N. Security Council. Under the resolution, all gas sales are banned, and refined and crude oil sales are only permitted in limited quantities.
"I have recently issued tough new sanctions against those who do business with this outlaw regime," Trump said on Sept. 26.
The Treasury Department announced additional sanctions the same day on eight North Korean banks and 26 individuals linked to North Korean financial networks.
Trump praised Chinese leader Xi Jinping after China's central bank instructed other Chinese banks to stop financing North Korea.
"I applaud China's latest action, to restrict it's trade with North Korea. In particular, I applaud China for breaking off all banking relationships with North Korea—something that people would have thought unthinkable even two months ago. I want to thank President Xi," Trump said.
North Korea Targeting Bombers
South Korean lawmaker Lee Cheol-woo, briefed by the country's spy agency, said North Korea was bolstering its defenses by moving aircraft to its east coast and taking other measures after the flight of the U.S. bombers. Lee said the United States appeared to have disclosed the flight route of the bombers intentionally, because North Korea seemed to be unaware.
U.S. Air Force B-1B Lancer bombers, escorted by fighter jets, flew east of North Korea in a show of force on Saturday, Sept. 23.
During a visit to India, U.S. Defense Secretary Jim Mattis said diplomatic efforts are continuing.
"You have seen unanimous United Nations Security Council resolutions passed that have increased the pressure—economic pressure and diplomatic pressure—on the North, and at the same time, we maintain the capability to deter North Korea's most dangerous threats," he told reporters in the Indian capital.
With reporting by Charlotte Cuthbertson