ROCHESTER, Minn.—Thousands lined up outside the Mayo Civic Center on Oct. 4 waiting expectantly for President Donald Trump to speak. Meanwhile, in Washington, key Republicans signaled support to confirm Supreme Court nominee Brett Kavanaugh.
The rally marks the third such campaign event for Trump just this week as he stumped for a number of GOP candidates in the "land of 10,000 lakes." Jim Newberger and Karin Housley are running for the Senate, while Jim Hagedorn and Rep. Jason Lewis are each eying a seat in the House.
Last week, Trump ordered the FBI to conduct a supplementary investigation into the allegations of sexual misconduct against Kavanagh—that report was completed on Oct. 3. Two key Republican senators Sen. Susan Collins (R-Maine) and Sen Jeff Flake (R-Ariz.) have since said they were satisfied with the report's thoroughness.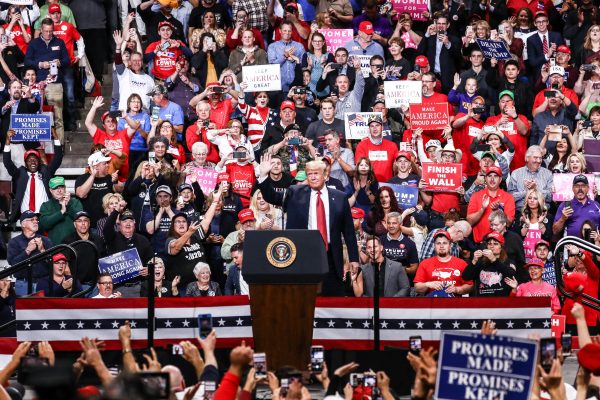 Before the rally, Trump denounced the delays in the confirmation process and cast the blame onto Democrats.
"This is now the 7th time the FBI has investigated Judge Kavanaugh," he wrote on Twitter. "If we made it 100, it would still not be good enough for the Obstructionist Democrats."
A procedural vote is likely to take place on Oct. 5. If it passes, the Senate is expected to vote to confirm Kavanaugh as soon as Oct. 6.
Trump touched on his usual rally points such as the booming economy and the "fake news" media as he repeatedly warned his base not to allow Democrats to gain control of Congress in the upcoming midterms.
"On Tuesday, November 6, I need your vote. I need your support to stop radical Democrats and to elect proud Minnesota Republicans," he said. "If Democrats take over congress the stock market will plummet.
"Our political system will grind to messy halt—as you see what's happening now."
In the 2016 presidential race, Trump lost Minnesota by around 44,000 votes to Hillary Clinton. But he said that's about to change this November.
"This is supposed to be a Democrat state, I don't think so. They have a very big surprise coming for them," Trump said in his opening remarks.
Trump told the crowd that Americans are going to "reject the Democrat politics of anger and destruction," as he voiced his support for Karin Housley, who is running against Sen. Tina Smith (D-Minn.), who is filling the seat vacated by Al Franken.

"Tina Smith is voting against Judge Kavanaugh, can you believe that one?" Trump said as he called for Smith to be voted out. "Vote for Karin!"
"You really do go off script don't you?" Housley told the crowd as she was invited on stage by Trump to say a few words.
The president also invited up two Republican House candidates to speak: incumbent Rep. Jason Lewis (R-Minn.) who is being challenged by Democrat Angie Craig, and Jim Hagedorn who will face incumbent Dan Feehan (D-Minn.).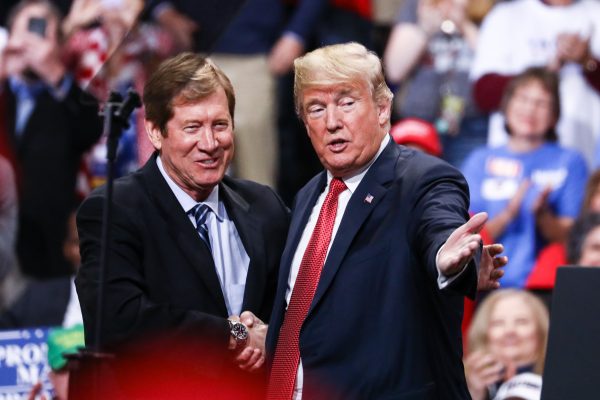 Lewis in his closing remarks assured Trump of his state's support of Kavanaugh.
"One more thing Mr. President, Minnesota loves your judicial appointments. Minnesota loves your appointments to the lower courts…they also love your appointment to the Supreme Court including Judge Kavanaugh," he said.
Meanwhile, Hagedorn derided the Democrat party and its candidates for supporting socialized health care, gun control, and sanctuary cities.
"They want to take us to Obama and then some," he said.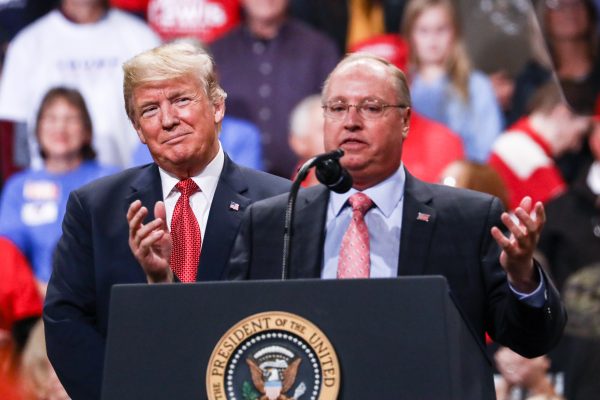 Trump said Lewis and Hagedorn are "running against extreme Democrats."
The GOP holds a slim majority in both the Senate and the House.
"The Democrats want to cripple law enforcement, they want to get rid of ICE. The Democrats embrace socialism," he said. "People see what's happening and they don't like it."
Many in the audience held up signs that said, "Finish the Wall" and other similar phrases of support. Trump assured the crowd that the border wall was getting built, but added that "it's not easy."
"We're getting the wall but its so difficult to get the money for the wall," he said, again citing Democrat obstruction.
Trump is holding his next rallies in Lawrence, Kansas, on Oct. 6 and then Council Bluffs, Iowa, on Oct. 9.