President Donald Trump compared his proposed wall along the U.S.-Mexico border to the barrier around former President Barack Obama's home in Washington D.C.
"President and Mrs. Obama built/has a ten foot Wall around their D.C. mansion/compound," Trump tweeted on the afternoon of Dec. 30.
He added: "I agree, totally necessary for their safety and security. The U.S. needs the same thing, slightly larger version!"
While it appears that a section of the home has fencing, fortified with brick pillars, it does not appear to be a solid wall. The Epoch Times tried to independently verify the nature of the structure surrounding the home but was unable to do so, as the street on which the Obamas live is continuously blocked off by Secret Service agents. The home cannot be seen from the vantage point of either of the checkpoints.
President and Mrs. Obama built/has a ten foot Wall around their D.C. mansion/compound. I agree, totally necessary for their safety and security. The U.S. needs the same thing, slightly larger version!

— Donald J. Trump (@realDonaldTrump) December 30, 2018
The Obamas bought their Kalorama mansion in 2017 for $8 million, reported NBC News. In 2017, entertainment news website TMZ posted photos that showed the construction of a structure around Obama's house, saying: "The Obamas needed the property outfitted for the Secret Service and … it needed more fortification."
A photo published in Town and Country magazine showed what appears to be a metal gate along with brick columns. Guard booths were also added, according to NBC.
The 8,200-square-foot mansion—which was built in 1928—has nine bedrooms and eight and a half bathrooms. It was sold in May 2014 for $5,295,000, Politico reported at the time. It also has a two-car garage and a parking lot for as many as 10 vehicles.
Obama told CNN in 2016 that his family will remain in Washington for several years so his youngest daughter, Sasha, can complete high school there. "We're going to have to stay a couple of years in D.C. probably so Sasha can finish," he said in March 2016.
Pressure to Fund Wall
Trump on Dec. 31 reiterated that border wall funding is a necessity for the United States' security, amid the partial government shutdown.
"An all concrete Wall was NEVER ABANDONED, as has been reported by the media. Some areas will be all concrete but the experts at Border Patrol prefer a Wall that is see through (thereby making it possible to see what is happening on both sides). Makes sense to me!" he wrote on Twitter.
Obama's bought DC home in 2017, they made renovations, including a 10' rod iron wall with gate. Walls are a deterrent, to keep people out that aren't invited! US border wall would do the same! To travel anywhere in the world we have to show a passport! pic.twitter.com/zEtlpeLU79

— Susan Skinner (@SusanSk92312453) December 31, 2018
Later, he added: "I campaigned on Border Security, which you cannot have without a strong and powerful Wall. Our Southern Border has long been an 'Open Wound,' where drugs, criminals (including human traffickers) and illegals would pour into our Country. Dems should get back here an fix now."
Wall for John Kerry?
Meanwhile, there were reports this week that Secretary of State John Kerry has demanded to install a wall around his French property, claiming that people shouldn't have access to a public beach nearby. French law says that the country's coastlines should remain open to everyone.
Kerry's biography said that his American parents met at the Saint-Briac-sur-Mer estate before World War II.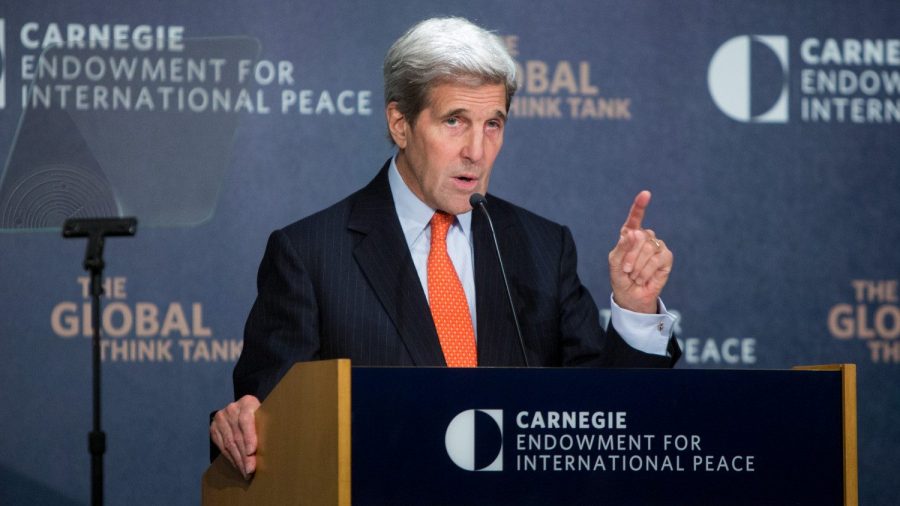 "The path will impact the well-being of residents by knocking down their walls and ruining their privacy," Brice Lalonde, the first cousin of Kerry, told the AFP news agency a statement. He added that if the path is opened, it poses "terrorist risks" because it will then "be fairly easy to target members of my family who are politically active."
But a regional hiking association leader insisted that French "laws must be followed… and anybody who doesn't follow them is a thug."
"All the communities along the coast of the Ille-et-Vilaine department have adopted the law, except Saint-Briac," Patrice Petitjean, a former prosecutor who now heads the regional ACR 35, told AFP.
Correction: This article has been updated to reflect that the structure surrounding the home of the Obama family is a fence, rather than a wall.