President Donald Trump said his utterance of the phrase "looting leads to shooting" was meant in reference to people getting shot during riots this week.
"Looting leads to shooting, and that's why a man was shot and killed in Minneapolis on Wednesday night – or look at what just happened in Louisville with 7 people shot," Trump said on Twitter Friday.
"I don't want this to happen, and that's what the expression put out last night means."
Trump said the phrase was meant as "a fact, not as a statement," adding: "It's very simple, nobody should have any problem with this other than the haters, and those looking to cause trouble on social media. Honor the memory of George Floyd!"
Floyd, an unarmed black man, died after a police officer in Minnesota's largest city knelt on his neck Monday. That officer was fired. He was charged with murder on Friday.
Twitter took the unprecedented step of hiding Trump's Thursday night missive containing the "looting leads to shooting" phrase. Users could click "view" to see the tweet, but they were warned the missive violated company rules about "glorifying violence."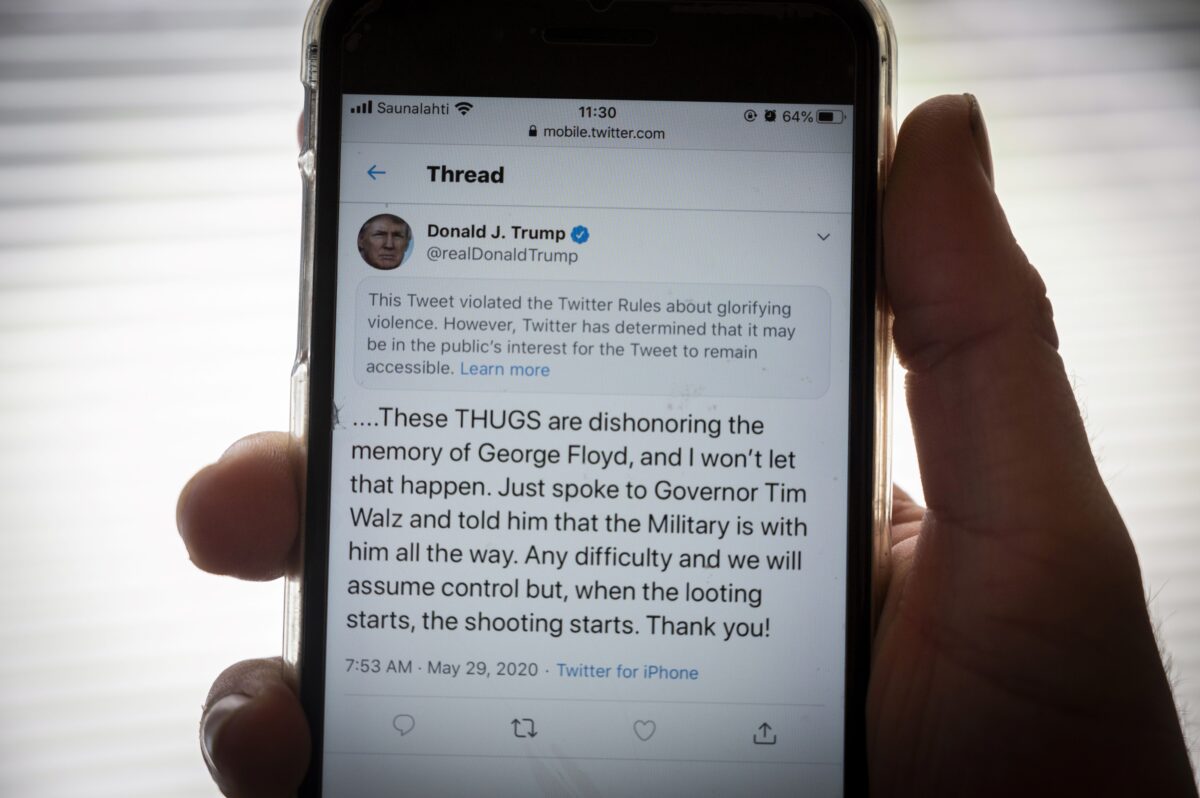 In that post, Trump described people rioting in Minneapolis as thugs and said they were dishonoring Floyd's memory.
According to an archived news article, Miami Police Chief Walter Headley used the "looting leads to shooting" phrase in 1967 while cracking down what he described as black hoodlums. Headley's actions were reminiscent of Birmingham's Eugene "Bull" Connor, UPI reported. Democratic presidential candidate George Wallace, who campaigned for segregation, was also reported to have used the phrase during the 1968 campaign.
Twitter's war with Trump sparked his signing this week of an executive order aimed at revoking the special privileges and protections social media platforms enjoy for allegedly not being publishers.
It's not clear what sparked Twitter's foray into adjudicating phrases uttered by the commander-in-chief. Dozens of outlandish statements by leaders from oppressive regimes in Iran and China, by contrast, remained unchecked, as did all statements made by Trump's presumed rival for the presidency, former Vice President Joe Biden. News outlets like CNN and Democratic lawmakers have pushed for months for Twitter to remove some of Trump's tweets, with some even arguing the president should be banned from the platform.
Trump earlier Friday said Twitter "is doing nothing about all of the lies & propaganda being put out by China or the Radical Left Democrat Party."
The new executive order, he said, is aimed at regulating Section 230 of the Communications Decency Act, which has largely exempted online platforms from liability for content posted by their users. He also called on Congress to revoke the special status bestowed by the section.