China Tariffs
During the presidential campaign, President Donald Trump vowed to bring down the United States' trade deficit with China—which reached an estimated $375 billion last year.
The annual cost of intellectual property (IP) theft to the U.S. economy could be as high as $600 billion, according to the IP Commission. And China is the world's top IP infringer, responsible for between 50 percent and 80 percent of all IP theft costs.
In late March, the results of an inquiry by the Office of the U.S. Trade Representative into China's IP theft, ordered by Trump in August last year, were unveiled. It said that following the Chinese regime's "Made in China 2025" plan, aimed at achieving global dominance in technology, the regime had been acquiring American tech innovations through two main strategies: giving Chinese firms financial support for acquiring U.S. tech firms, and forcing U.S. tech joint ventures in China to transfer their tech know-how to their Chinese counterparts, in exchange for market access.
Trump slapped $50 billion worth of tariffs on Chinese high-tech goods as a punitive measure against China—though the administration made sure to exclude some of the most popular consumer goods produced in China that Americans enjoy, such as iPhones and Dell computers.
China retaliated with tariffs on U.S. soybeans, airplanes, cars, and other major imports. Just days prior, the Chinese regime had announced tariffs on U.S. pork, wine, and other agricultural products in response to U.S. duties on imported aluminum and steel—which included other countries in addition to China. The trade fight tit-for-tat seemed poised to escalate.
But on April 10, U.S. pressure for a fairer trade relationship seemed to have broken through. In a speech to the Bo'ao economic forum, Chinese leader Xi Jinping promised to cut the country's tariff rates, increase its imports, open up its markets, and do more to enforce IP laws—all actions Trump had advocated for in the past.
Though most media and U.S. business circles were worried that trade tariffs would invite Chinese retaliation and result in disastrous impacts on American businesses, it appears Trump's tactics are actually nudging China into playing fairer.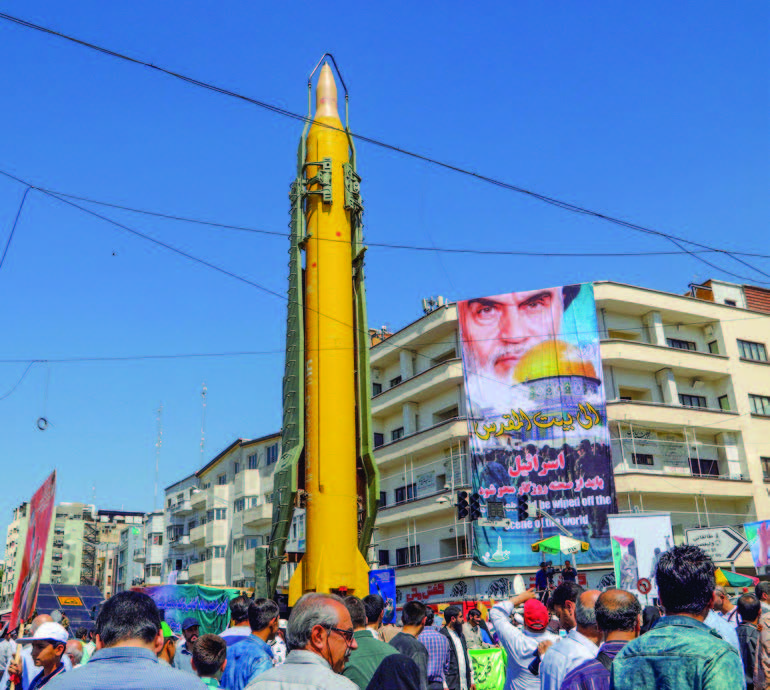 Iran Nuclear Threat
In January this year, Trump extended for the last time a waiver certifying Iran's compliance with the 2015 nuclear agreement, officially known as the Joint Comprehensive Plan of Action.
The three-month extension expires on May 12.
Trump has demanded that Iran agree to key changes that would address weaknesses in the existing agreement, or else the United States will pull out altogether and aim to renegotiate a new deal.
At the heart of the requested changes by the Trump administration is an end to the so-called sunset clauses, which would allow Iran to develop a nuclear weapon by 2026 as key provisions in the agreement ended. At that time, Iran would be allowed to install thousands of advanced uranium centrifuges, which experts say would allow the Islamic regime in Tehran to develop a nuclear weapon within six months.
The Trump administration has also demanded that Iran's ballistic missile program be included in the nuclear deal. Under the agreement negotiated by then-President Barack Obama in 2015, Iran's missile program is covered by a separate U.N. resolution, not the agreement. This means that Iran's moves to develop advanced ballistic missiles capable of delivering a warhead to, for example, Israel, have no effect on whether Iran is in compliance with the terms of the nuclear deal.
Including the ballistic missile program in the nuclear deal would ensure that Iran can't develop advanced missiles without repercussions.
According to U.S. Ambassador to the U.N. Nikki Haley, Iran has used the money freed by the lifting of sanctions under the 2015 nuclear agreement to significantly advance its missile program.
Earlier this month, Trump replaced national security adviser H.R. McMaster with former U.S. Ambassador to the U.N. John Bolton.
Bolton has been a long-time critic of the Iran nuclear deal and has long spoken in favor of taking a stronger stance against the Islamic regime.
One obstacle to countering Iran is the presence of Iranian-backed Hezbollah terrorists in Latin America. The Hezbollah terror group is known to have a significant presence in Latin America, especially Peru, as well as drug trafficking routes into the United States. These same routes could be used to send terrorists into the United States in the event of escalating tensions.
Ahead of the May deadline, Iran has taken an increasingly hard-line stance. Ali Akbar Salehi, leader of Iran's Atomic Energy Organization, reportedly threatened in Iranian media earlier this month that Iran could resume its nuclear enrichment program within days.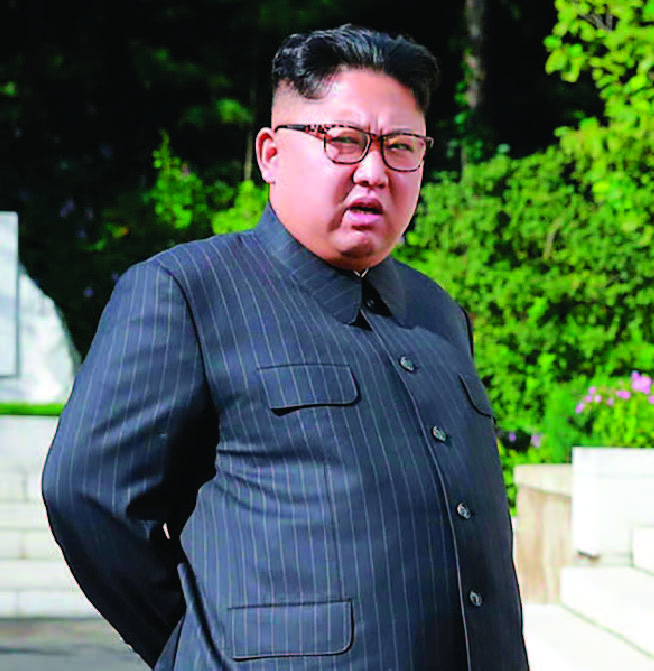 North Korea
After nearly a year of diplomatic pressure, combined with a credible threat of military action from the United States, North Korean regime leader Kim Jong Un announced in March that he is willing to meet with Trump and abandon his nuclear weapons program.
A meeting between Trump and Kim is being scheduled for sometime in May or early June.
CIA Director Mike Pompeo already met with Kim ahead of the meeting.
During Pompeo's Senate confirmation hearing to become secretary of state, he said that in past negotiations the United States and other countries had relaxed sanctions too quickly.
"It is the intention of the president and the administration not to do that this time to make sure that … before we provide rewards, we get the outcome permanently, irreversibly, that it is that we hope to achieve," Pompeo said.
"It is a tall order, but I am hopeful that President Trump can achieve that through sound diplomacy."
Trump made North Korea a key focus during his first year in office, pressuring North Korea's biggest trading and political partner, China, to impose strict sanctions on the North.
The United States also increased its military presence in the region and provided key allies South Korea and Japan with advanced THAAD missile defense weapons. The United States also deployed F-35 fighter jets to Japan.
During a visit to South Korea in November last year, Trump warned the Kim regime: "Do not underestimate us and do not try us. We will defend our common security, our shared prosperity, and our sacred liberty."
"North Korea is not the paradise your grandfather envisioned," said Trump. "It is a hell that no person deserves. Yet, despite every crime you have committed against God and man, we will offer a path to a much better future."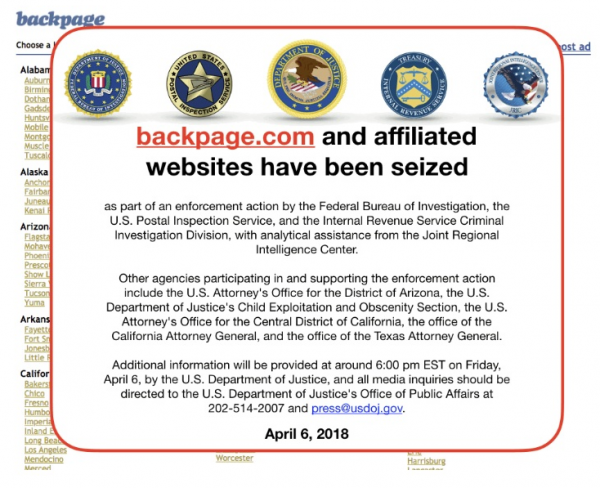 Sex Trafficking
Fighting widespread sex trafficking is a key focus of the Trump administration.
An estimated 4.8 million people worldwide are currently forced into sexual exploitation. More than 1 million of those are children, according to the International Labor Organization.
The United States is a source, transit, and destination country for men, women, and children—both U.S. citizens and foreign nationals—who are victims of sex trafficking.
The Department of Homeland Security opened more than 800 human trafficking cases in 2017 alone. More than 1,600 people have been arrested and nearly 600 convicted in connection with the cases.
The National Human Trafficking hotline has received 22,191 reports of sex trafficking cases in the United States since 2007.
According to the National Center for Missing and Exploited Children, 1 in 7 runaway children is likely the victim of sex trafficking.
On April 11, Trump signed the Allow States and Victims to Fight Online Sex Trafficking Act of 2017, which provides victims and law enforcement with new tools to fight sex trafficking.
"Human trafficking is a modern form of the oldest and most barbaric type of exploitation. It has no place in our world," Trump said.
The act also makes it a federal crime to operate a website with the intent to promote or facilitate prostitution.
House Majority Leader Kevin McCarthy (R-Calif.) wrote in a statement: "Today, President Trump signed into law the most significant anti-human trafficking legislation in years. This new law will provide families and law enforcement the tools they need to shut down online marketplaces for trafficking and hold its enablers accountable."
On April 6, authorities seized the website Backpage.com, a massive ad marketplace that is primarily used to sell sex.
Sen. Heidi Heitkamp (D-N.D.) praised the move in a tweet: "It's a huge step. Now, no child will be sold for sex through this website."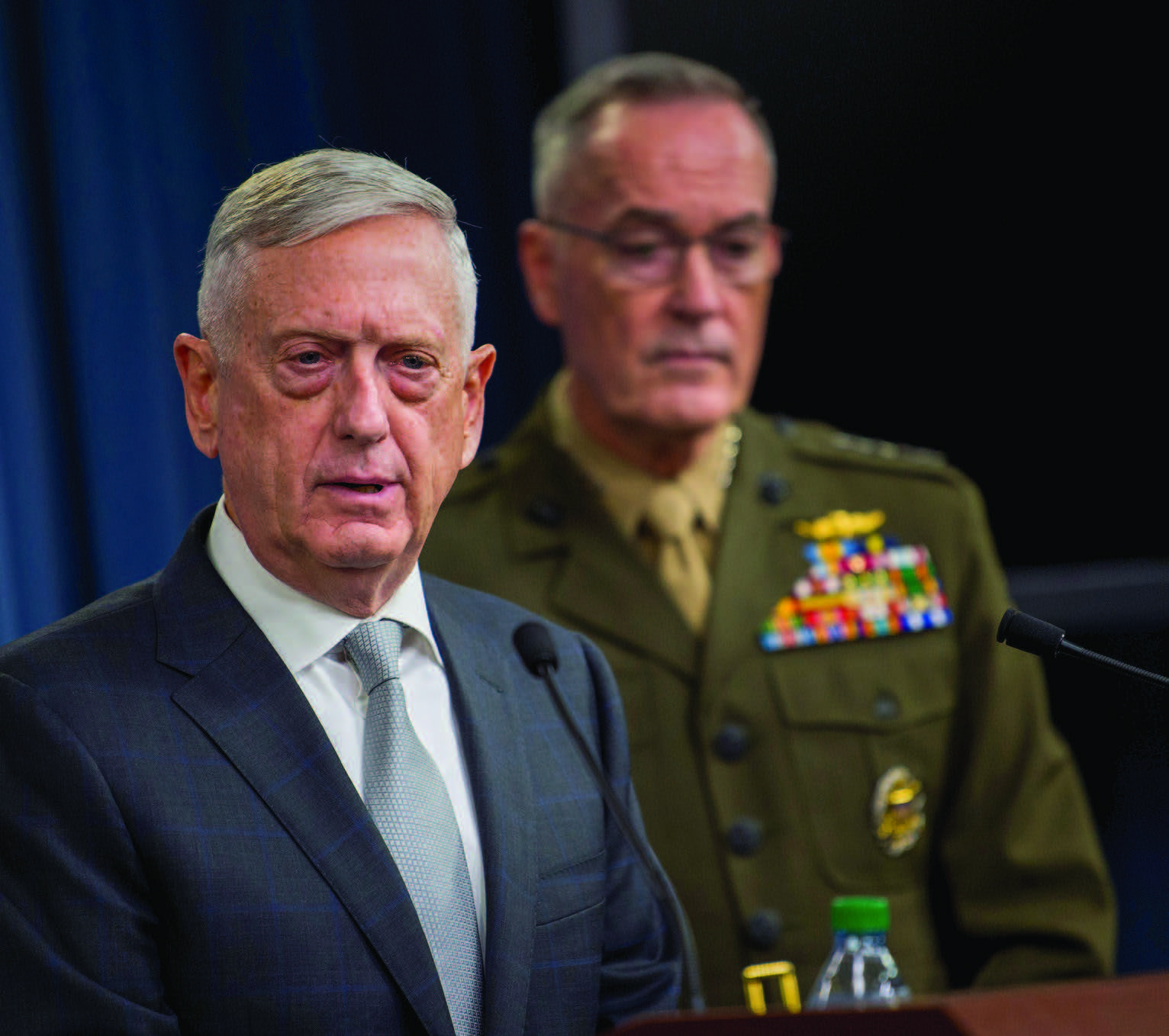 Syria Tensions
In response to a chemical attack by Syrian forces that resulted in at least a dozen deaths and hundreds of injuries, the United States launched a missile strike against Syrian chemical weapons infrastructure.
White House press secretary Sarah Sanders said the attack "sent a strong message to Syria, [to] Russia, to Iran."
The incidents come on the heels of already worsening relations with Russia, a key ally of Syrian President Bashar al-Assad.
"Our relationship with Russia is worse now than it has ever been, and that includes the Cold War. There is no reason for this," Trump wrote in an April 11 tweet. "Russia needs us to help with their economy, something that would be very easy to do, and we need all nations to work together."
Last month, the United States expelled dozens of Russian intelligence officers, in a coordinated response with European allies to the poisoning of a former Russian spy in the United Kingdom. On April 6, the U.S. Treasury Department sanctioned several of Russia's top billionaires and government officials. The Russian stock market crashed as a result.
Trump said much of the worsening of relations with Russia can be attributed to the Russia collusion narrative.
The narrative that Trump colluded with Russia to win the 2016 presidential election became the main line of attack against Trump following his election, despite that an investigation by Director of National Intelligence James Clapper, ordered by then-President Barack Obama, found no evidence of collusion.
Similarly, a yearlong House intelligence committee investigation, concluded last month, found no evidence of collusion.
According to the Media Research Center, the investigations into Russian collusion were the most covered Trump-related topic on the evening news on major networks in 2017.
The worsening relations with Russia have made it more difficult for the United States to use a range of diplomatic options to deal with the situation in Syria.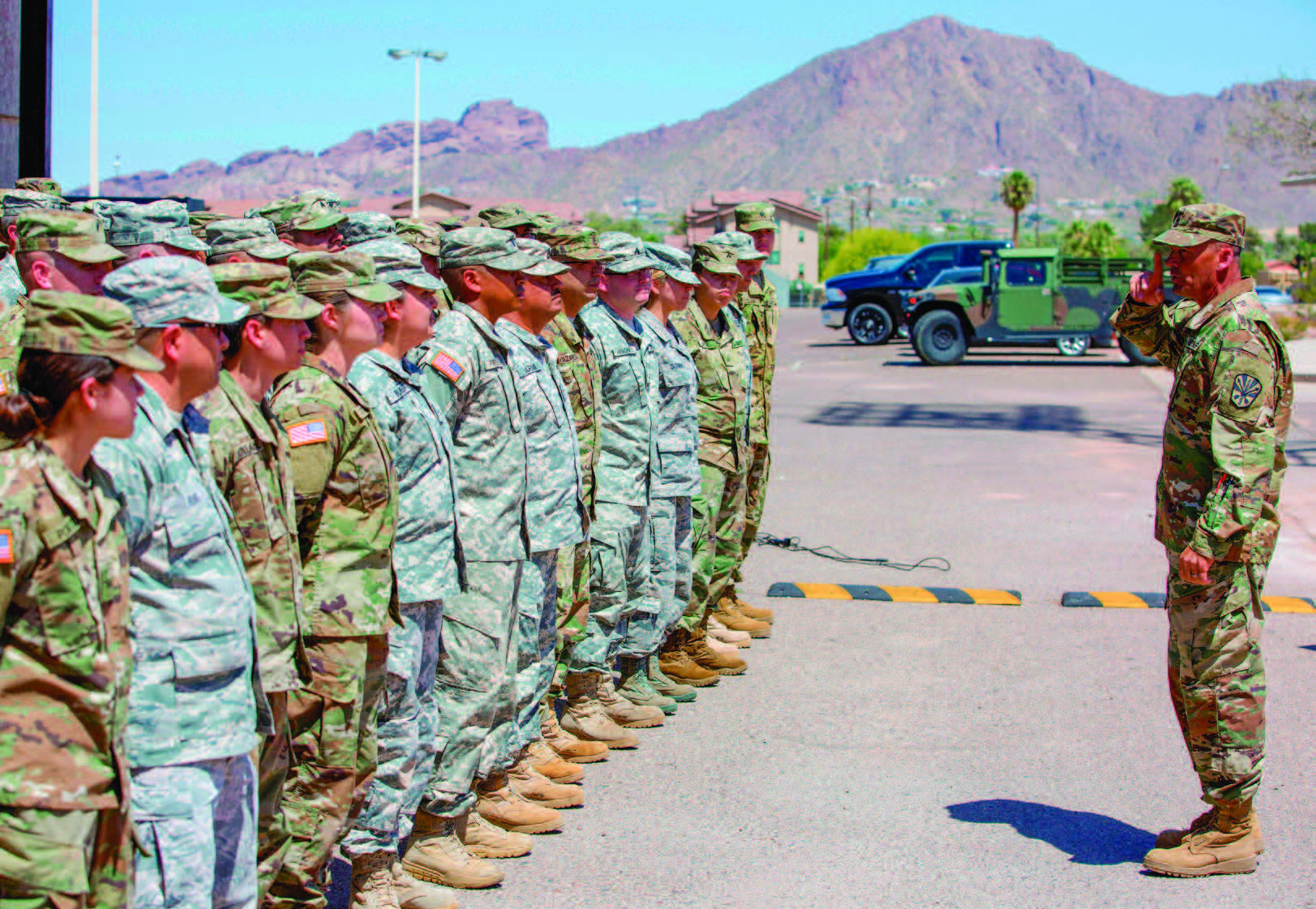 Border Security
Border security issues have been welling up for years, with previous administrations taking a lax stance on enforcing laws against illegal immigration. Trump built his election campaign on strong border control and has been attempting to follow through on his promises—the biggest being to build a wall along the 2,000-mile southern border with Mexico.
Started in February, a new 30-foot-high, bollard-style wall is going up in Calexico, California. The new wall will replace 2.25 miles of structure built in the 1990s out of recycled scraps of metal and old landing mat.
In April, construction also started on a 20-mile project in Santa Teresa, New Mexico, where a three-foot vehicle barrier and a taller mesh fence are being replaced with 18- to 30-foot walls.
After a dramatic five-month decline in illegal border crossings after Trump took office, the numbers have steadily increased to higher than they were three years ago.
Congress has failed to pass any substantial immigration reforms thus far, prompting Trump to look to the military to bolster border security. National Guard troops started deploying to the southwest border in early April, and the Department of Defense has provision for 4,000 troops to assist Border Patrol.
Trump has also cracked down on violent transnational gangs—especially MS-13, which uses asylum and the unaccompanied minor program to recruit from Central America.
Loopholes in the asylum system and the practice of "catch and release" are both being targeted as priorities to fix.
The immigration court system is groaning under a backlog of more than 640,000 cases. The attorney general has sent more judges to the border to facilitate quicker adjudications, and has asked all immigration judges to make decisions without as many delays.
Trump also sees robust border security as critical for stemming the opioid crisis.