Trump Calls Supreme Court Ruling on Travel Ban a 'Clear Victory'
June 26, 2017 Last Updated: June 26, 2017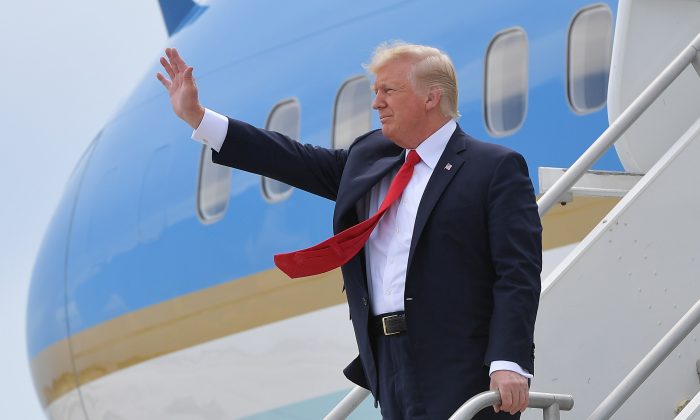 President Donal Trump called today's decision by the Supreme Court to uphold most parts of his travel ban "a clear victory for our national security."
The Supreme Court allowed the U.S. government to enforce most parts of the order, but exempted people named in the court case and those who have a good-faith relationship with the United States. Examples of a good-faith relationship could include relatives of U.S. citizens and foreign exchange students.
"As President, I cannot allow people into our country who want to do us harm," the president said in a written statement. "I want people who can love the United States and all of it's citizens, and who will be hardworking and productive."
President Trump signed the executive order for the travel ban on March 6 of this year. Officially titled "Protecting The Nation From Foreign Terrorist Entry Into The United States," the order banned travel from six terror-prone countries: Iran, Libya, Somalia, Sudan, Syria, and Yemen. That order was blocked by a lower court until today's ruling.
"My number one responsibility as Commander in Chief is to keep the American people safe," Trump said. "Today's ruling allows me to use an important tool for protecting our Nation's homeland.
Trump was particularly satisfied that the Supreme Court ruled unanimously in the government's favor.

Three of the justices wanted to grant the government the right to carry out the travel ban in it's entirety, rather than lifting the injunction partially. In a dissenting opinion, Justices Clarence Thomas, Samuel Alito, and Neil Gorsuch, also worry that the group exempted from the order may flood the judiciary with litigation attempting to prove their connections to the United States and place a heavy burden on executive officials making decisions on the exempted cases.
"I fear that the Court's remedy will prove unworkable," Justice Thomas, who authored the dissenting opinion wrote. "Today's compromise will burden executive officials with the task of deciding—on peril of contempt—whether individuals from the six affected nations who wish to enter the United States have a sufficient connection to a person or entity in this country."
All six countries on the list have a majority Muslim population. Three of the countries in the travel ban—Iran, Sudan, and Syria—have been designated by the State Department as state sponsors of terrorism. Terrorist groups including al-Qaida and ISIS operate in the other three countries. 
The court's ruling arrived at the conclusion of Ramadan, a month of fasting that has in recent years been accompanied by an increase in Islamic terrorist attacks. During the 2017 Ramadan, Islamic terrorists were responsible for 174 terror attacks, killing 1,595 people, and wounding 1,557, according to The Religion of Peace, a website that tracks Islamic terror across the globe.
President Trump did not hold a Ramadan dinner this year, the first time a U.S. President has not done so since Bill Clinton. Then-first lady Hillary Clinton arranged the first such dinner with Abdul Rahman al-Amoudi, who is now a convicted terrorist.