SAN FRANCISCO—San Francisco is one of the bluest parts of a blue state, so a local boat parade in support of President Donald Trump on Oct. 10 stood out. 
"People think that they're alone for Trump supporters in San Francisco, the belly of the beast," local singer Diana Nagy told The Epoch Times. She performed on the main boat in the parade, called the Trump Flagship. "[But] they see us, and it gives them inspiration and hope. When you see others with Trump gear on in California, it's like 'Yeah!'"
Attendee Louisa Ip, who was born in Hong Kong, told The Epoch Times: "Our Silicon Valley friends are not seeing what we see. That's why we're here. We need to speak up. We are no longer the silent majority."
Many attendees said they see the Democratic Party as being too socialist.
Jeffrey Scion, born and raised in San Francisco, told The Epoch Times: "I've got friends that moved from other countries that have socialist backgrounds. And they don't have a good experience with it. And to see that some people in our country want to take it in that direction, is a very big insult to a lot of the immigrants that come here to flee that kind of thing."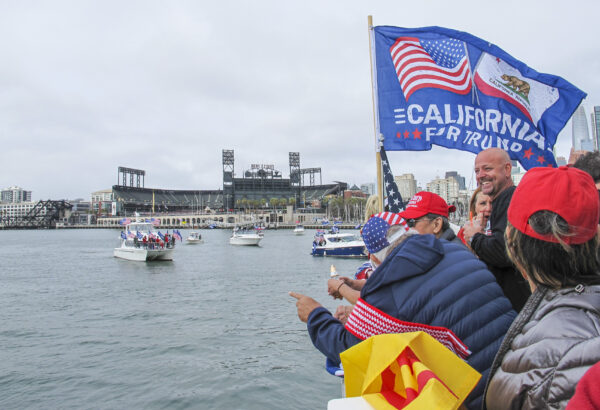 Ha Trieu told The Epoch Times he worked for the government in Vietnam, but he was imprisoned by the communist leadership and later escaped by boat. "We love the country, but communism took over, so [they] put everybody in jail," Trieu said. "Now, I don't accept the communist in U.S.A."
Ha Trieu was there with other Vietnamese attendees. He hired a plane that flew a banner above the parade, which read, "Vote for Trump—Vietnamese for Trump group."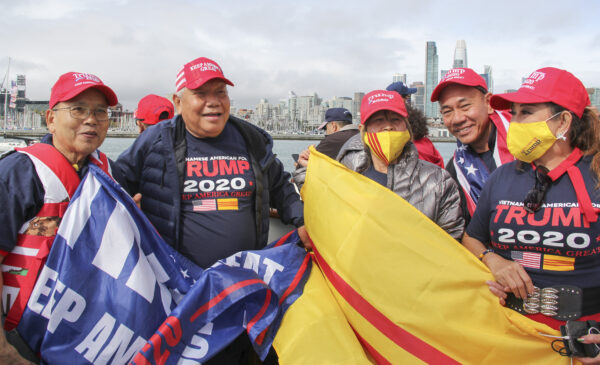 Dianelle Lacy, born and raised in California, said she has traveled to many countries and "every time I come home, I have a newfound appreciation for being in America." 
She told The Epoch Times she appreciates "the freedom of speech, the freedom to worship, being a Christian. In so many countries where they can't be a Christian, or they are persecuted, it's horrific. So some of the things that we take for granted here is just because we are born with it."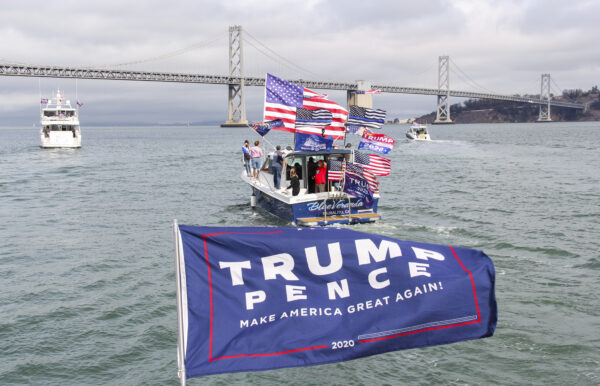 The Oct. 10 boat parade was one of many that have taken place across the United States in support of Trump.
The flotilla left McCovey Cove by Oracle Park around noon and made its way north to Pier 39, before ending at the St. Francis Yacht Club.
Singer Joy Villa arrived from Los Angeles the day before to perform at the parade. 
Since 2017, she has been attending Grammy Awards ceremonies wearing pro-Trump attire. For the boat parade, she wore the same Trump 2020 dress that she wore to the Grammy Awards earlier this year.
"People say, 'Do you just do it for attention?' Yeah, I do. I do it for the right kind of attention. I want you to see the message. I want to start a conversation and then hopefully, you will look into it as well," Villa said. "Especially being a woman of color. I'm black, I'm Latina, now I'm a best-selling author."
She sang "Make America Great Again" and "Home Sweet Home." 
"My songs were always all about freedom. My songs were always about self-empowerment and a belief in yourself and a belief in God. I'm a Christian woman. I love my country, I'm pro-life," she said, adding that she used to be a liberal.
She was born and mostly raised in California, so she felt it was important to show her support for the president at a big event in the state. 
"When I looked at what President Trump actually said he was going to do and it was the same consistent message years and years before—I did the research—I can't deny that this man has been saying the same thing. He wants less foreign dependence on China, less foreign oil … less taxes. We want Americans to survive and to be successful again," Villa said.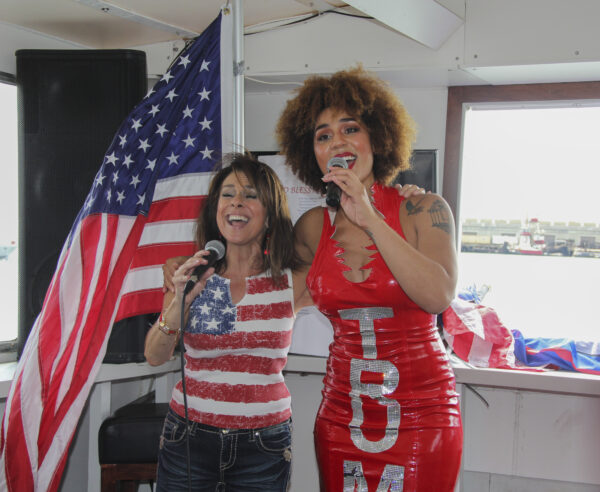 Nagy, who sang the National Anthem and "Where Freedom Flies" at the parade, told The Epoch Times she wants Trump for another term.
Nagy said she likes all his policies, ranging from foreign policies to tax cuts. "Some people think he's a little harsh in his words," she said. "But that makes him tough, so I don't care. His actions speak louder than words."