Tropical Storm Oscar started as a sutropical storm in the Atlantic Ocean during the nighttime hours of Oct. 26, and the storm is forecast to churn around in the Atlantic while not posing any threat to land.
The storm is expected to morph into a hurricane later on Oct. 28, the National Hurricane Center (NHC) said.
Oscar strengthened into a tropical storm late on Oct. 27 over open waters and is centered 815 miles east-southeast of Bermuda and 780 miles northeast of the northern Leeward Islands, the NHC said.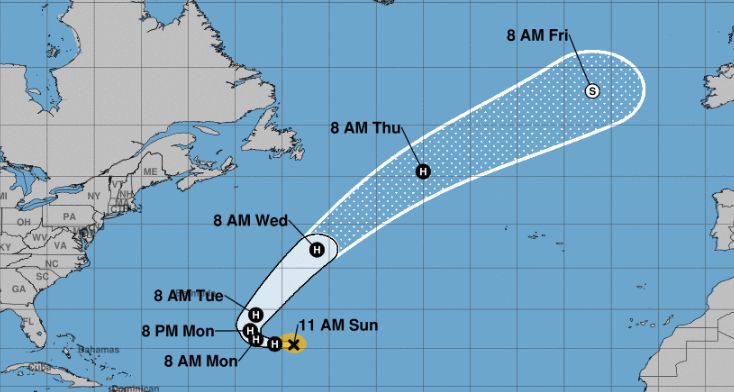 The storm has 70 mph winds. A Category 1 hurricane has 75 mph winds. The storm is moving west at 12 mph.
There are no coastal watches or warnings in effect, according to the agency.
"A continued westward motion is anticipated today, followed by a turn toward the northwest late tonight or early Monday. By Tuesday, Oscar is forecast to begin moving toward the north or north-northeast with an increase in forward speed. The cyclone is then expected to quickly accelerate toward the north-northeast or northeast through the middle of the week," said the NHC.
The agency added: "Maximum sustained winds are near 70 mph with higher gusts. Some strengthening is expected during the next couple of days and Oscar is forecast to become a hurricane later today or tonight."
November Hurricanes
The 2018 Atlantic hurricane season officially started June 1, and it will end on Nov. 30, the NHC said. The peak of hurricane season is late August to early September, but early October also can see many hurricanes, AccuWeather noted.
"The last season to produce a November named storm was last year, 2015. The tropical depression that would eventually become Hurricane Kate formed southeast of the Bahamas on November 8th. This system quickly strengthened and became a tropical storm on November 9th and a category 1 hurricane on November 11th. It didn't affect any landmass, but its energy, once it lost its tropical characteristics and merged with a cold front over the northern Atlantic, did produce wild autumn weather, including high winds and some flooding in Ireland and Wales," WeatherBug reported.
Hurricane Kate in 1985 formed on Nov. 15 and did $300 million worth of damage and killed 15 people, according to reports.
Hurricane Michael Update
Officials said that six more people have died in Florida from Hurricane Michael that hit more than two weeks ago, bringing the death toll to 45, The Associated Press reported.
Thirty-five people have died in Florida and 10 died in other states. The storm made landfall along the Florida Panhandle (as seen in the top video), causing the most damage in Mexico Beach and Panama City.
The storm also hit Georgia, the Carolinas, and Virginia.