A former suburban Minneapolis police officer who has said she meant to use a Taser instead of a handgun when she fatally shot Daunte Wright in April went on trial on Wednesday.
Kim Potter, a former Brooklyn Center Police officer was identified in April as responsible for the fatal shooting of 20-year-old Wright, whose death was ruled as homicide by medical examiners.
Potter, 49, is charged with first-degree and second-degree manslaughter and has pleaded not guilty to both charges.
Police bodycam and dashcam footage shown at the start of Potter's manslaughter trial showed her collapsing in tears after shooting and killing Wright during a traffic stop near Minneapolis on April 11.
"Oh [expletive]! I just shot him," Potter can be heard shouting at the scene just moments after the incident, before crumpling over. "I grabbed the wrong [expletive] gun! I shot him. Oh my God. Oh my God. Oh my God. I'm going to prison."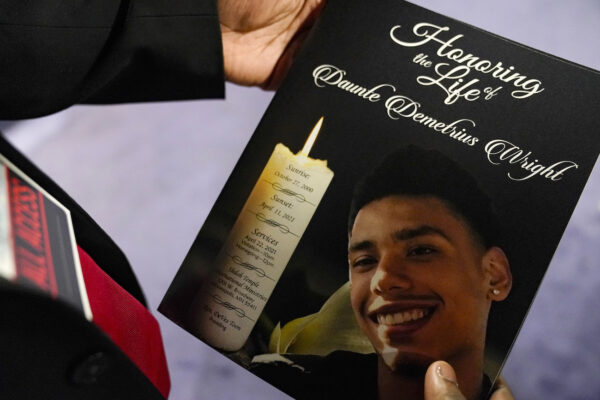 During opening statements in the Hennepin County Government Center in Minneapolis, Erin Eldridge, a prosecutor with the Minnesota assistant attorney general's office, told the jury that Potter "betrayed her badge" when she shot Wright.
Eldridge said that Potter should have known she was reaching for her gun, citing its weight. She also said that Potter's gun was kept on her right side, while her Taser was worn on her left.
"The only weapon she draws with her right hand is her gun, not her Taser," Eldridge told jurors.
Police officers "have the responsibility to be mindful and attentive and acutely aware of the weapons that they carry and the risks associated with those weapons," she said.
"When it comes to those weapons, they have the responsibility to carry those weapons, and use those weapons appropriately."
"It's about the reckless handling of a firearm, and it's about the disregard of known risks. It's about an officer who knew she could kill someone if she got it wrong but failed to make sure she got it right," added Eldridge.
Potter's defense attorney, Paul Engh, said the former officer mistakenly drew her gun "much to her everlasting and unending regret."
"She made a mistake. This was an accident. She's a human being. But she had to do what she had to do to prevent a death to a fellow officer," said Engh.
Potter resigned two days after Wright was killed.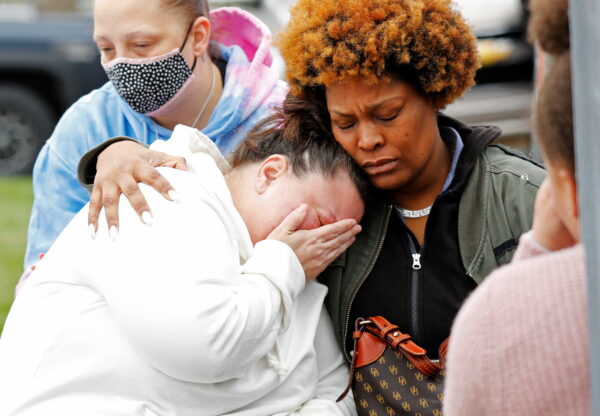 Wright's mother, Katie Bryant, testified about the moment she saw her son lying in his car after he'd been shot. She said she tried to contact him through a video call after losing an earlier phone connection, and a woman—presumably Wright's passenger— answered and screamed, "They shot him!" and pointed the phone toward the driver's seat.
"And my son was laying there. He was unresponsive and he looked dead," Bryant said through tears.
"He was funny, he was a jokester. He liked to make everybody laugh. He had a smile that lit up a room. He was amazing," she said.
Bryant said her son "was very proud to be a father." His son, Daunte Jr., is now 2 years old.
"He was an amazing dad," she added.
The charges don't require proof that Potter intended to kill Wright, and prosecutor Erin Eldridge noted as much for the jury.
But Engh also told jurors that Potter would have been justified in shooting Wright even if she had consciously chosen to draw her handgun, arguing that deadly force was warranted to protect her fellow officers. He said police had reason to believe that Wright might have a gun and that one of the officers had reached inside Wright's car and was at risk of being dragged if Wright drove away.
The most serious charge against Potter requires prosecutors to prove recklessness, while the lesser requires them to prove culpable negligence. Minnesota's sentencing guidelines call for a prison term of just over seven years on the first-degree manslaughter count and four years on the second-degree one. Prosecutors have said they will seek a longer sentence.
The Associated Press contributed to this report.