Treasury Security Janet Yellen warned the United States is projected to hit its $31.4 trillion debt borrowing limit by next week, according to a letter she sent to congressional leaders on Friday.
In a letter (pdf) to House Speaker Kevin McCarthy (R-Calif.), Yellen wrote that according to projections, the country will hit the debt ceiling by Jan. 19. If that deadline passes without Congressional action to raise the borrowing limit, the Treasury would have to take "certain extraordinary measures" to avoid a default on its obligations.
Measures that could be implemented by the Treasury Department include temporarily redeeming existing and suspending new investments of the Postal Service Retiree Health Benefits Fund as well as the Civil Service, Retirement, and Disability Fund. The Department would also suspend investment into the Government Securities Investment Fund of the Federal Employees Retirement System Thrift Savings Plan, she said.
"Failure to meet the government's obligations would cause irreparable harm to the U.S. economy, the livelihoods of all Americans, and global financial stability," she wrote in a letter that will trigger discussions and new proposals in Congress on whether to pass a debt limit increase. Some Republican members of Congress have said they would agree to a bill to raise the debt limit to pass additional spending cuts.
Yellen noted that the Treasury cannot estimate how long the extraordinary measures will enable the federal government to pay its obligations but asserted "it is unlikely that cash and extraordinary measures will be exhausted before early June."
As of Wednesday, Treasury data showed that U.S. federal debt stood $78 billion below the limit, with the Treasury operating a cash balance of $346.4 billion. The department on Thursday reported an $85 billion December deficit as revenues eased and outlays grew, particularly for debt interest costs.
"It is therefore critical that Congress act in a timely manner to increase or suspend the debt limit. Failure to meet the government's obligations would cause irreparable harm to the U.S. economy, the livelihoods of all Americans, and global financial stability," Yellen also wrote to McCarthy. Similar letters were sent to top Senate and House leaders.
What It Means
McCarthy and other top House Republicans have said he would tie actions to address the debt ceiling to spending cuts, although such measures may not pass in the Senate, where Democrats have the majority.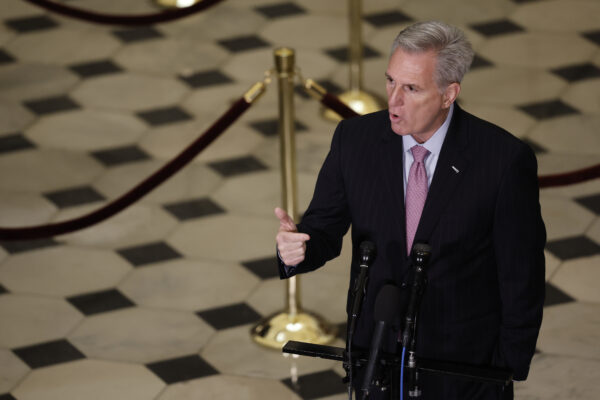 "If you're going to ask for an increase in the limit, at some point in time, you've got to sit down and say why are we hitting the limit? Why are we maxing out the credit card?" House Majority Leader Steve Scalise (R-La.) told reporters this week.
By mid-year, Washington could have to stop borrowing altogether and rely solely on tax receipts to pay its bills. Because Treasury borrows close to 20 cents for every dollar it spends, Washington at that point would start missing payments owed to lenders, citizens, or both.
Yellen and other policy experts have called on Washington to eliminate the limit because it amounts to a bureaucratic stamp on decisions already made. However, the debt ceiling is supported by Democratic and Republican lawmakers alike and both have used it as leverage when their party doesn't control the White House, making it unlikely to be eliminated.
"REPUBLICANS CAN GET ALMOST EVERYTHING BACK … BY SIMPLY PLAYING TOUGH IN THE UPCOMING DEBT CEILING NEGOTIATIONS," former President Donald Trump wrote on Truth Social earlier this week.
After Yellen's letter was made public, White House press secretary Karine Jean-Pierre told reporters that the debt limit should be raised without any conditions.
"It should be done in a bipartisan way. And it should be done without conditions. That is important here,"  Jean-Pierre said Friday.
Some analysts have proposed that the Treasury can bypass the crisis by minting a multitrillion-dollar platinum coin and putting it in the government's account, an idea widely viewed as an outlandish gimmick. Others argue the debt ceiling itself violates the U.S. Constitution. If the Biden administration invoked that argument, a legal challenge would follow.
In a 2011 showdown, House Republicans successfully used the debt ceiling to extract sharp limits on discretionary spending from President Barack Obama. Spending caps stayed in place for most of the rest of the decade.
Some investors, meanwhile, have already started preparing for how the debt ceiling battle will play out.
"The debt limit is going to be a problem," economists at Goldman Sachs said in a report issued on Monday. "Fiscal deadlines will pose a greater risk this year than they have for a decade."
Reuters contributed to this report.