'Transformers' Helps Viacom Reap Earnings
November 10, 2011 6:20 pm Last Updated: November 10, 2011 6:30 pm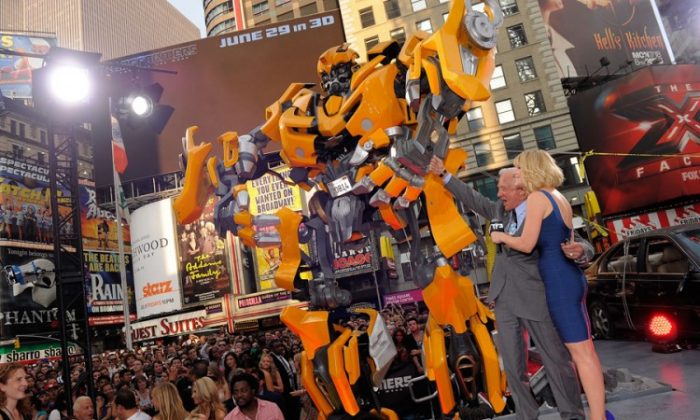 NEW YORK—Entertainment conglomerate Viacom Inc. announced better-than-expected fiscal fourth-quarter earnings, Thursday, and announced a massive stock repurchase program, which boosted its shares.
The New York-based company, which runs Paramount Pictures and MTV, announced earnings of $614 million, which is more than 33 percent higher than the $461 million in profits it recorded in the fourth quarter last year. Revenues were also higher at $4.05 billion, a 22 percent increase from last year. Both figures exceeded analysts' expectations.
"2011 was an outstanding year…," said Viacom CEO Philippe Dauman in a statement. "Paramount Pictures is benefiting from a disciplined franchise-centric approach that has produced an unprecedented number of hits in the domestic and international box office."
Sales from Filmed Entertainment topped $1.79 billion, which comes mainly from its Paramount unit. The results were driven by the popular "Transformers" franchise. The last movie of the trilogy, "Transformers: Dark of the Moon," was released this summer and generated $1.1 billion in gross revenues in theaters globally, according to data from Box Office Mojo. It became the first Paramount movie ever to gross more than $1 billion.
In its television business, MTV enjoyed one of its highest ratings years ever, helped by reality TV series "Jersey Shore." In addition, the company is investing heavily in youth-oriented network Nickelodeon.
Share Repurchase
Dauman also announced a new share buyback program, which is expected to increase shareholder value at the company.
The firm already bought back $2.5 billion worth of shares in the fiscal year ending Sept. 30. Viacom said that it would spend another $7.2 billion to repurchase outstanding shares.
Besides MTV and Paramount, Viacom also owns a number of other cable network properties such as VH1, Nickelodeon, Comedy Central, BET, and Spike TV.
Shares of Viacom (NYSE: VIA) gained in New York trading on Thursday.