OTTAWA—Conservative MP Garnett Genuis is reviving former Liberal MP Irwin Cotler's private member's bill that makes it a criminal offence for Canadians to receive organs harvested by force. The bill also bars foreigners who have participated in this activity from entering Canada.
The bill was inspired by the over 10 years of research done by two Canadian lawyers, David Matas and David Kilgour, on state-sanctioned organ harvesting from Falun Gong practitioners in China, which kills the victim in the process.
Matas and Kilgour, along with investigative journalist Ethan Gutmann, released a report in June 2016 which estimated, based on evidence such as hospital data and doctors' statements, that Chinese hospitals have performed some 60,000 to 100,000 transplants a year since 2000, with the source for most of the organs coming from prisoners of conscience, primarily Falun Gong practitioners.
Genuis made the announcement at the National Press Theatre in Ottawa on April 4, joined by David Kilgour and the reigning Miss World Canada, Anastasia Lin. His reintroduction of Cotler's bill allows it to go through the legislative process and have a chance to potentially become law.
"There is a real urgency to moving forward with this kind of basic human rights legislation," Genuis said.
"I am reintroducing his [Cotler's] legislation to address these issues in two ways: One is to make it an offence for Canadians to receive organs that they know, or they ought to know, have been harvested in this way, and there is an associated mechanism that confronts that. The other part is to address Chinese officials or officials from other countries. It doesn't name any specific country, but obviously it is a major issue in China."
There is a real urgency to moving forward with this kind of basic human rights legislation.
Kilgour noted that there's no need to name China specifically because that's the only country engaging in organ harvesting on such a large scale.
"There's only one country out of almost 200 countries in the world now that does this on an industrial, state-sponsored level, and that's China," he said.
He added that "Falun Gong [practitioners] don't smoke or drink, they exercise, and they are much preferred as donors of organs," referring to the health benefits of the traditional Chinese meditation and spiritual discipline whose teachings centre on the principles of "Truthfulness, Compassion, and Tolerance."
Lin described the stark reality of the procedure of extracting organs from prisoners of conscience in China: "The practice is carried out live," she said. "The victims typically die in the process when the vital organs such as the heart or liver are removed."
Genuis said he's "hopeful that the government will support this important initiative—even perhaps taking it up as government legislation in the future."
"Notwithstanding some of the potential sensitivities, I hope that we will be able to work together across party lines to finally get this done. This is an issue of fundamental human rights."
This is the fourth attempt to pass a bill aimed at combating the trade in human organs. Liberal MP Borys Wrzesnewskyj tried twice and Cotler once.
Kilgour said four countries have already passed such legislation: Spain, Taiwan, Italy, and Israel.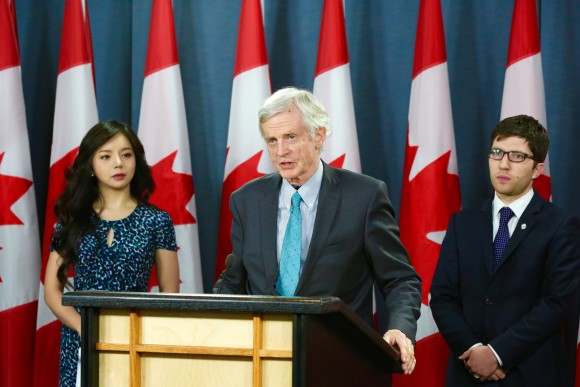 'The Bleeding Edge'
That evening, Genuis and Cotler co-hosted a screening of the award-winning film "The Bleeding Edge," in which Lin plays a jailed and tortured Falun Gong practitioner who eventually dies as a victim of forced organ harvesting.
"Powerful, powerful film," Genuis said. "Every component of the film, in terms of the experience of [Falun Gong] persecution, relates to real events taken from the lives of real people who shared that information. So it is a powerful form of testimony about the evil of this organ harvesting that is happening in China."
"I think everybody leaves here with a strong sense of resolve and responsibility, for us to take actions as Canadians to address these human rights abuses," he added.
Cotler, who had seen "The Bleeding Edge" previously at a screening in Prague, Czech Republic, last October, said he was again very moved by the film this time.
The victims typically die in the process when the vital organs such as the heart or liver are removed.
"This is a very powerful film. I don't want to use the word 'perform.' Anastasia internalized the pain and plight of victims of organ harvesting in such an authentic and overpowering way. She conveys not only that pain and plight but the moral compellability and urgency of doing something about it," he said.
"This is crime against humanity. It is horrific enough. Those engaged in it will have to be held accountable, and we as a country, as a government, as a parliament, have to ensure we are not in any way facilitating it … indulging it. We will hold them accountable—that is what this legislation is all about."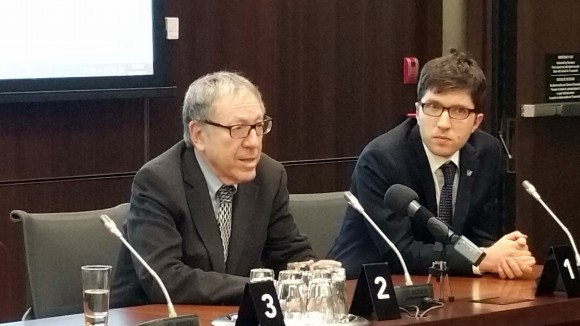 The former Liberal justice minister said he supports engaging with China, but "engaging on behalf of the people of China, on behalf of the Falun Gong, and holding those committing these crimes accountable."
Holding to account those engaged in this activity "is the best way to engage with the Chinese people," he said.
Everyone who sees "The Bleeding Edge," Cotler added, will and should be shocked and outraged, knowing that it is based on fact. "So I think it's the responsibility of Parliament, the government, the people, to ensure this kind of criminality is ended."
"This is an assault on fundamental Chinese values … that find expression in the Falun Gong Truth-Compassion-Tolerance. Those are the things we have to work for and strive for."