Toronto: Reflections on Flash Flood That Submerged Traffic
July 14, 2013 11:05 am Last Updated: July 15, 2013 5:04 am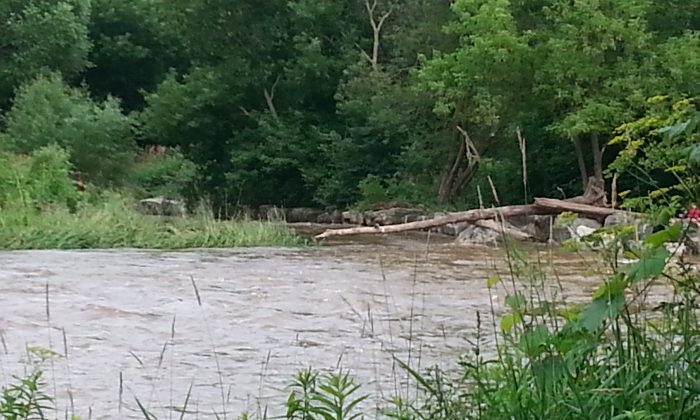 Toronto, Canada doesn't experience extreme weather events. It is far from wildfire country. Maybe twice in the past 30 years or so, the city has felt the tiny tremor of a minor earthquake, the most recent occurring earlier this year. 
The occasional mini-tornado might pass with a good 100-mile breadth or so from the city—no danger or general concern of it affecting the greater Toronto area.
That's why last week's flash flood—which submerged rush hour traffic (some cars covered right to the roofs), flooded homes, and left commuters stranded on a partially flooded train for most of the night—hit locals with the force of the completely unexpected.
"Around here people are responding like it was a natural disaster," said Mississauga resident David Barber. Mississauga, a city of about 700,000 bordering Toronto, saw major flooding in some parts with more than 100 millimeters (3.9 inches) of rain on July 8. The Credit River near Barber's home rose six feet, toppling large trees. It may not be the massive mudslides of the Himalayan floods, but the changes in the city shook up Mississauga residents.
"This is the biggest weather event Ontario has seen in years. People just aren't used to it," Barber said. His Facebook feed exploded with people sending prayers to those stranded, and people were calling around to check on each other. "It's when nothing significant happens for a long time people always tend to over react," Barber said.
As Jocelyn Bruce of Toronto watched the rain pour down in the days leading up to July 8's culminating storm, she told her husband it reminded her of monsoon rains in India. She didn't believe it would keep coming down. "The fact that it went on for two hours still amazes me," she said. "The amount of water!"
"At one point I was watching an actual river flowing between mine and my neighbor's house," Bruce said.
Her basement flooded and her power was out for days. She took her children and husband to stay with her parents. On Saturday, a special garbage pickup had her and her neighbors, the majority of whom also had major flooding, tossing out their ripped-up flooring and water-logged furniture.
She watched her neighbors help each other out, feeling something good came out of the storm. "The one positive thing is that it's kind of brought the neighborhood closer together. Everybody is out asking each other for advice, helping to move furniture," she said.
Bruce will take some steps to waterproof her basement, unsure now whether such an event—so unlikely seeming to begin with—could happen again in Toronto.
"As for the future," she said. "I waffle between thinking this was the storm of the century versus the start of a global warming induced weather change."