TORONTO—Toronto FC made history by becoming the first Canadian team to win MLS Cup and the first to win three trophies in a single season at BMO Field on Dec. 9. TFC spent big, played big, and won big.
The Reds' journey to glory has been a long and difficult one—they didn't make the playoffs in their first eight years as an MLS franchise. And last year when hosting MLS Cup, TFC lost a heart-breaker on penalties to Seattle.
TFC fans have seen plenty of lows, but the team rewarded them for their patience and support with an emphatic 2–0 win. It's not just a victory for the team, but also for Canadian sport, which had not seen a champion in a league dominated by American teams since 1993.
Now, an air-tight case can be made for 2017 TFC being the greatest team MLS has ever seen and its head coach Greg Vanney is unequivocal in his belief that 2017 TFC is MLS's best ever.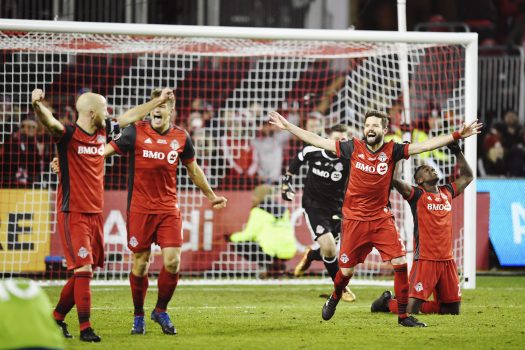 "I think it's the greatest team ever," he said. "Nobody has accomplished what this team has accomplished historically. We've won every championship along the way, we've set a points record."
The Reds finished the regular season with a record-breaking 69 points, garnering the Supporters' Shield as well as winning the Canadian championship by beating the Montreal Impact in the final.
Bright Start
Toronto began the final like a house on fire. Wave after wave of attack bore down on the Sounders goal in the first half, but Stefan Frei was always more than equal to the challenge. He was the MVP of last year's final.
The Reds were winning battles all over the field—they won 33 of 43 duels in the first half.
That was Seattle coach Brian Schmetzer's "stat of the match". It pointed to TFC's superiority in dominating a facet of the game that Seattle normally does.
The match was somehow still scoreless at halftime, but of course, this was all déjà vu for Seattle who didn't register a shot on goal in last year's final. Once again, TFC had to find a way.
Vanney's message to his team at halftime was to stay positive and not get frustrated. His message was to be bold.
"Nobody wins anything being afraid," Vanney said.
TFC of 2017 have always found the answers and while Sebastian Giovinco might attract the most attention as arguably the best player to play in MLS, Jozy Altidore has been the one to come up with the big playoff goals.
It was his winner that pushed TFC past Columbus and in the 67th minute, he converted a partial breakaway with his left foot to give the Reds a much-deserved lead.
Schmetzer said the Sounders had an off-day and credited TFC's performance and season overall after last year's MLS Cup defeat.
"If you looked at Toronto's year, you could tell that that was a motivated franchise," Schmetzer said.
TFC's success was fueled by last year's MLS Cup loss, something both head coaches discussed.
"They motivated us last year by beating us at our place," Vanney said.
For captain Michael Bradley, the path to return to the final looked like an endless one.
"Lifting this trophy has been an obsession for the last 364 days," said Bradley. "There's no other word for it other than obsession."
For the Fans
TFC's love affair with the city and its fans runs deep. After last year's final, Bradley was comforted by the loyal fan support. He said he felt the fans were always proud of the team and excited to be part of something different.
Bradley also had "non-soccer" friends who told him after attending a TFC game, "I've never been to a sporting event like this in Toronto—ever."
For TFC, it was about repaying the fans.
"These people have suffered for a long time," said Altidore, who also called Toronto "the greatest city in the world" after accepting the game's MVP award.
"We wanted it so much more—to give them their night, their moment to celebrate to the fullest in the biggest way," Bradley said.
But the 2017 TFC season was more than just winning a championship. Toronto FC showed how to do it like no other and gave their fans a just reward for 11 years of sticking with them through thick and thin.
Follow Rahul on Twitter @RV_ETSports