Toronto FC Wins Frigid Home Opener as Martina Nets Twice
March 29, 2011 12:37 am Last Updated: October 1, 2015 5:15 pm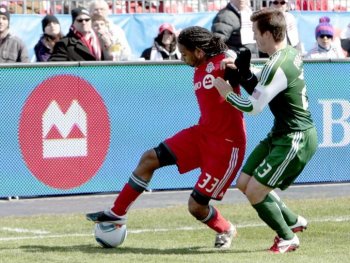 Toronto FC gave their fans renewed hope after a well-deserved 2–0 win over Portland Timbers FC last Saturday. Javier Martina was the star of the show, scoring both goals with the second goal being a beauty.
After their defence looked disastrous in an opening weekend 4–2 loss in Vancouver, Adrian Cann was back in his usual position in central defence. Toronto FC keeper Stefan Frei gave a stellar performance and deserved a lot of credit for his long downfield pass that found Martina for Toronto FC's second goal.
Portland, which has a history dating back to 1975 in the NASL, lacked that touch of finesse in the final third of the pitch as big striker Kenny Cooper was unable to really threaten the home side the way Vancouver's Eric Hassli did a week earlier.
The Timbers had more possession and shots than Toronto FC but their best chances came from a series of free kicks in the first half. Portland lacked that creative spark in midfield to get Cooper the ball. Vancouver had that spark last week with Davide Chiumiento who combined well with Hassli.
The Mar. 26 home opener was the earliest ever for Toronto FC, and the -4 Celsius temperature probably kept many fans from arriving on time. At the start of the game, many empty seats were still in evidence.
Martina opened the scoring in the 14th minute, side footing a clever pass from Dwayne De Rosario. The Timbers defence looked vulnerable to the sharp attacking moves that Toronto FC head coach Aron Winter wanted to see.
The game allowed us to get a better glimpse at Winter's attack-minded style. However, the former Dutch great expected better results, saying in his press conference, "We scored only twice, instead of more times, because we had a lot of opportunities. But still, that was better than last week."
But the big change was in defence. "Ty [Harden] and Adrian [Cann] did well [in central defence]. Adrian has more confidence [at left centre back] than at left back," said Winter.
"He [Winter] tried me on the left. I tried my best [to] figure out the position going forward, creating more, but at the same time playing centre back. I think that I feel a lot more comfortable," Cann said after the game.
Second Half
Maicon Santos had an incredible chance to snag his second goal of the season when he was alone on Portland's back-up keeper Jake Gleeson. But Gleeson made a credible save to deny Santos.
The 70th minute contained the most memorable moment from this match—Martina's second goal. Running on to a long half volley from goalkeeper Frei, Martina one-timed a volley into the far side of the net past a helpless Gleeson.
"The second goal was beautiful but also very good from Stefan [Frei], who saw that he [Martina] was one-on-one and gave him the ball," said Winter.
"For me, that is very nice, it's like a dream, you know," said Martina. "First game for the Toronto fans and score two goals and win 2–0. The whole team worked hard."
From then on Toronto managed the game well, although a bizarre sending off to Mikael Yourassowsky will continue to have fans questioning the quality of the officiating in MLS.
Yourassowsky, already on one yellow card, was sent off for apparently taking too much time to leave the field.
Despite being down to 10 men, Toronto FC hung on for the remaining six minutes and claimed victory.
"We played with a little more drive, a little more passion, more heart," said Cann. "The support that we have in Toronto contributed to our victory."
Toronto FC next faces winless Chivas USA on Saturday at BMO Field. Struggling Chivas provides Toronto an opportunity to build on their big win over Portland and to establish BMO Field as a fortress once again.