Toronto FC the Perfect Opponent for Vancouver Whitecaps FC MLS Debut
March 22, 2011 8:28 pm Last Updated: March 22, 2011 8:34 pm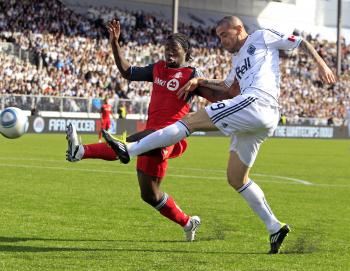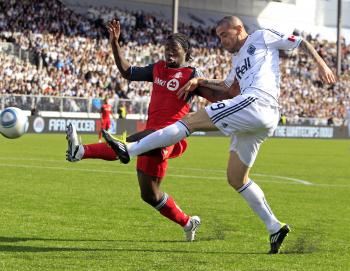 Last Saturday's Major League Soccer (MLS) debut for Vancouver Whitecaps FC marked a triumphant return at the expense of the team's Canadian rival Toronto FC for the historic franchise to the highest level of professional soccer in North America.
Their highly entertaining 4–2 win over rivals Toronto FC was a terrific showcase for soccer in Canada, although the visitors from Toronto were "extremely disappointed," as their superstar Dwayne De Rosario put it afterward.
Vancouver Whitecaps FC played their first game in 1974 and won their first North American title in 1979. Fast forward 30 years and Vancouver would become the home of the 17th MLS team with a temporary stadium at Empire Field.
Meanwhile, Toronto FC has started back at Square 1 under the tutelage of former Dutch great Aron Winter. Last season's woeful road form continued as Toronto FC will need time to learn Winter's new system
It was a sunny day, 8 degrees Celsius, and 22,592 fans were ready to cheer on Whitecaps FC. With this kind of support, including Steve Nash, two-time NBA MVP and co-owner, urging on the crowd, it would be hard to see Vancouver not coming away with the three points.
"To come today and see it sold out with all the fans in their colours jumping up and down and enjoying a beautiful sunny day here, it's a dream," Nash said at halftime.
A sea of white greeted the two teams for their inaugural game—the first all-Canadian matchup in MLS history. Next year, Montreal Impact will make it three teams in MLS. This will provide more chances for young Canadians to play professional soccer on home soil and can only help Canada's national team.
TSN also reported that the game attracted almost 1.4 million unique viewers to its coverage.
Scoring

Eric Hassli, Whitecaps FC's 6-foot-4-inch designated player, opened the scoring after 15 minutes of play. After a darting run and cross by Davide Chiumiento sat up nicely for Hassli, the heavily tattooed Frenchman smashed a left-footer past Toronto FC's Stefan Frei.
De Rosario tied the game five minutes later beating the offside trap and sending a right-footer to the far side of the net over the shoulder of Vancouver keeper Jay Nolly. As a curious fact, this goal marked the 8,000th goal in MLS history.
But only six minutes later, Vancouver was back on top when Terry Dunfield ran onto a pass from Chiumiento in the penalty area and scored. Three goals in 11 minutes equals major excitement and that's all the fans needed to know.
In the second half, Vancouver took advantage of some slack defending by Toronto FC off a corner kick to score their third goal. Defender Dan Gargan failed to clear the ball and Atiba Harris was there to poke it home in a six-yard box scramble.
By this time Vancouver was completely in control of the game. They made it 4–1 when Wes Knight broke in all alone on Frei and laid off a pass to Hassli to slot into the open net. Toronto FC defenders all thought Knight was offside and just stopped playing.
"We have given away the goals," said Winter in an interview right after the game. "And also the third goal was four or five metres offside."
"Adrian [Cann] didn't play well, neither did most of our defenders. We need some time," Winter said when referring to Cann filling in at left back instead of his normal position in central defence.
"It was different [playing at left back]," Cann told reporters. "Played briefly against DC United, trying to adapt to it."
"All the goals they scored, we pretty much gave it to them. We gave them the game, it was our fault," Cann told reporters.
Maicon Santos made things a little more respectable for Toronto FC with a powerful left-footer from outside the area.
Hassli received a standing ovation for his two-goal performance when he was substituted in the 82nd minute, but Vancouver's true man of the match was Chiumiento. The attacking midfielder was incisive, creative, and showed his class throughout the encounter.
De Rosario said, "We started out pretty well, they got a one-off goal and after their second goal our heads went down."
While Vancouver couldn't have begun its new life in MLS in better fashion, Toronto FC got a glimpse of what is likely to be a difficult start to the season.
For Vancouver, a bright start is all it could ask for. A Toronto FC beginning a transition was truly an ideal opponent to kick off their MLS history. They can't expect to be gifted goals against the elite MLS teams, but for now, Whitecaps FC can rejoice as they delivered what their knowledgeable fans wanted.