Toronto FC Sees the Positive in Draw With LA Galaxy
March 30, 2013 6:18 pm Last Updated: April 2, 2013 5:14 pm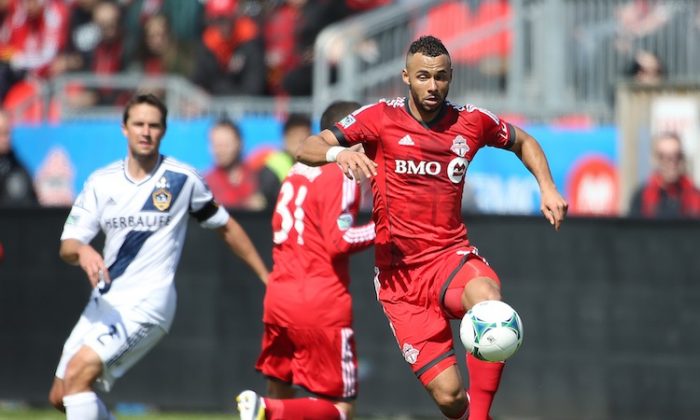 TORONTO—Just like last March at Rogers Centre, Toronto FC gave up a very late equalizer to settle for a 2–2 draw against the defending MLS Cup champion L.A. Galaxy.
While that match was in CONCACAF Champions League play, this MLS regular season match did show, however, that Toronto FC can trade blows with the league's best and that there is plenty to be optimistic about this season.
Toronto FC has now gained four points from four games, when at this stage last season, they had none. Plenty of optimism can be taken from the dynamic performances of Luis Silva and Brampton native Jonathan Osorio who combined to give the Reds a 2–1 lead in the second half.
"Guys have shown they're taking steps forward," Toronto FC coach Ryan Nelsen said. "We scored two goals against a team that hasn't conceded two goals since when? Certainly not this season."
Nelsen also felt right back Darel Russell had a good game despite being the TFC defender responsible for both of L.A.'s goals.
"His endeavor, he worked really hard, he never stopped," Nelsen said.
"Those things happen, unfortunately, it fell to one of their guys," said Nelsen about the play leading to Jose Villarreal's tying goal. "That's life, we'll learn from it."
"Overall, I think it was a decent effort even though I think we could've got more out of it," said central defender Danny Califf.
"For us not to see it out, it's hard to take. When you get so close to a win, you want to see it through," TFC striker Robert Earnshaw said. "It would have been sweet, because it's the champs, it's L.A."
Galaxy coach Bruce Arena felt his team played very well, but that they'll take the point and quickly move on.
"Would've been a crime to leave here without a point," Arena said. "We played pretty well.
"It's remarkable to me that we were actually in a position to be chasing the game. Give Toronto credit. I think we played well enough today to position ourselves to get three points."
Much attention in the buildup to the TFC–Galaxy matchup surrounded Landon Donovan. The attacking midfielder was named to the substitute bench after a long break to recharge his batteries after a four-month absence from the game.
The attacking midfielder entered just after the hour mark and promptly was in one-on-one against Joe Bendik in the TFC goal. Showing a bit of rust, he rolled his shot straight to Bendik.
"If I had Landon on my bench and he had been living on the beach for some amount of time, I'd have brought him on as well," Nelsen said.
"His performance was fine today. We got to get him in training on a consistent basis," Arena said about Donovan.
Slow Start for TFC
The Reds started poorly as L.A. took charge in the first 15 minutes and then the lead in the 16th minute.
Without Keane and Donovan in the starting lineup, the scoring duties have fallen to Mike Magee. "Mr. Clutch" for L.A. came through finishing a nice move that started with 18-year-old striker Jack McBean holding off the TFC defense before passing to Marcelo Sarvas.
The Brazilian Sarvas swept a ball to the far post knowing somebody would be making the run and sure enough Magee finished for the easy goal. The goal was Magee's MLS-leading fifth of the season. Magee got the better of Russell, making his first start at right full back for TFC.
The Galaxy had dominated the opening stages, but an error from Leonardo and goalkeeper Carlo Cudicini let TFC back in.

Earnshaw intercepted a poor back pass from central defender Leonardo. The Welshman rounded Cudicini who had foolishly come well outside his 18-yard box before placing a left-footer into the open net in the 29th minute. It was Earnshaw's fourth goal of the season.
Nelsen described the play as Earnshaw showing "fantastic composure" to accelerate onto the loose ball and finish.
"It was a burst of energy that we really needed. It created a ripple effect into everybody. We need individuals like that to produce energizing things," Nelsen said.
The goal was a huge boost to TFC who gained in confidence and started attacking with more purpose. Reggie Lambe and John Bostock both had good opportunities in a much better final 15 minutes of the first half for Toronto FC.
Second Half
Both sides had decent scoring chances in the early going in what was turning into a real dog fight.
Toronto FC took the lead on a beautiful demonstration of skill by Silva. He weaved past Omar Gonzalez and fed a low cross that Osorio tipped past Cudicini in the 78th minute.
"You've got to be confident, whatever option the defender gives you, you have to take advantage of it," Silva said.
While Toronto FC was able to close out Sporting Kansas City two weeks earlier, the Galaxy managed to snag an equalizer when Villarreal volleyed a left-footer past Bendik in injury time.
It was a heartbreaking way to end the game for TFC, but one that they are, unfortunately all too familiar with dating back to last season.
"For 65 minutes of the game, I thought we were fantastic," Nelsen said. Toronto FC did get off to a poor start and, in injury time, were not able to hang on.
But after facing a difficult season opening with Vancouver, Kansas City, Montreal, and L.A., Toronto FC can feel that progress is truly being made.
"The MLS champions came here, and we did extremely well," Nelsen said.
Follow Rahul on Twitter @RV_ETSports
The Epoch Times publishes in 35 countries and in 19 languages. Subscribe to our e-newsletter.