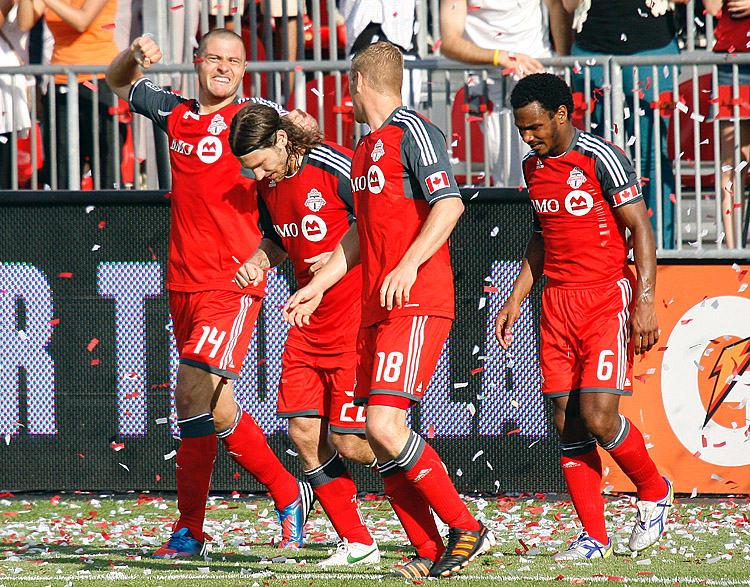 Toronto FC got its first points of the Major League Soccer season Saturday afternoon at BMO Field beating the Philadelphia Union 1–0 on an 88th minute goal from Dutch striker Danny Koevermans.
The win was a massive relief for under-pressure head coach Aron Winter and TFC which had started the season on a nine-game losing streak.
"It's nice … different questions," said Winter in his post-match press conference shown on GolTV Canada. Winter had grown accustomed to a different line of questioning from the media following loss after loss.
The win came on the heels of Toronto FC's fourth straight Canadian championship title when they beat a lacklustre Vancouver Whitecaps side 1–0 last Wednesday (2–1 on aggregate).
"I had a very good feeling from the first few minutes we started the game," said Winter.
The Union has also been struggling in MLS, but clearly not to the extent TFC has. The Union came in with a 2–2–6 (W–D–L) record and now has only scored eight goals in 11 games. Without goal scorers Sebastien Le Toux and Carlos Ruiz, the Union's attack has been feeble thus far.
Indeed, TFC was clearly the better team on Saturday and was definitely deserving of its victory. The team put forth a total team performance. The only glaring area for improvement would be the finishing of the numerous good opportunities created.
"We had a lot of very big opportunities to make a lot of goals," said Winter.
Toronto, back in its traditional home red kit, took the game to Philadelphia from the opening whistle. Bermudan winger Reggie Lambe had the game's first great chance but he fired his shot across the goal from a very tight angle.
Toronto's main starting striker Ryan Johnson blazed a left-footer past the far post off one of the many corner kicks TFC had in the first half.
Torsten Frings, playing in central midfield now that Adrian Cann and Doneil Henry have locked down the central defense partnership, nearly set up Joao Plata in one of numerous great chances for the Reds in the first half.
"We just need to do a better job of finishing," said Ryan Johnson in an interview with Sportsnet at halftime.
The Union were fortunate to go into the half tied, having seen little from Freddy Adu and company. Their third-string keeper Chris Konopka was having a terrific game thus far despite having seen almost no prior MLS action.
Second Half
Philadelphia gradually began to get a foothold in the match and Michael Farfan slammed a right-footer off the crossbar in the early going.
But Winter would not let the tide turn and made three key substitutions that allowed TFC to regain the upper hand.
"Two, three times … Philadelphia was close to making a goal," said Winter.
Lambe was withdrawn in favour of Richard Eckersley for some added energy down the right wing. And Koevermans came on to replace the diminutive Joao Plata, who had a lively first half.
Nick Soolsma, who had won himself a place in the starting lineup last season, came off the bench to replace first-round draft pick Luis Silva.
"The roster is bigger, changing players, you're thinking about changing positional positions," said Winter
Winter now has most of his players available after some difficult stretches this season. This has allowed him more flexibility with tactics.
Late in the game, Soolsma latched onto a ball at the top of the 18-yard box, got tackled, but regained his balance and drove toward the goal line. He cut back and slid a ball toward goal that Koevermans eventually kneed past Konopka.
The elation was palpable for Koevermans, who ran up to the crowd in the stands, and for TFC.
The win was crucial for Toronto FC who now have a three-week break before taking on Sporting Kansas City on June 16.
Cups vs. MLS
The mystery about TFC is their Cup performances as compared to their MLS play. In Cup competitions in 2012 (CONCACAF Champions League and Amway Canadian Championship), TFC has a 3–4–1 record, while in MLS, their record is now 1–0–9.
TFC's strong Cup play dates back to last year when they qualified for the Champions League quarterfinals with a 3–0 win in Dallas. They also triumphed 4–2 in Columbus to take the Trillium Cup.
In truth, a 1–0–9 record is a bit harsh on TFC. They've had their share of misfortune, but soccer can be a cruel game and a team may not always get the results they deserve.
But good teams make their own luck and Toronto FC's woes reflect significant problems relative to other MLS franchises.
At least for the time being, Toronto FC can enjoy their status as champions of Canada and their first points of the 2012 MLS season.
Follow Rahul on Twitter @RV_ETSports