Toronto FC Contols Own Destiny in CONCACAF Champions League
September 28, 2011 11:03 pm Last Updated: October 1, 2015 3:31 pm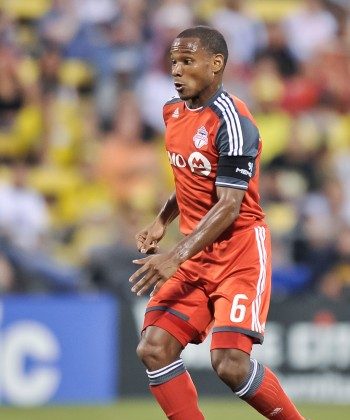 With a depleted squad against top-quality opponents Pumas UNAM of Mexico, Toronto FC hung on for a 1–1 draw in Tuesday's crunch Champions League match at BMO Field. Missing designated players Torsten Frings, Eric Avila, and Joao Plata, the Reds faced steep odds to keep their Champions League aspirations alive.
But their Champions League aspirations are most definitely alive after Tauro FC crushed a listless FC Dallas 5–3 in Panama on Wednesday night. The sixth and final game of the group stage for Toronto FC will take place Oct. 16 against FC Dallas.
Toronto FC needs to win to finish in at least second spot in the group and advance to the quarterfinals. That's all TFC could ask for—a chance to control its own destiny in the last game of a competition where few would've picked it to advance.

Gutsy effort
Two weeks ago, TFC slumped to a 4–0 loss to Pumas in the altitude of Mexico. The Mexican domination continued where it left off on Tuesday as Pumas kept the possession confidently and had created more scoring opportunities.
But in the 35th minute, Peri Marosevic expertly side-footed a shot to the far side of the Pumas' goal to give Toronto FC the lead. In-form striker Danny Koevermans had the vision to find him with a nice pass.
Toronto FC head coach Aron Winter had to sub off Koevermans at halftime and this deprived Toronto of its main attacking threat. The Reds began soaking up the Mexican pressure but, of a corner kick, Marco Palacios headed in the equalizer. Kocic could only get a hand on it.
Thereafter, the tide began to turn in favour of Pumas, but Toronto FC had its chances too.
Canadian designated player Julian de Guzman came up with one of his best performances as the anchor of the TFC midfield. His performance reflected a gutsy effort by TFC which kept within striking distance of the top two spots in its group.
Winter expressed mixed emotions at the draw.
"There are two sides: happy, but also disappointed. Disappointed because we could have won the game, and happy because we were missing a lot of players from our lineup and the younger players we used deserve big compliments," he said, according to www.TorontoFC.ca.

Follow Rahul on Twitter @RV_ETSports