Toronto FC Claims Third Straight Canadian Championship
July 2, 2011 11:42 pm Last Updated: October 1, 2015 4:20 pm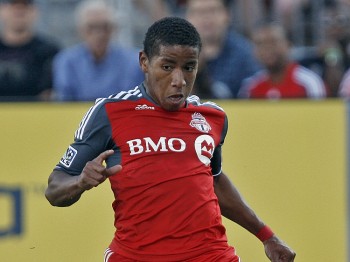 Toronto FC won the Nutrilite Canadian Championship and Voyageurs Cup for the third straight year after a thrilling 2–1 win (3–2 in aggregate) over Vancouver Whitecaps FC on Saturday afternoon at BMO Field in Toronto.
The victory confirms Toronto FC's Canadian soccer supremacy for another year and gives the MLS club a chance at CONCACAF Champions League group play. To reach the group stage, Toronto FC will need to get past Nicaraguan champion Real Esteli in a home-and-away contest.
Tiny Ecuadorian forward Joao Plata was named the tournament's MVP. He scored Toronto's first goal and set up the second on Saturday.
The two Canadian teams were facing each other for the second time in four days and for the fourth time since the start of the MLS season in March. In their second MLS match last Wednesday, Nick Soolsma gave TFC the 1–0 win with a penalty kick goal.
The opening leg of the championship final in Vancouver on May 18 ended in a 1–1 draw. Vancouver was the stronger team in the match but a late equalizer from Maicon Santos gave TFC the result they needed.
The return leg was supposed to have been played a week later on May 25, but because of torrential rain and lightning, the match was abandoned with Vancouver leading 1–0. It wasn't possible to hold the match the next day and so Jul. 2 was set as the date for the second leg.
Vancouver started brightly in the second leg and had the upper hand in the opening 15 minutes. The visitors got on the board in the 21st minute when Brazilian Camilo curled a wonderful free kick past Stefan Frei similar to the winner Fredy Montero struck for the Seattle Sounders against TFC two weeks earlier.
Things weren't looking great for Toronto FC when Maicon Santos was subbed off shortly thereafter with a hamstring injury and central defender Ty Harden re-injured his ankle.
But being down a goal spurred on the Reds and a flurry of chances from Julian De Guzman, Javier Martina, and Soolsma failed to get past Joe Cannon in the Vancouver goal.
"During the first half, we were the better team," head coach Aron Winter said on Sportsnet after the game.
Martina, in particular, seems to have run into a vein of bad luck. Recall: he smacked a shot off the post against Seattle and here, his goal-bound shot was cleared off the line by a Whitecaps defender.
But that wasn't the end of it for Martina.
In the 41st minute, Cannon committed one of his many blunders on the day, failing to adequately clear a long ball. Martina took the ball and slid one toward the open net. Vancouver central defender Jay DeMerit raced back and cleared the ball out of the net. No goal was awarded although replays showed the ball must have crossed the line fully—another case for goal-line technology or a referee's assistant behind the net. There was no way the referee's assistant (linesman) would've been able to catch up to the ball and make that call.
Plata Takes Over
Toronto FC began the second half down 1–0 having had more opportunities to score. Things were looking like it wasn't going to be their day.
But tiny Ecuadorian winger Joao Plata was always going to be a threat on the left flank. His quick feet were too much for Whitecaps defender Jonathan Leathers who bundled him over in the 50th minute.
Plata himself stepped up to take the penalty kick. Cannon saved it but referee Dave Gantar judged that he left the line too soon. Plata took it again and scored a well-deserved equalizer.
From here, Toronto FC continued to take it to Vancouver. Harden was subbed off in favour of Tony Tchani who made his first appearance since being injured by David Beckham of the L.A. Galaxy on Jun. 11.
Ten minutes after putting TFC on level terms, Plata collected a long ball from De Guzman, got past Leathers again, and fed a low pass across the six-yard box to a streaking Mikael Yourasssowsky. The Belgian slammed home the winner short side past Cannon after defender Alain Rochat stumbled.
The Whitecaps then knew they only needed one goal to likely win the Voyageurs Cup as that would be two away goals to TFC's one. They threw everything they had at their hosts.
The best chance fell to Eric Hassli who was left wide open. Camilo found him but Hassli's volley went wide of Frei's goal.
"Huge achievement," De Guzman said. "One of our goals planned for the season. This is the type of turnaround we've been fighting for. Guys showed a lot of character."
The Canadian championship represents the only trophy that either club will likely win this season as both are unlikely to qualify for MLS playoffs. Vancouver threw their best available lineup at Toronto but was undone with sloppy defending. Cannon's goaltending was brilliant at times but he was also burned for his mistakes.
For Toronto FC, the result gives an added boost following their MLS victory. With the addition of two new designated player signings, Torsten Frings and Danny Koevermans, things are looking brighter.
"It's going to be a very busy stretch this summer," said De Guzman. "It [Champions League] is going to be a tough competition."
That it will be, should TFC get there. Winter pointed out that Toronto FC is still rebuilding and the additional games could stretch a thin squad; however, the experience gained by playing in such competition is invaluable.
Follow Rahul on Twitter @RV_ETSports .