CARACAS—Venezuela's powerful attorney general on Friday broke ranks with President Nicolas Maduro's government after the judiciary annulled congress, a rare show of internal dissent as protests and international condemnation grew.
Luisa Ortega, appointed attorney general in 2007 and a staunch ally of the Socialists who have ruled for the last 18 years, rebuked the Supreme Court's controversial move to take over the opposition-led National Assembly's functions.
"It constitutes a rupture of the constitutional order," the 59-year-old said in a speech. "It's my obligation to express my great concern to the country."
While various prominent political figures have leveled criticism after leaving the government, it is extremely rare for a senior Venezuelan official to criticize like this.
One person who has known Ortega for years said it was not the first time she had expressed dissent within government, though never so publicly.

"Luisa has suffered a lot of threats from all sides for her principled actions," the person said, asking not to be named for fear of reprisals.
Throughout Friday, pockets of protesters blocked roads, unfurled banners and chanted slogans against Maduro's unpopular government.
In Caracas, several dozen students marched to the Supreme Court, but were pushed back by soldiers with riot shields.
Some protesters also briefly blocked highways in the capital, holding banners reading: "No To Dictatorship."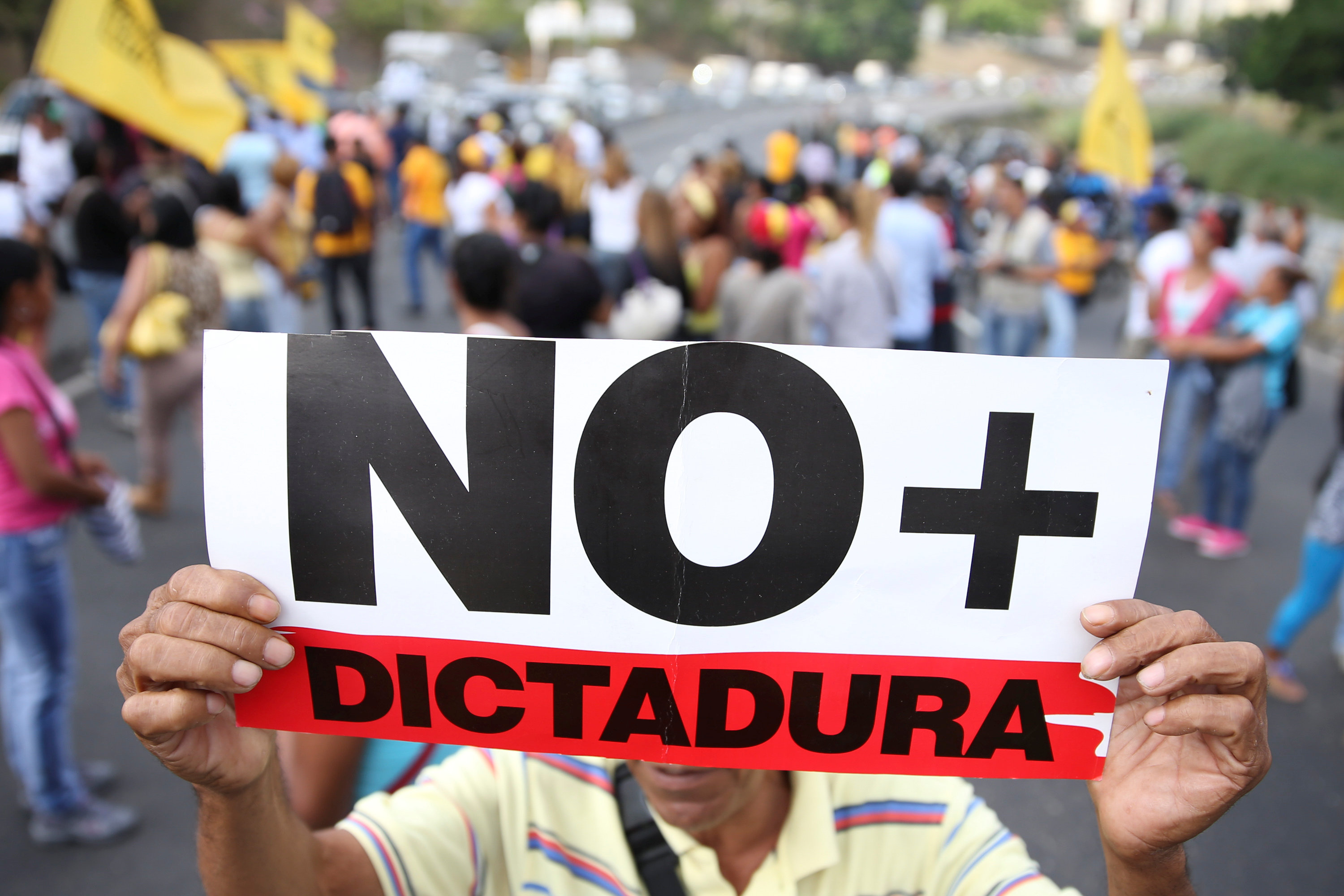 Police moved them on, and several were detained, according to a local human rights group
"We have to demand our rights, in the streets, without fear," said opposition lawmaker Miguel Pizarro, who led a knot of demonstrators into a subway train.
In volatile western Tachira state, several dozen demonstrators tore up copies of court sentences in front of local judicial buildings.
Having already shot down most of the National Assembly's measures since the opposition won control in 2015, the pro-Maduro Supreme Court on Wednesday said it was assuming the legislature's functions because it was in "contempt" of the law.
Foes lambasted that as a "coup" against an elected body.

Some government critics were skeptical of Ortega's criticism, speculating her comments may have been a show to feign separation of powers and give the government an excuse to tweak the controversial decision.
Venezuelan bonds plummeted on the uncertainty, with the country's benchmark Global 2027 and state oil company's PDVSA 2037 both around 7 percent lower. The country's currency fell 9 percent on the black market against the dollar.
Broad Condemnation
Maduro, 54, a former bus driver and self-declared "son" of late leftist predecessor Hugo Chavez, was narrowly elected in 2013 amid widespread support for the ruling Socialist Party's oil-fueled welfare programs.
But his ratings have plummeted to just over 20 percent as Venezuelans struggle with a fourth year of recession, scarcities of food and medicines and the highest inflation in the world.
Critics blame a failing socialist system, whereas the government says its enemies are waging an "economic war". The fall in oil prices since mid-2014 has exacerbated the crisis.

The court's move brought condemnations and concern from the United States, Organization of American States (OAS), European Union, United States and major Latin American nations.
Ally Russia, however, bucked the trend in a statement on Friday urging the world to leave Venezuela alone.
"External forces should not add fuel to the fire," it said.
Maduro accuses Washington of leading a push to topple him as part of a wider offensive against leftists in Latin America. Brazil, Argentina and Peru have all moved to the right recently.
However, new U.S. President Donald Trump seems to have other priorities or has not yet fully formed policy on Venezuela.
OAS head Luis Almagro, whom the Venezuelan government views as a pawn of Washington, has been pushing for its suspension from the 34-nation regional bloc and wants an emergency meeting after the latest developments.
But suspension appears unlikely, diplomats say, given Venezuela's support from other leftist governments and small nations who have benefited from its oil largesse.
"It's false there has been a coup d'etat in Venezuela," Venezuela's foreign ministry said, alleging a regional right-wing conspiracy.
"On the contrary, institutions have adopted legal correctives to stop the deviant and coup-seeking actions of opposition parliamentarians."
Opposition Obstacles
Venezuela's disparate opposition Democratic Unity coalition, made up of about two dozen parties and groups, declared itself in "permanent session" and promised rolling street protests to demand a new presidential election.
But the coalition is hobbled by disunity: leaders called at least four overlapping news conferences on Friday.
Opposition supporters are also acutely aware that street tactics have failed on numerous occasions.
Vast rallies in 2002 helped briefly topple Chavez, but he was back about 36 hours later after his supporters poured onto the street and military factions came to his aid.
In 2014, hardline opposition activists led months of protests, but they turned violent and led to 43 deaths, their leader Leopoldo Lopez was jailed, and Maduro consolidated power.
Then last year, hundreds of thousands marched, but still authorities thwarted the opposition's push for a referendum to recall Maduro and also postponed local elections.
The opposition is hoping the military—whose top ranks still pledge absolute loyalty to Maduro though there is believed to be dissent lower down—may nudge him into bringing forward a presidential election slated for the end of 2018.

But there is no public sign of that happening.
The Supreme Court's contempt charge stems from vote-buying accusations against three lawmakers from southern Amazonas state. Even though they no longer sit in Congress, the court said parliamentary leaders had not handled their case legally.
International envoys were summoned to a briefing at the court on Friday, though after waiting around an hour, were told it was canceled, according to two foreign diplomats.