One of the top health officials in the nation pushed back on a notion promoted by some media outlets that he has fundamental differences from President Donald Trump in how to deal with the new CCP virus.
The Epoch Times refers to the novel coronavirus as the CCP virus, which causes a disease called COVID-19, because the Chinese Communist Party's coverup and mishandling allowed the virus to spread throughout China and create a global pandemic.
Asked about reporters repeatedly asking him about possible differences of opinion, Dr. Anthony Fauci said he wished it would stop.
"The idea of just pitting one against the other is just not helpful. I wish that would stop and we'd look ahead at the challenge we have and pull together to get over this thing," the director of the National Institute of Allergy and Infectious Diseases said during a radio interview on Tuesday.
WMAL-DC host Vince Coglianese said that more and more questions from the media appear designed to create a rift between Fauci and Trump, or emphasize differences in opinion.
"That is really unfortunate. I would wish that that would stop," Fauci responded.
"Because we have a much bigger problem here than trying to point out differences. They're really, fundamentally, at the core, when you look at things, there are not differences. The president has listened to what I have said and to what the other people on the task force have said. When I've made recommendations, he's taken them. He's never countered or overridden me."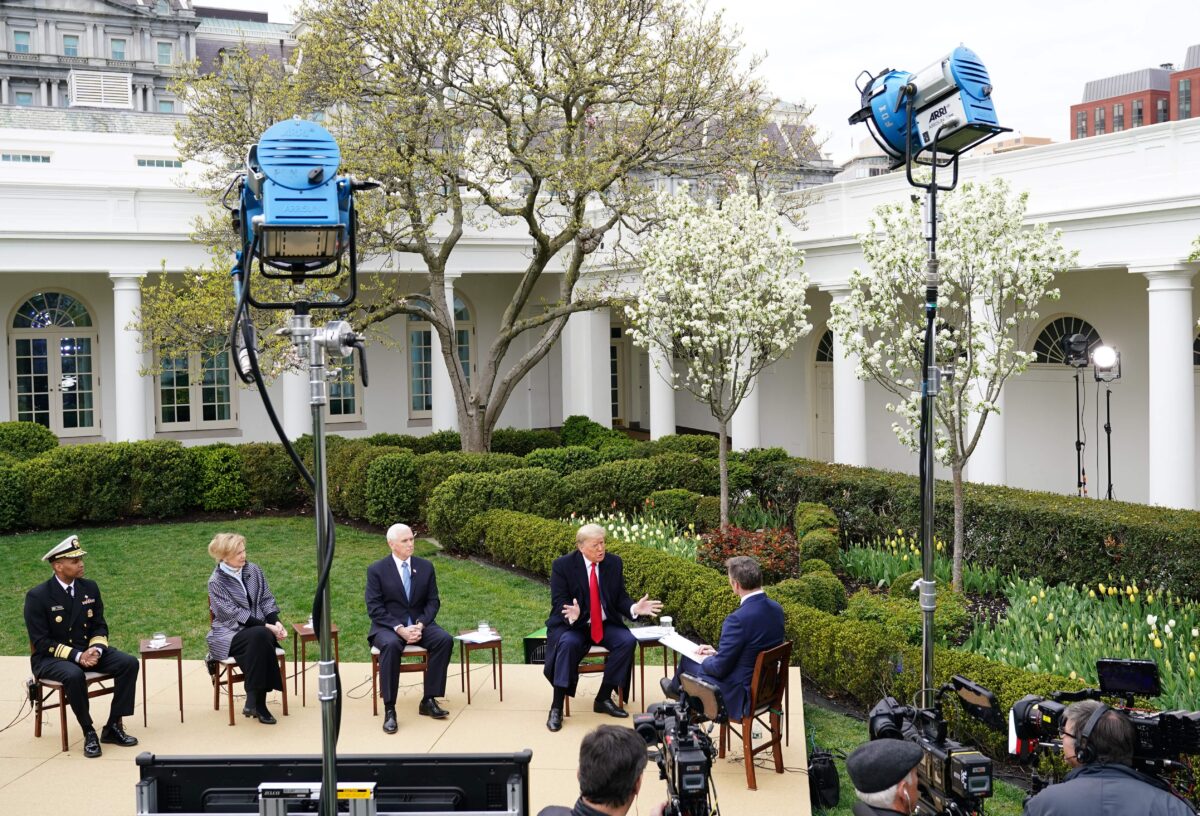 Fauci, a member of the White House Coronavirus Task Force, has regularly appeared with the president and other members of the task force at the White House to answer questions from reporters.
In one instance last week, a reporter claimed that there are "millions" of Americans "who are scared right now" and asked Trump to say something to them. The president declined, calling it a sensational question.
Another reporter then asked Fauci to weigh in on the question, which Fauci ignored, and about perceived differences between what Trump and the infectious diseases expert were saying about a possible COVID-19 treatment.
"There really isn't that much of a difference in many respects with what we're saying. The President feels optimistic about something—his feeling about it. What I'm saying is that it might—it might be effective. I'm not saying that it isn't. It might be effective," Fauci told reporters.
"But as a scientist, as we're getting it out there, we need to do it in a way as—while we are making it available for people who might want the hope that it might work, you're also collecting data that will ultimately show that it is truly effective and safe under the conditions of COVID-19. So there really isn't [a] difference. It's just a question of how one feels about it."
The president appeared later Tuesday at a virtual town hall on Fox News. Anchor Bill Hemmer asked him about Fauci, who wasn't present at the event.
Trump said Fauci "has other things to do," before saying: "We get along very well. I think it's been very good."
The task force includes a number of officials. Trump, Vice President Mike Pence, and task force coordinator Dr. Deborah Birx have appeared daily at press briefings while others, such as Fauci, rotate in and out.