#1 Georgia Bulldogs (12–0) 45 | Georgia Tech Yellowjackets (3–9) 0
The Georgia Bulldogs confirmed again that they are the highest rated team in college football as they shut out their rival Georgia Tech Yellowjackets 45–0.
The Bulldogs gained a total of 463 yards, with 255 yards passing on 14–20 completions, from QB Stetson Bennett. Stetson threw four touchdowns; two to Brock Bowers, and one each to Jermaine Burton and Ladd McConkey.
The Bulldogs scored two rushing TDs, by Kenny McIntosh and Daijun Edwards, with a total of 208 yards rushing from six different rushers.
Georgia Tech gained 166 yards total; QBJordan Yates threw for 68 yards from 8–16 completions, and the team rushed for 98.
Georgia is the clear #1 favorite for the play-offs and will face #3 Alabama in the SEC Championship game next Saturday in Atlanta.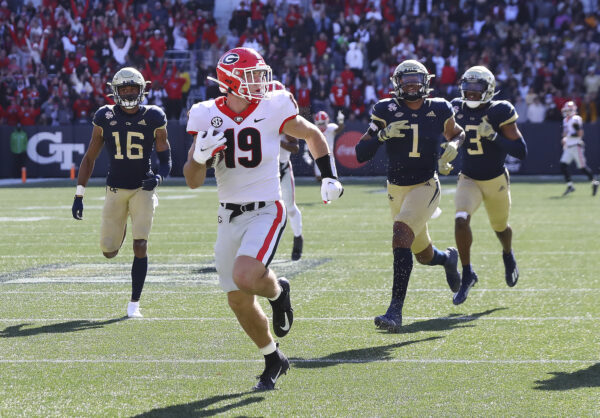 #2 Ohio State Buckeyes (10–2) 27 | #5 Michigan Wolverines (11–1) 42
The Michigan Wolverines ended a decade of losses against the Ohio State Buckeyes with a 42–27 victory Saturday at Ann Arbor, Michigan. Head Coach Jim Harbaugh has been strongly criticized for their lack of success against rivals OSU and Michigan State.
"It feels like the best one," Harbaugh said.
Michigan running back Hassan Haskins was unstoppable as he tied a school record with five rushing touchdowns on 169 yards.
Michigan played power football as six running backs gained 297 yards on the ground. A.J. Henning ran for the other touchdown, while Blake Corum carried six times for 87 yards.
Michigan starting QB Cade McNamara threw for 159 of the total 190 yards passing.
"Watching the snow fall and the crowd rush rush onto the field was truly a surreal moment," said McNamara.
For Ohio State, quarterback C.J. Stroud was 34–49 for 394 yards and two touchdowns, but was sacked three times by Michigan's Aidan Hutchinson.
OSU tried to make a comeback, scoring a touchdown at the beginning of the fourth quarter after a long drive of 17 plays for 82 yards to get within eight points, 20–28.
Michigan immediately countered with a 66-yard drive for a touchdown, and for the final time OSU responded with their last touchdown on a 10 yard pass from Stroud to TreVeyon Henderson to again get within eight points.
The Wolverines will play in the Big Ten Championship Game for the first time on Dec. 4 at Indianapolis against Iowa, who advanced from Minnesota's 23–13 win Saturday evening over #14 Wisconsin. If victorious, they will have an excellent chance to finish in the top four in the rankings and play in the championship play-offs.
For Ohio State, the loss knocks them out of contention for the championship playoffs. They now await an invitation for, most likely, a New Year's bowl game.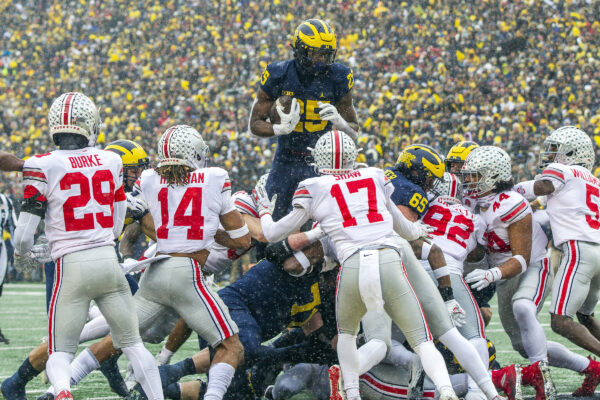 #3 Alabama Crimson Tide (11–1) 24 | Auburn Tigers (6–6) 22 (4OT)
In a defensive struggle that saw the mediocre Auburn Tigers shut out rival Alabama Crimson Tide until a field goal at the beginning of the fourth quarter, Alabama was able to recover to escape defeat in four overtimes, and keep their championship hopes alive.
Alabama was down 10 points in the fourth quarter before sending the game to overtime.
The four overtime periods were wildly entertaining compared to the first three quarters. Bama's John Metchie caught the game-winning 2-point conversion pass from Bryce Young in the fourth overtime to finally capture victory 24–22.
Even though Auburn had a slight edge in time of possession, Bama had a large total yardage gained advantage of 388–159. Most of it came from 317 passing yards to Auburn's 137. And Bama rushed for 71 yards to Auburn's 22. The equalizer was the 11 penalties for 129 yards that stalled Bama's drives.
Bama QB Young completed 25–51 passes for two touchdowns and an interception.
Auburn's QB TJ Finley completed 17–26 passes for 137 yards and two touchdowns.
Alabama's national championship hopes remain alive as they meet top-ranked Georgia next week in the SEC Championship game in Atlanta.