Now covered in a thick blanket of snow, schools and many businesses in Grand Rapids have decided to lock their doors, refusing to serve their customers snowflakes and windchill.
The Grand Rapids Police Department also made an announcement on Jan. 30, addressing offenders and future offenders as the winter storm approached.
"Notice to all criminals, conspiring criminals, or bored individuals that have too much time on their hands today: Crime has been cancelled in The City of Grand Rapids!" states the department's Facebook page.
Crime ALERT:Notice to all criminals, conspiring criminals, or bored individuals that have too much time on their hands…
The department said that with crime cancelled, it would instead be focusing on things like plowing driveways and "improving the quality of life for its residents."
It's clear that the department prefers the city's residents to prepare for the near-zero visibility storm that is expected to arrive in a day or so—carried by minus 25 to minus 45 degree winds, according to the National Weather Service.
So, what should criminals or future criminals do on their day off?
Well, thankfully the announcement came with some irresistible suggestions, certain to tickle the heart of any "bored individuals."
"Congratulations! Feel free to take a nap, binge watch Netflix, or go help your neighbor shovel."
Finally—a day off for troublemakers. The department did not specify how long their unanticipated vacation could last but the news put a smile on many faces.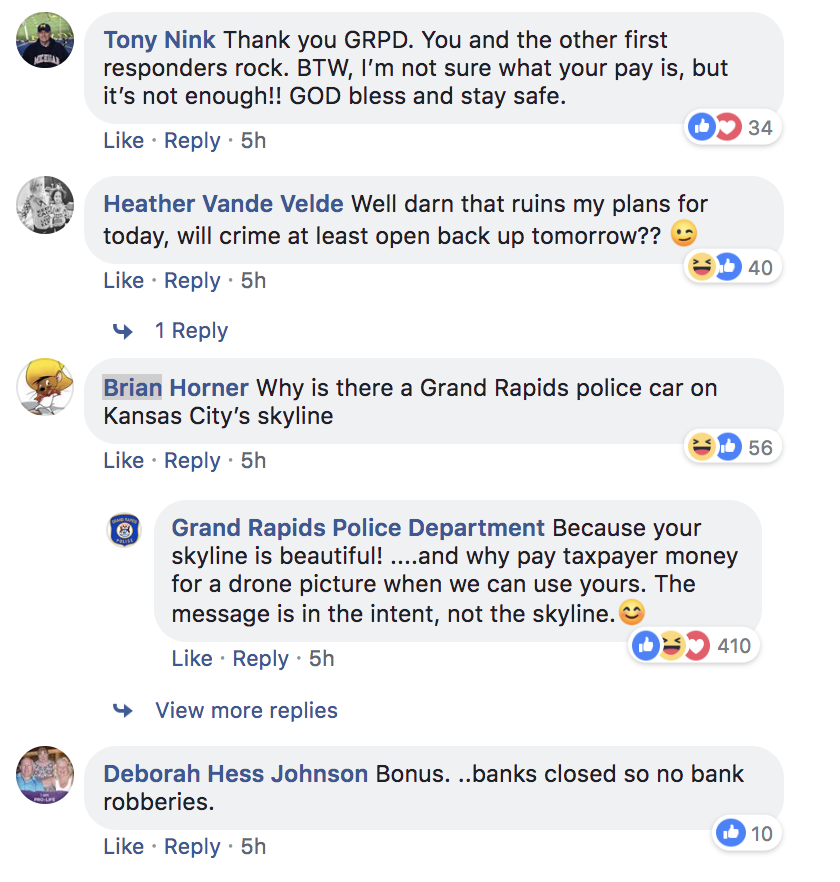 So, What in the World is A Polar Vortex?
To begin, this is a recently popularized phrase that is nothing new to the world's weather, according to Weather. Now, this does not mean that it isn't intensely cold. Michigan and other states have been affected by the dreaded polar vortex, and because of it, many schools have closed for the week, preparing for the snow.
On the bright side, the cold weather has fueled a flurry of silly school cancelation announcements—but be warned, some may make you break into a cold-sweat before the worst of the storm hits.
Inches, Inches, and Inches
Snowfall across the midwest has been high and mighty. Kalamazoo has already had 15 inches of gentle snowfall. "The Mitten Dad" on Twitter was gracious enough to make a time lapse video of the free-falling specks of ice as they covered his window.
Winter Storm Jayden
Please feel free to share, retweet, enjoy!#Winterwatch #winterstorm #WinterStormJayden pic.twitter.com/Jl7oaKmm8v

— The Mitten Dad (@DadMitten) January 30, 2019
But Grand Rapids has met with one problem: salt has been rendered powerless because the temperature is below 10 degrees Fahrenheit, according to MLive. This means that until Feb. 1 when the storm is forecast to dissipate, the city will have to either make snowmen and igloos, or move the crystal mounds to the side of the road.
The police department has also learned the secret to avoiding the knee-deep chill: pleading with people to park their vehicles properly.
But when it comes down to business, these officers won't shy away from the freezing weather, especially not when concert-goers need the extra attention. Frosted eyebrows and icy selfies are part of the job.