Central China's Zhengzhou, capital of Henan Province, announced on Jan. 4 that two districts of the city were divided into three segments and each is locked down to a different level. This is the latest order the regime launched to curb the spread of COVID-19.
The segments are called "Closed Zone," "Controlled Zone," and "Prevention Zone," and residents from different zones have different levels of freedom.
"All residents in Closed Zones aren't allowed to leave their homes, and the whole zone is sealed from the outside," Zhengzhou city government said on Tuesday. "All residents [in Closed Zones] have to receive the nucleic acid tests [for COVID-19] according to the requests of the epidemic prevention and control needs."
The Chinese regime does mass testing on all residents in a certain region every two to four days when the region has a COVID-19 outbreak.
Residents living in the Controlled Zones aren't allowed to leave their homes freely either. According to the announcement, the regime allowed only one member of each household to leave home to shop inside the zone once every two days. Other members must remain at home.
The local government has a relatively mild policy in the Prevention Zone. Although all public venues aren't allowed to operate, the shopping centers, grocery stores, and farmer's markets are allowed to do business but can only serve limited numbers of shoppers at the same time. Residents in the zones can order dishes from restaurants but can't dine in.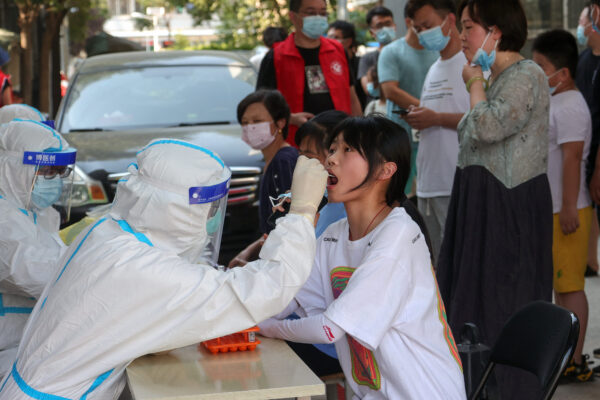 The CCP (Chinese Communist Party) virus, commonly known as the novel coronavirus that causes the disease COVID-19, is now spreading in several Chinese provinces. Henan Province has suffered a new outbreak recently.
On Jan. 4, the provincial government ordered that all residents in the province "should not leave the city that people reside in if they don't have to, and should not leave the province in general."
The government announced on Tuesday that the first patient of this latest outbreak was reported in Xin'an county in Luoyang city on Dec. 31, 2021. Subsequently, Yuzhou in Xuchang city and Zhengzhou city announced their outbreaks.
Xin'an county government announced the lockdown immediately after it reported the outbreak on Dec. 31.
On Tuesday, the Yuzhou government ordered a lock down of all residents. Taikang county in Zhoukou city, which hasn't reported any infections, also announced the lockdown together with Yuzhou.