Conservative Leader Andrew Scheer says if he becomes Canada's next prime minister, he will take action to "repair the relationship" between Canada and China.
That includes appointing a new ambassador to China to replace John McCallum, who resigned in January 2019 after speaking out of line on the case of Huawei CFO Meng Wanzhou, arrested on a U.S. extradition request in Vancouver last December.
"I've called for the government to take specific measures to protect Canadians and to protect our economic interests. I believe that it should start with appointing an ambassador. It makes no sense that this position is vacant for so long—it's been months," Scheer said.
The delay, he added, "has further damaged our ability to open up lines of communication" with China.
"It is my goal to repair the relationship—we want to have a good trading relationship, we want to have a good dialogue with the government of China," he said.
Scheer made the comments on Aug. 2 during a roundtable in Etobicoke, Ont., where ethnic media outlets across the province were invited to participate in a Q&A session. He was accompanied by Conservative MPs Garnett Genuis and Peter Kent.
Scheer said a complaint also needs to be filed with the World Trade Organization over China's blocking of imports of canola, beef, and pork from Canada.
"It is precisely why the World Trade Organization exists; it's to solve these types of disputes and ensure that decisions are made based on science, on evidence, not based on political considerations," he said.
Since Meng's arrest, in addition to curbing some imports from Canada, Beijing has arrested Canadian citizens Michael Kovrig and Michael Spavor on charges of gathering state secrets and providing them to foreign forces. The two have been held in Beijing since last December.
The federal government has failed to secure the release of the men—something Scheer said he and the "vast majority of Canadians are frustrated with."
Scheer's comments echo his words in a speech on foreign policy in May, where he called for a "total reset" of Canada-China relations.
He said Canada should engage with the Chinese regime, "but engage in a way that seeks to advance our values and our interests. We should engage in a way that recognizes how our values and our interests are in many respects incompatible with those of the Chinese government."
Genuis: Organ Trafficking Bill 'Vital'
After the round table, Genuis said in an interview that he was disappointed the legislation he sponsored to combat organ trafficking didn't pass before Parliament adjourned for summer break.
"My hope had been that the House of Commons would pass the bill unamended, because if we had passed it without amending it, then it would have become law," he said. "But the decision was made by government members to amend certain provisions that made it have to go back to the Senate, and it got wrapped up in various events that were happening in the Senate."
Bill S-240, which had received unanimous support from all parties, sought to amend the Criminal Code to create new offences in relation to the trafficking of human organs. It would also amend the Immigration and Refugee Protection Act so that any permanent resident or foreign national would be deemed inadmissible to Canada if they were found to be engaging in activities related to organ trafficking.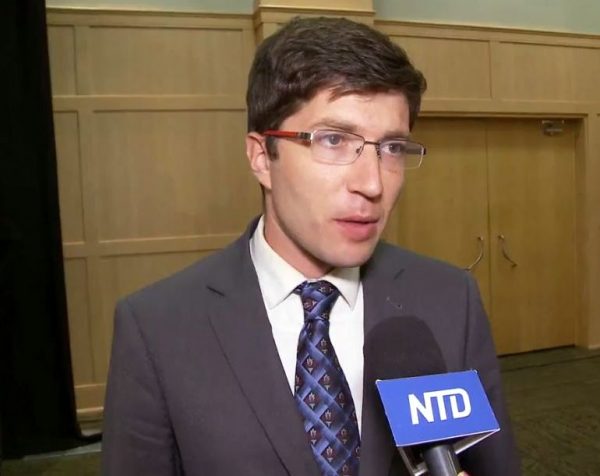 "I'm disappointed we didn't manage to get it all the way this time. We tried. It's a vital piece of legislation, and we're going to keep leaning on it," he said, noting that the bill is a "priority" for the Conservatives.
"Certainly, if we're in government and even if we're not, we're going to be pushing to get this bill through from day one," he said. "We have to start again, but if we start on day one of a four-year Parliament, hopefully we'll get it done this time."
Genuis said that although the bill doesn't specifically name China, forced organ harvesting is taking place in that country "on an industrial scale."
An investigative report released in 2016 titled "Bloody Harvest/The Slaughter: An Update" revealed that 60,000 to 100,000 illicit transplants per year took place in China between 2000 and 2016, with the vast majority of the victims being Falun Gong prisoners of conscience.
Genuis said it is now suspected that Uighur Muslims in China may also be subjected to forced organ harvesting.
"A lot has been said highlighting the persecution of the Falun Gong in that context, but there's others, and there's concerns now about the Uighur Muslim community being targeted in the context of organ harvesting as well.
"So there's a real urgency to address this issue."