Sen. Tim Kaine (D-Va.) endorsed former Vice President Joe Biden for president on Friday. It was the first endorsement from a senator for months.
Kaine, 62, was the Democratic vice presidential candidate in 2016. He and presidential candidate Hillary Clinton lost to Donald Trump.
"America is afflicted by a President who delights in division, cruelty, lies, and chaos. We deserve better in the Oval Office," Kaine said in a statement.
"In Virginia's primary, I will proudly vote for Joe Biden. Joe has exemplary heart, character, and experience—and he's a leader our kids can look up to."
Kaine chose to endorse Biden, 77, over several of his colleagues in the U.S. Senate who are vying for the Democratic nomination. Sens. Elizabeth Warren (D-Mass.), 70, Bernie Sanders (I-Vt.), 78, and Amy Klobuchar (D-Minn.), 59, remain in the race.
Kaine cited Biden's experience as vice president during President Barack Obama's administration, asserting that Biden and Obama worked "to rescue the American economy from catastrophe, expand health care to millions of people, revive creative diplomacy to keep Americans safe, tackle global challenges like climate change, and appoint high-quality people across the executive and judicial branches of our government."
As a senator during the time period, Kaine said he saw first-hand Biden's role in the accomplishments of the administration.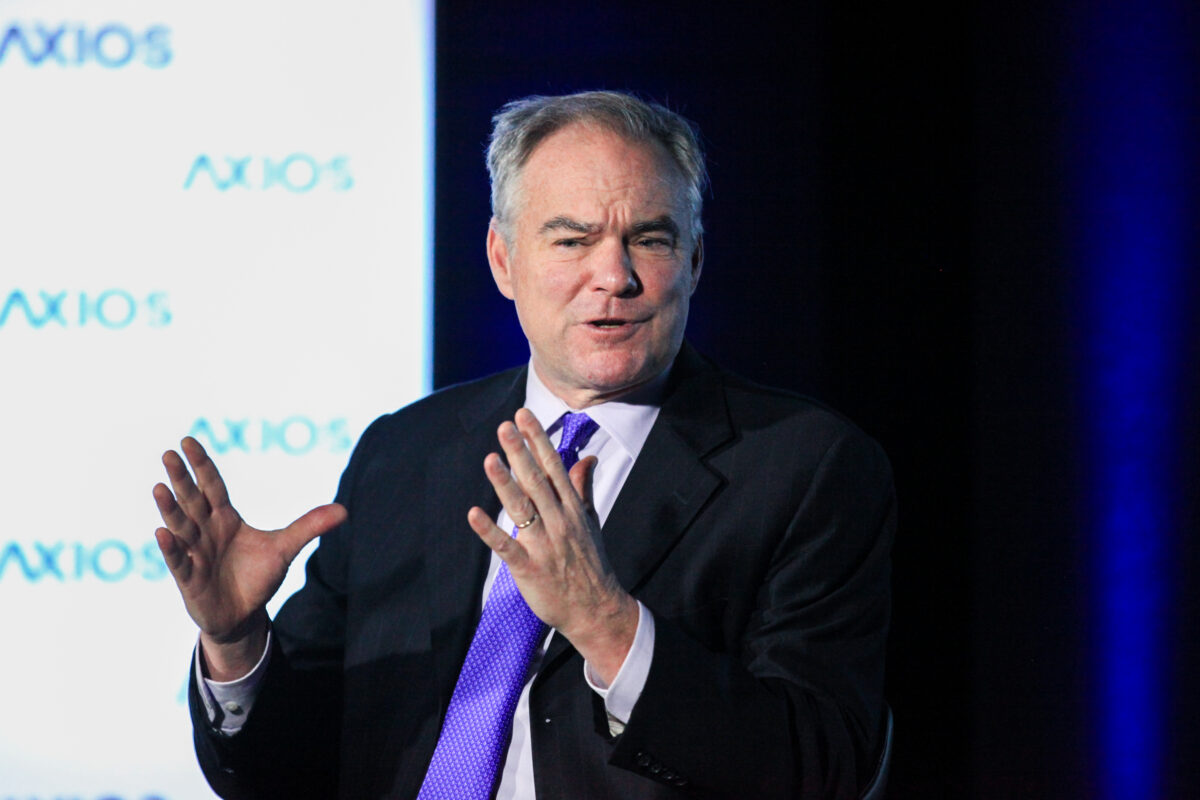 Biden has frequently cited his work during the eight years he and Obama were in office while on the campaign trail. Obama hasn't made an endorsement in the primary.
Most Democratic senators have refrained from making endorsements but several earlier in the year announced who they were supporting. Sens. Chris Coons (D-Del.), Doug Jones (D-Ala.), Tom Carper (D-Del.), Robert Casey (D-Penn.), and Dianne Feinstein (D-Calif.) all said last year they would back Biden.
The in-state colleagues of the three senators still vying for the nomination made endorsements last year. Sen. Tina Smith (D-Minn.) endorsed Klobuchar, Sen. Patrick Leahy (D-Vt.) endorsed Sanders, and Sen. Edward Markey (D-Mass.) endorsed Warren.
Former New York City Mayor Michael Bloomberg, 78, and former South Bend Mayor Pete Buttigieg, 38, have received no endorsements from U.S. senators.
Biden leads the field in congressional endorsements with nearly 50 while Bloomberg is second with at least 16.
Biden received a boost earlier this week with an endorsement from Rep. James Clyburn (D-S.C.). South Carolina's Democratic primary is scheduled for Feb. 29.
"I can't think of anyone better suited, better prepared, I can think of no one with the integrity, no one more committed to the fundamental principles that make this country what it is than my great friend, my late wife's great friend, Joe Biden," Clyburn told a crowd in North Charleston.