Joe Exotic, the subject of the Netflix documentary "Tiger King," was resentenced Friday to 21 years in prison, reducing his punishment by a year despite his pleas for leniency as he starts treatment for cancer.
"Please don't make me die in prison waiting for a chance to be free," Exotic, whose real name is Joseph Maldonado-Passage, told a federal judge, reported The Associated Press.
Maldonado-Passage in 2019 was convicted in a murder-for-hire case involving animal welfare activist Carole Baskin, who was also featured in the "Tiger King" documentary. He also was convicted of 19 separate wildlife crimes.
After his sentencing in early 2020, he claimed that his two murder-for-hire convictions were wrongfully separated and said Baskin was unfairly allowed to attend his trial despite her status as a witness.
"The defense submitted a series of attachments that showed excessive government involvement in the creation of the offense for which he's been convicted," attorney Molly Parmer told reporters following the hearing on Friday. "We are going to continue our post-conviction litigation, but we did preview for the court the evidence we have through our post-conviction investigation."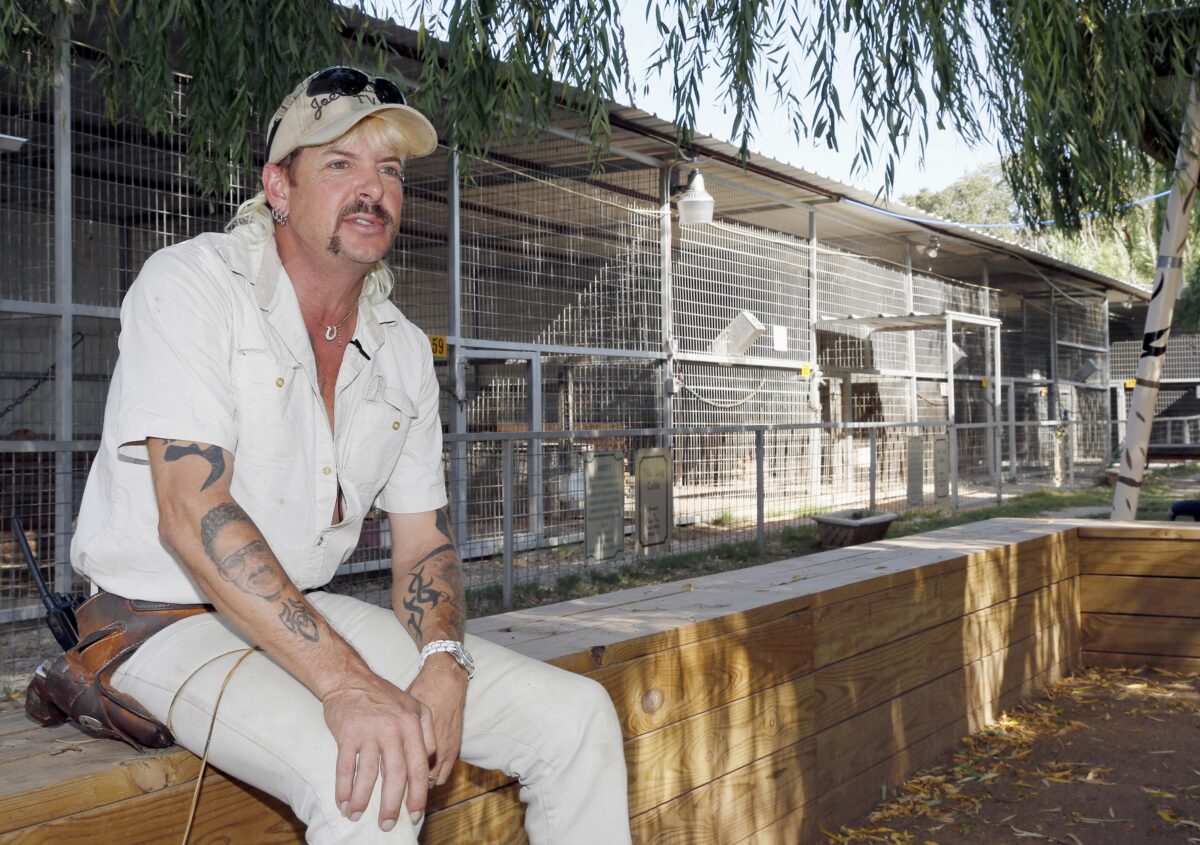 The former zookeeper was sentenced in January 2020 to 22 years in prison after he was convicted of trying to hire two different men to kill Baskin. A three-judge panel of the 10th U.S. Circuit Court of Appeals agreed with Maldonado-Passage that the court should have treated them as one conviction at sentencing because they both involved the same goal of killing Baskin, who runs a rescue sanctuary for big cats in Florida and had criticized Maldonado-Passage's treatment of animals.
While in court Friday, an AP reporter noted that Maldonado-Passage still had his trademark mullet hairstyle, although "bleach-blonde had faded to brown and gray."
Baskin, meanwhile, issued a lengthy victim impact statement.
Maldonado-Passage's "actual conduct shows he continues to harbor intense feelings of ill will toward me," she alleged in her statement. "On social media since the original sentencing, Mr. Maldonado-Passage has persistently posted derogatory statements about me that are attacks on my character, accuse me of crimes, or are threatening in nature, including an image referencing that I am dead."
"For him I believe the evidence shows it is a personal to the point of obsession. Every person who worked at the zoo and later came to us to report the mistreatment of animals told us that he ranted against me daily," Baskin continued.
The Associated Press contributed to this report.