While special counsel Robert Mueller has concluded there was no evidence of collusion between the Trump campaign and Russia, some of the key people in creating the Russia-collusion narrative themselves have ties to a foreign nation.
Both the Democratic National Committee as well as Fusion GPS—the company hired by the DNC and the Clinton campaign to research the Trump campaign—were using Ukrainian sources in their efforts to discredit Trump.
Serhiy Leshchenko, a member of the Ukrainian Parliament, was a common thread involved in Democratic opposition research efforts into former Trump campaign Chairman Paul Manafort. Leshchenko, along with Artem Sytnyk, the director of Ukraine's National Anti-Corruption Bureau, was responsible for publicly disclosing the contents of the Ukrainian "black ledger," which implicated Manafort, to the media.
Leshchenko also served as a source for various individuals, including journalist Michael Isikoff and DNC operative Alexandra Chalupa. In addition, Leshchenko served as a direct source of information for Fusion GPS—and their hired researcher—former CIA contractor Nellie Ohr.
Leshchenko: A Source for Fusion
Ohr told congressional investigators on Oct. 19, 2018, that while she was working for Fusion, she was sometimes given leads from both Jake Berkowitz, her direct supervisor, and Fusion GPS co-founder Glenn Simpson. When asked if any Fusion research was based off "sources of theirs," Nellie answered affirmatively but said the information that came from the sources wasn't in relation to the Trump family.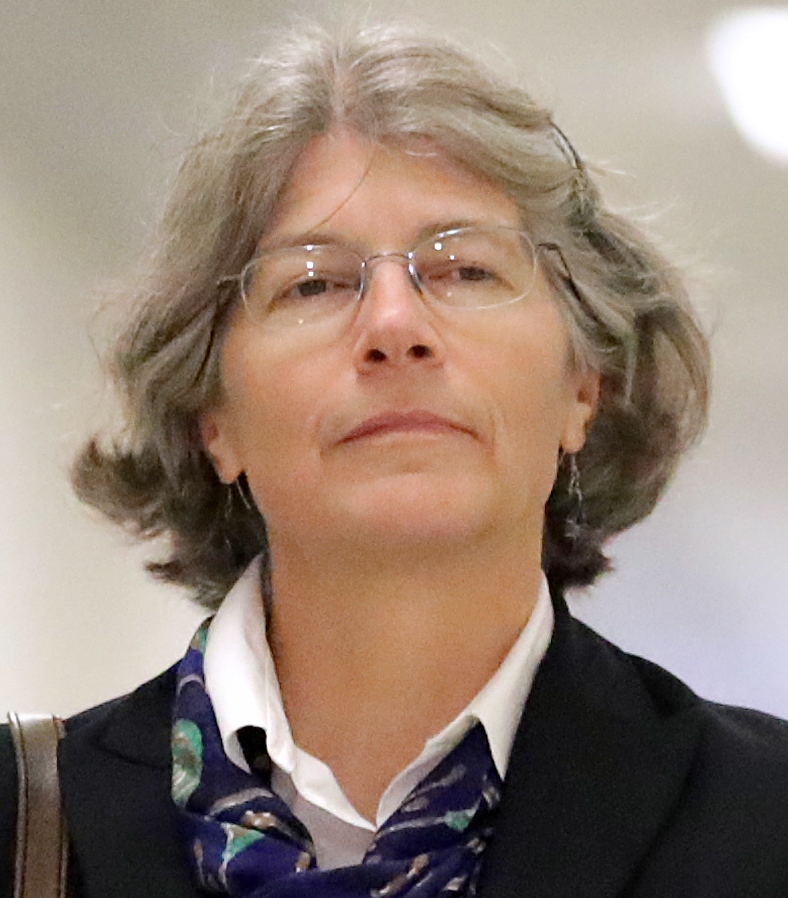 When pressed, Nellie said she recalled them "mentioning someone named Serhiy Leshchenko, a Ukrainian." She later admitted she knew of Leshchenko prior to her time at Fusion as he was a "very well-known, Ukrainian, anti-corruption activist" and said she had followed him in the press.
Leshchenko revealed the existence in 2016 of the so-called Ukrainian "black ledger," which allegedly contained a list of secret payments made by Ukraine's pro-Russian Party of Regions to Manafort among many others.
Leshchenko had adopted a strong anti-Trump stance, telling the Financial Times in August 2016 that "a Trump presidency would change the pro-Ukrainian agenda in American foreign policy" and that it was "important to show not only the corruption aspect, but that he is [a] pro-Russian candidate who can break the geopolitical balance in the world." Leschenko noted that the majority of Ukrainian politicians were "on Hillary Clinton's side."
Nellie Ohr said she wasn't aware how the connection between Leshchenko and Fusion was established, or if they were doing work for him, but she did agree that Leshchenko was "a source of information" and acknowledged that she then used that information in following up and formulating her opposition research.
Later in Ohr's testimony, Leshchenko was briefly mentioned once again. She appeared to be very careful with her choice of wording—especially when Manafort's name came up:
Ms. Sachsman Grooms: You mentioned that, at some point, somebody from Fusion GPS told you that they were giving you a tip that was based off of a source that was a Ukrainian source, Serhiy Leshchenko. Is that right?
Ms. Ohr: Yes. That they were—that they were giving me some information that had originated with him in some way.
Ms. Sachsman Grooms: Do you recall whether that information related to Mr. Manafort?
Ms. Ohr: What I'll say is that at the time—at the same meeting, if I recall correctly, that his name came up, this piece of paper that lists Mr. Manafort's flights was given to me, and I'm not—I don't recall exactly right now whether they said this particular piece of paper comes from Mr. Leshchenko or not.
At this point, the questioning abruptly moved on and no further questions involving either Manafort or Leshchenko were put forth. Ohr was never asked if she had ever met with Leshchenko directly.
The Party of Regions Email
In 2010, Nellie Ohr was listed as a participant in a June 2010 National Institute of Justice report, "Expert Working Group Report on International Organized Crime." Listed on the same page were husband Bruce Ohr and Simpson, who was, at the time, a "Senior Fellow, International Assessment and Strategy Center."
Another participant at the conference was DOJ official Lisa Holtyn, who was listed as a senior intelligence adviser at the DOJ Criminal Division's Organized Crime and Racketeering Section.
Notably, Holtyn is the same DOJ official Nellie Ohr included on many of her emails to her husband that contained her Russia-related research. Also present at the conference was Mark Galeotti, academic chair for the Center for Global Affairs at New York University, and Tom Kellerman, vice president of security awareness and strategic partnerships at Core Security Technologies.

Nellie Ohr, while working for Fusion GPS, would later send emails to Bruce Ohr and Holtyn with Russia-related articles that contained quotes from both Galeotti and Kellerman, with Galeotti being more frequently referenced, but she made no mention of their mutual association from the conference in her emails.
On May 30, 2016, Nellie Ohr sent an email to Bruce Ohr, Holtyn, Ivana Nizich, and Joe Wheatley—then both trial attorneys in the DOJ's Organized Crime and Gang Section. Nizich had previously worked for Bruce Ohr. The email held a subject line that read "Reported Trove of Documents on Ukrainian Party of Regions' 'Black Cashbox.'" Within the email was the text from an article penned the day before by Nikolai Holmov, a blogger at Odessatalk, with the title bolded and enlarged. It also contained a link to the underlying article.
"Documentation regarding that Party of Regions' 'chyornaya kasse' has now seemingly found its way to NABU, the Ukrainian National Anti-Corruption Bureau," the article stated.
The article contained a tweet that led to another article, in Russian, from May 28, 2016, providing further details on the "chyornaya kasse" or black box ledger:
"On Saturday, published in the Weekly Mirror, Ukraine, an interview was made public with the former First Deputy Head of the Security Service of Ukraine Viktor Trepak, who claims that he handed over documents confirming illegal payments of cash by the Party of Regions to a number of former and current senior officials. According to him, we are talking about the so-called "black bookkeeping" of the Party of Regions with total payments of about $2 billion."
Trepak reportedly claimed his information regarding the more than $2 billion fund implicated "officials of the highest level, ministers and heads of departments, people's deputies, famous politicians, public figures, representatives of international organizations, judges, including the highest judicial instances."
Interestingly, when one goes to Holmov's Twitter feed, the last retweet sent (as of publication of this article) was on Jan. 11, 2019. It is a retweet of an announcement from Mark Galeotti that he was "joining the pre-eminent security think tank @RUSI_org as a Senior Associate Fellow." Galeotti, as previously mentioned, had been referenced with some frequency in Ohr's emails. In addition to being the author of numerous articles, Galeotti penned an article for Tablet Magazine, titled, "The 'Trump Dossier,' or How Russia Helped America Break Itself."
Some questions raised in Holmov's article would later prove prescient. "Have copies of these documents made their way to other, perhaps foreign security services? To what end?" he asked. "If there are foreign personalities involved, are those relevant documents to be shared with those nations—and when?"
Holmov addressed the motivations of the person responsible for disclosing the ledger, noting, "Not all informants are informants for cash reward—there are other (and perhaps more dangerous) motivators."
He also wondered about the timing, observing that the documents had "not just appeared from nowhere. Somebody has kept it, knowing it to be what it is, for quite some time. Thus why now has it come to light and been given to the authorities?"
Interestingly, Holmov noted that no names or specifics have been made public "for now" as any such disclosure "could very well impede subsequent investigations by NABU."  A Ukrainian court later determined that a NABU official played a role in the leaking of documents to The New York Times.
Nellie's May 30, 2016, email would prove prophetic. It alerted officials within the Justice Department of a discovery that would have far-reaching implications for Manafort—and the Trump campaign—months before the news reached a national level.
Leshchenko Leak Takes Down Manafort
Manafort, the former campaign chairman for Donald Trump, would be famously implicated in the Black Box ledger scandal two months later and it would lead to his resignation from the Trump campaign.
Manafort's work in Ukraine was highlighted in late July, and on Aug. 14, 2016, The New York Times reported that payments to Manafort had been uncovered from the Party of Regents' black box:
"Handwritten ledgers show $12.7 million in undisclosed cash payments designated for Mr. Manafort from Mr. Yanukovych's pro-Russian political party from 2007 to 2012, according to Ukraine's newly formed National Anti-Corruption Bureau. Investigators assert that the disbursements were part of an illegal off-the-books system whose recipients also included election officials."
Manafort's name was reportedly listed in the 400-page ledger 22 times, although his actual signature wasn't authenticated and any payments made to him remain unverified. The documents implicating Manafort had been released by Serhiy Leshchenko.
On March 20, 2017, Leshchenko released another set of documents, this time alleging to show that Manafort took steps to hide payments related to his work for former Ukrainian President Viktor F. Yanukovych. Leshchenko's documents "included an invoice that appeared to show $750,000 funneled through an offshore account and disguised as payment for computers."

In a strange twist, it was reported by Politico in late February 2017 that a hack of the phone belonging to one of Manafort's daughters revealed a text containing a blackmail threat that Manafort has attributed to Leshchenko. It's not known with any certainty who actually sent the text, which contains an attachment that references "the Yanukovych accounting book" and lists an email address for Leshchenko.
Leshchenko became the subject of an investigation in Ukraine and in December 2018, a Kyiv court ruled that Leshchenko, along with NABU Director Artem Sytnyk "acted illegally when they revealed that Manafort's surname and signature were found in the so-called "black ledger" of ousted President Viktor Yanukovych's Party of Regions," the Kyiv Post reported on Dec. 12, 2018.
The court noted the material was part of a pre-trial investigation and its release "led to interference in the electoral processes of the United States in 2016 and harmed the interests of Ukraine as a state."
The Hill recently reported that Ukrainian Prosecutor General Yuriy Lutsenko stated that he was opening "a probe into alleged attempts by Ukrainians to interfere in the 2016 U.S. presidential election." Surprisingly, the report, which focuses on Sytnyk, makes no mention of Leshchenko—or of the December court ruling which determined that both Leshchenko and Sytnyk violated Ukrainian law.
Alexandra Chalupa's Ukrainian Ties
According to a Jan. 11, 2017, investigative article by Politico, headlined "Ukrainian Efforts to Sabotage Trump Backfire," Democratic operative Alexandra Chalupa had been investigating Manafort and his work in Ukraine since 2014.
According to an Oct 16, 2018, report in the Kyiv Post, "Chalupa said she first came across Manafort after she organized a meeting with then-U.S. President Barack Obama's National Security Council and leaders of Ukrainian-American organizations in January 2014, to brief the White House about the Euromaidan Revolution that drove President Viktor Yanukovych from power on Feb. 22, 2014."
In late 2015, Chalupa expanded her research into Manafort to include the Trump campaign and possible ties to Russia.
In January 2016, Chalupa informed an unknown senior DNC official that she believed there was a Russian connection with the Trump campaign. Notably, this theme would be picked up by the Clinton campaign in the summer of 2016. Chalupa also told the official to expect Manafort's involvement in the Trump campaign.
Chalupa's forecast proved prescient, as Manafort reached out to the Trump campaign shortly after, on Feb. 29, 2016, through a mutual acquaintance, Thomas J. Barrack Jr. According to Manafort, he and Trump hadn't been in communication for years until the Trump campaign responded to Manafort's offer.
On March 28, 2016, Manafort was hired by the Trump campaign. He was reportedly initially hired to lead the Trump campaign's delegate effort, but was soon promoted, and on May 19, 2016, Manafort became Trump's campaign chairman and chief strategist.
Just days prior to Manafort's hiring, on March 24, 2016, Chalupa spoke with the Ukrainian ambassador to the United States, Valeriy Chaly, and told him of concerns she had regarding Manafort. Reportedly, her concerns were initially rebuffed as Chaly didn't think Trump had a real chance of winning the presidency.
According to Politico, the day after Manafort's hiring, Chalupa provided a briefing on "Manafort, Trump and their ties to Russia" to the DNC's communications staff. Notably, "with the DNC's encouragement," Chalupa asked the Ukrainian Embassy staff to attempt to arrange an interview with Ukraine President Petro Poroshenko and have him discuss Manafort's ties to former Ukrainian President Yanukovych. The Ukrainian Embassy reportedly declined the request but, according to Chalupa, did begin working with reporters who were researching Trump.
Andrii Telizhenko, who worked in the Ukrainian Embassy under one of Chaly's top aides, Oksana Shulyar, has repeatedly stated that Chalupa was working closely with the Ukrainian Embassy to obtain information on Trump.
In an interview with the Gateway Pundit, Telizhenko said he met Chalupa in the spring of 2016 at the Ukrainian Embassy, where Chalupa told him she was "a DNC operative working for the DNC" and the "Clinton campaign." Telizhenko continued, noting that Chalupa said she was "collecting any dirt or background information on Manafort, presidential candidate Trump or any other campaign official from the Trump campaign" and was looking for "connections to Russia or the FSB or Russian mob, or Ukrainian mob, etc."
According to Telizhenko, Chalupa said the information would "be used for committee hearings in Congress under a congresswoman." Telizhenko didn't disclose the identity of the congresswoman, noting, "I don't want to mention her name on record."
In January 2017, Telizhenko told Politico that Chalupa said, "If we can get enough information on Paul [Manafort] or Trump's involvement with Russia, she can get a hearing in Congress by September."
In a recent tweet, Telizhenko summed the situation succinctly, noting "The Clinton campaign had a Democratic operative working with Ukraine's embassy in Washington to research Trump's Russia ties, as well as a Ukrainian lawmaker feeding information to Fusion GPS."
The "Democratic operative" refers to Chalupa, while the "Ukrainian lawmaker" refers to Leshchenko.
Isikoff Collaborates With Chalupa
On April 26, 2016, Yahoo News investigative reporter Michael Isikoff published a story about Paul Manafort's business dealings with Russian oligarch Oleg Deripaska.
The Isikoff article referenced an investment fund, Pericles Emerging Markets, which was started by Manafort and several partners in 2007. According to The New York Times, Deripaska was the financial backer of the fund and agreed to commit as much as $100 million, although he apparently only invested $18.9 million in 2008 to finance the purchase of Black Sea Cable, a Ukrainian telecommunications company. Pericles is now defunct, and Deripaska sued Manafort in a Cayman Islands court, seeking to recover his investment.
This same transaction would later be referenced in the Aug. 14, 2016, New York Times article that reported the alleged payments to Manafort from the Party of Regents' black box.
On April 28, 2016, Chalupa appeared on a panel to discuss her research on Manafort with a group of 68 Ukrainian investigative journalists gathered at the Library of Congress, for a program sponsored by a U.S. congressional agency called the Open World Leadership Center.
Appearing with her was Isikoff, with whom she was apparently working and whom she had invited, according to a May 3, 2016, email that Chalupa sent to Luis Miranda, communications director of the DNC, and was published by Wikileaks:
"I spoke to a delegation of 68 investigative journalists from Ukraine last Wednesday at the Library of Congress—the Open World Society's forum—they put me on the program to speak specifically about Paul Manafort and I invited Michael Isikoff, whom I've been working with for the past few weeks and connected him to the Ukrainians."
Isikoff is the same reporter who published an article about Trump campaign foreign policy adviser Carter Page on Sept. 23, 2016. The article, headlined "U.S. Intel Officials Probe Ties Between Trump Adviser and Kremlin," was based on an interview with Christopher Steele. Isikoff's article would later be used as corroborating information by the FBI in the FISA warrant application on Page.
Chalupa's email closed with a reference to something larger that would become public in the coming weeks:
"More offline tomorrow since there is a big Trump component you and Lauren need to be aware of that will hit in next few weeks and something I'm working on you should be aware of."
In late July, according to the Politico article, Chalupa left the DNC to work full-time on her research into Manafort. Around the same time, on Aug. 4, 2016, Chaly, the Ukrainian ambassador, wrote an op-ed in The Hill against candidate Trump, noting that "recent comments by Republican nominee Donald Trump about the Ukrainian peninsula of Crimea—occupied by Russia since March 2014—have raised serious concerns in Kyiv and beyond Ukraine."
Leshchenko's Ties to Chalupa
On Aug. 14, 2016, The New York Times broke their blockbuster story alleging that payments to Manafort had been uncovered from the Party of Regents' "black box"—the 400-page handwritten ledger released by Leshchenko. The article proved to be a fatal blow for Manafort, who resigned from the Trump campaign just days later.
On Aug. 19, 2016, Isikoff wrote a follow-up article, claiming that Ukrainian anti-corruption investigators were seeking to question Manafort, who had resigned from the Trump campaign that same day. The source for Isikoff was Leshchenko, who told him that the National Anti-Corruption Bureau of Ukraine "have to interrogate him. … This has to happen."
Leshchenko held a press conference in Kyiv that same day, where he provided further details from the Party of Regions' ledger. Leshchenko also provided details directly to Isikoff, telling Yahoo News "that ledgers in the book include 22 separate entries for Manafort—most of them for fees under his contract as a political consultant to the party, but others for exit polls, computers, international observers and other expenses."
Mentioned in the same article was Chalupa, with whom Isikoff had been working:
"I'm ecstatic that Paul Manafort resigned from the Trump campaign," Chalupa told Yahoo News. "Mr. Manafort is someone who spent the last decades working against our nation's foreign policy interests overseas, as most recently demonstrated in Ukraine when he worked for Putin's former puppet president, Viktor Yanukovych."
Besides Isikoff, it appears Leshchenko had also been in contact with Chalupa. According to a March 20, 2017, report from Fox News, Leshchenko had spoken with Chalupa sometime in 2016:
"Leshchenko said he discussed Manafort's role in Ukrainian politics with Chalupa, the Democratic consultant, last year. Leshchenko said Manafort 'kept his eyes blind to all the corruption' by the Ukrainian politicians he was advising years ago."
On July 24, 2017, Sen. Chuck Grassley (R-Iowa) sent a letter to Deputy Attorney General Rod Rosenstein regarding Chalupa, noting that her actions "appear to show that she was simultaneously working on behalf of a foreign government, Ukraine, and on behalf of the DNC and Clinton campaign, in an effort to influence not only the U.S. voting population but U.S. government officials."
Grassley asked why the DOJ hadn't required Chalupa to register under the Foreign Agents Registration Act and also asked if the DOJ was "investigating links and coordination between the Ukrainian government and individuals associated with the campaign of Hillary Clinton or the Democratic National Committee? If not, why not?"