Tibetans Resist Security Forces' Demand of Love Toward CCP
July 4, 2011 3:12 pm Last Updated: October 1, 2015 4:20 pm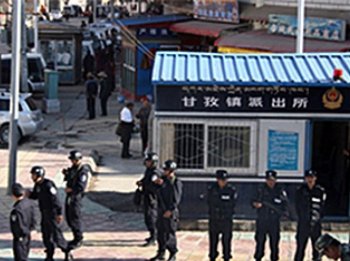 The Chinese Communist Party (CCP's) 90th Anniversary celebrations have been marked by the regime once again tightening down on Tibet. According to the Norway-based Voice of Tibet's report on June 29, Kirti Monastery, located in Ngaba County, China's Tibetan Autonomous Prefecture, Sichuan Province, has been strictly monitored by the CCP's army and police since March 2011. Over 1,200 monks have been expelled from the monastery, and more than 300 monks are still being detained.
In an interview with Radio Free Asia, Zuo Ge, member of the International Campaign for Tibet, confirmed that over 1,200 monks have been dismissed by regime authorities.
"On May 7, United Front Work Department of Ngaba County and the Bureau of Religion came to Kirti Monastery and investigated the presence of monks. When they found 1,200 monks were not in the monastery, they announced later that these monks were dismissed, meaning, these monks cannot return to their monastery."
In a second June 29 report Voice of Tibet said that since June 24, in Sichuan's Ganzi County, working teams composed of public security officers, armed military police troops and officials from various levels of state organizations forcefully broke into Tibetans' homes. They threatened the Tibetans and demanded they sign a document that expressed their love for the CCP, promising they will obey the Constitution and not hold any activities against the regime. They warned the Tibetans: if the protests do not stop, all the monasteries in Ganzi County will be closed. However, Tibetans in Ganzi County refused to comply.
Jampel Monlam, coordinator of the Tibetan Center for Human Rights and Democracy in Dharamsala, India confirmed to Radio Free Asia the gravity of the situation in Lhasa. He said, "Starting from June 29, authorities began setting up 24-hour monitoring spots in areas where there is a high density of Tibetan residents. Large monasteries that are close to Lhasa are strictly being monitored by cadres and public security."
Jampel Monlam added that regime authorities keep even stricter tabs on outside Tibetans.
"Lhasa now monitors Tibetans coming in from outside in particular. If they haven't registered for a temporary permit to stay or have a standard ID certificate, they will be detained," Monlam said.
Tashi, a Tibetan who manages a hotel in Lhasa, told Radio Free Asia that public security searched his hotel twice in one day.

[email protected]