Three young demonstrators in Hong Kong were seriously injured after being stabbed by a man with a Chinese mainland accent near a "Lennon Wall" on Aug. 20 around 1 a.m. local time.
Several witnesses said the man, with a knife in his hand, suddenly attacked a group of youth who gathered at a "Lennon Wall"—a street installation where people leave post-it messages in support of the ongoing Hong Kong protests—located in a pedestrian tunnel near Tseung Kwan O, also known as Junk Bay.
The wounded victims appeared to be in their 20s. Among them was a young woman who suffered the most serious injuries after being stabbed in the head, shoulder and back. She was rushed to Queen Elizabeth Hospital in Kowloon. Another woman was injured in the hand. The third victim, a young man, was stabbed in the head and ear. He is currently in Tseung Kwan O Hospital for treatment, according to media reports from Hong Kong-based Apple's Daily, HK01 and LIHKG Forum, a Reddit-like website where protesters often plan their demonstrations.
Witnesses told local media that the attacker quickly fled the scene. Photos taken at the site show blood stains at both exits of the tunnel.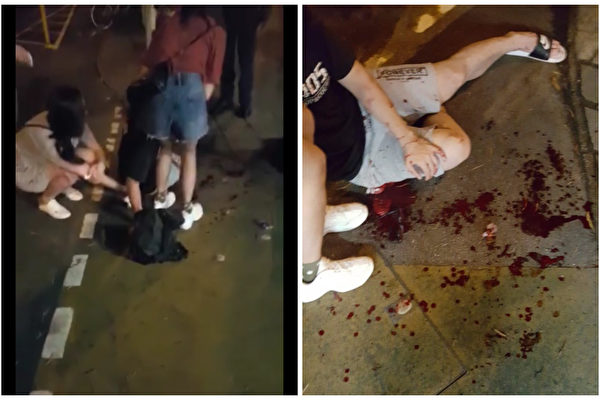 Apple Daily quoted a neighborhood resident as saying that when several protesters were organizing the posts on the "Lennon Wall," a man wearing a blue shirt and short pants walked into the tunnel and began chatting with the young people inside. All of a sudden, he drew out a kitchen knife, about one foot long, from his waistline, and began attacking the crowd. After stabbing his victims multiple times, he immediately escaped.
Meanwhile, another witness told HK01 that the man actually assaulted the victims with two knives. HK01 also learned that after the attacker ran away, there was a Chinese-style kitchen knife left at the site. Police later found a Western-style kitchen knife in a trash can nearby.
Witnesses described on LIHKG Forum that the attacker looked to be over 40 years old, and spoke Cantonese, the local dialect, with a mainland Chinese accent.
The Hong Kong bureau of The Epoch Times contributed to this report.