Three people have been charged in connection to a riot that shook Georgia Tech on Monday night.
What started out as a peaceful vigil on Sept. 18 for Scout Schultz—the student shot by police two days prior in what looks to have been a suicide by cop—turned violent after about 50 protesters marched on the Georgia Tech police department.
On the way, police managed to disperse the crowd after a tense standoff resulting in two officers being injured. Masked protesters were seen shouting into the faces of officers as they made an arrest. Another protester then set a police vehicle on fire.
The violence—apparently inspired by the belief that police overreacted for shooting Schultz—has resulted in three people being charged so far.
According to a police database of bookings, Vincent Castillenti, of Decatur, faces two counts of aggravated assault on an officer and two counts of willful obstruction of law enforcement officers.
Jacob David Wilson, of Atlanta, also faces two counts of aggravated assault against a police officer as well as three counts of criminal trespass.
Andrew Xavier Monden, of Atlanta, faces charges of interference with government property and inciting rioting.
Georgia Tech reportedly identified another arrestee as Cassandra Monden, but no charges appear under her name in the police database.
Protesters chanted insults at police throughout the confrontation.
Schultz, the subject of the riots, was shot after he called 911 reporting a dangerous person matching his own description—a white male with long blond hair, white T-shirt, and jeans—holding a knife, possibly intoxicated and/or armed with a gun.
In a video capturing the stand off, police tell Schultz repeatedly to put down what they believe is a knife, repeatedly asking him his name and "What's going on?"
"Drop the knife," says one officer in the video capturing the incident.
"Shoot me," says Schultz.
"No, drop the knife," repeats the officer.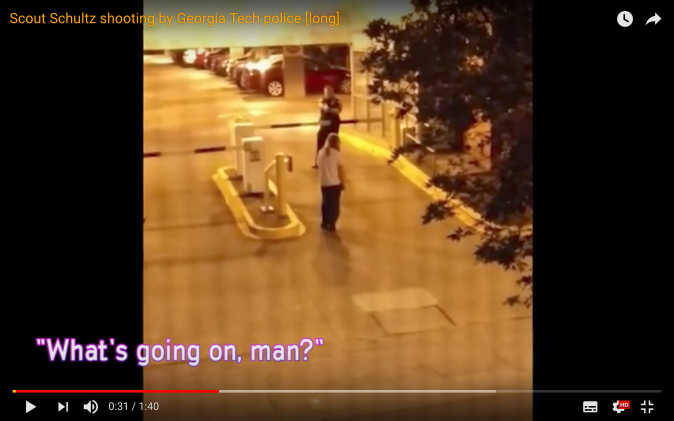 Schultz continues to walk towards officers, telling them again to shoot him while they tell him a dozen more times to drop the knife. At one point, Schultz pauses before suddenly advancing toward one of the officers. The other officer fires once, knocking him down.
Schultz was transported to Grady Memorial Hospital where he died of his injury.
Police recovered a multi-purpose tool that contained a knife from the scene but found no firearms.
The lawyer for Schultz's family, L. Chris Stewart, told Vox that Schultz had a history of mental illness, including a mental breakdown.
Stewart has been quoted by several outlets claiming that the officer involved in the shooting was not in danger and overreacted.
"A total of 3 suicide notes were located in Schultz's dormitory room," an updated statement from the Georgia Bureau of Investigation (GBI) read.
The GBI will now conduct an independent investigation of the shooting.