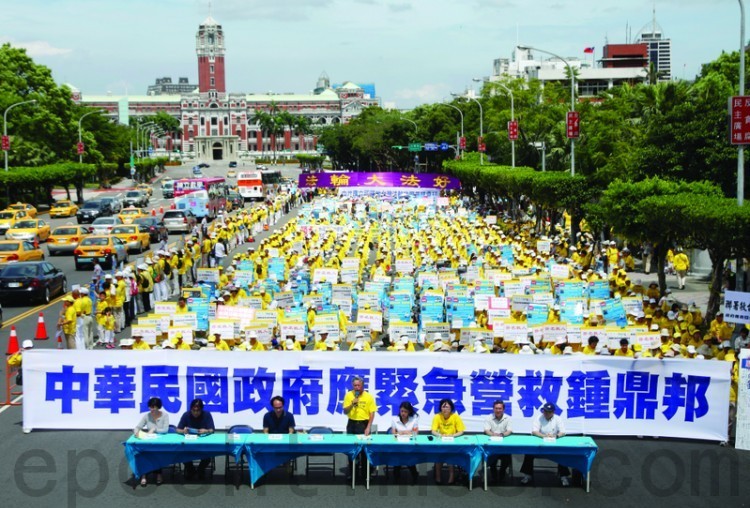 Three thousand Falun Gong practitioners gathered before the Taiwan Presidential Building on July 23 calling for the return of Taiwanese Falun Gong practitioner Chung Ting-pang, who was abducted in China last month.
Members of Chung's family, representatives from numerous nongovernmental organizations, and 3,000 Falun Gong practitioners gathered on Ketagalan Boulevard with thousands of yellow ribbons. Together they repeatedly chanted their plea: "Please help us, President Ma, to secure the quick release of Chung Ting-pang."
Falun Gong, also known as Falun Dafa, is a meditation practice based on the principles of truthfulness, compassion, and tolerance. Then head of the Chinese Communist Party Jiang Zemin launched a campaign in July 1999 to eliminate the practice, fearing its popularity.
Chung Ai, daughter of the abducted businessman, spoke at the press conference. With tears in her eyes, she said her father had done nothing wrong, and he had not committed any crimes. "He is a great father, please help him, President Ma," she said. Her father's favorite American classic song is "Bridge Over Troubled Water," so she asked everyone to help build such a bridge to rescue her father.
Chung Ai recently went to Washington, D.C., asking for international support. Chung Ting-pang's abduction has been reported on by international media, such as the BBC and Voice of America (VOA).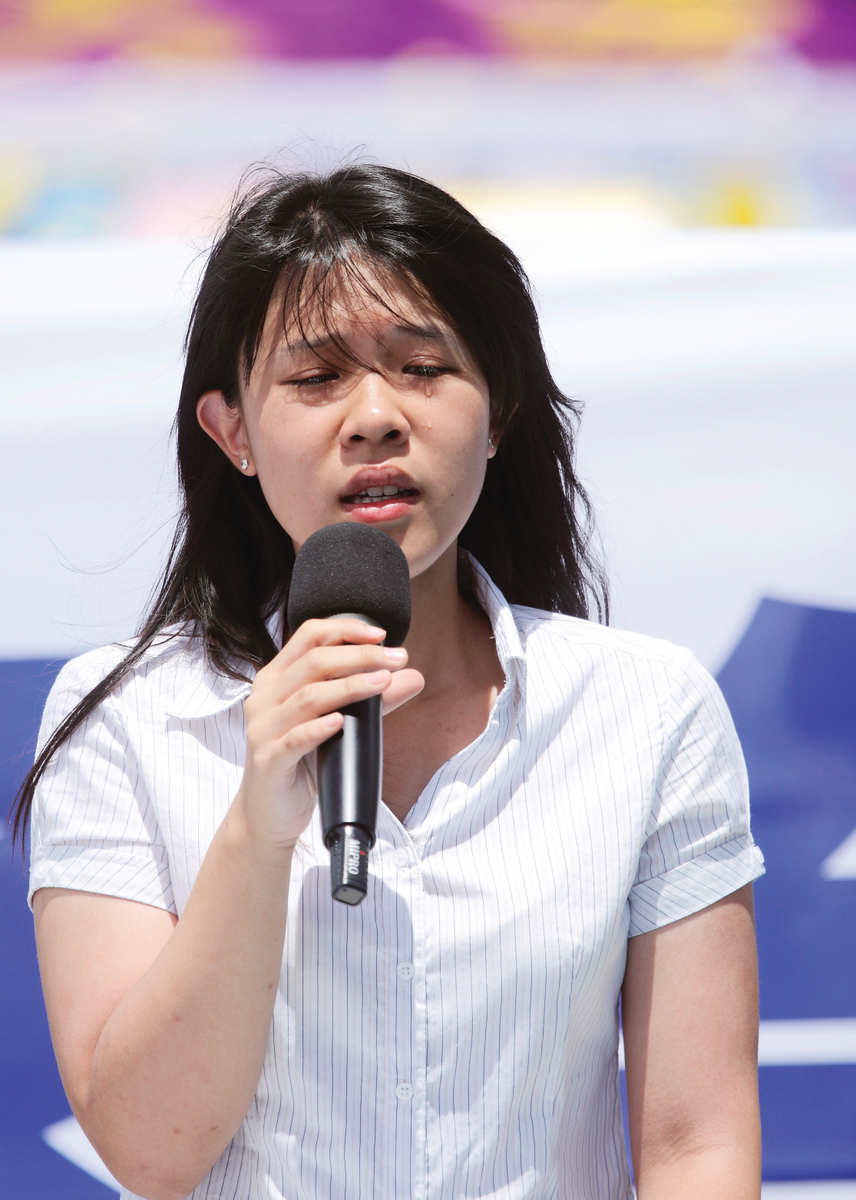 Yang Xian-hong, President of the Taiwan Association for China Human Rights, called on President Ma to save himself, saying, "It is not he who comes to the rescue of this Taiwanese citizen, but the Americans. Now, the presidential approval rating of President Ma is at an all time low of 15 percent, and it looks like it is going to drop further."
Theresa Chu, a lawyer and the spokesperson for the legal team working for the Taiwan Falun Gong Association, said that the president had not met with the family. Instead, Mr. Huang from the public relations office accepted the family's original petition in person. The petition made the following requests:
• President Ma must immediately demand that the Chinese government release Chung Ting-pang free of any charges.
• The president must arrange to immediately allow the family to call Chung Ting-pang.
• The presidential office must establish a task force for the sole purpose of rescuing Chung Ting-pang. This task force would directly report to the president to resolve any cross-strait issues. Members of the human rights committee should actively participate in the rescue efforts and report the status to the family daily.
• President Ma must publicly tell the Chinese government and the Taiwanese people about his administration's determination to secure the release of Chung Ting-pang.
Professor Chang Ching-Hsi, chairman of the Taiwan Falun Dafa Association (TFDA) said Chung Ting-pang could not be reached for the 37 days since his abduction.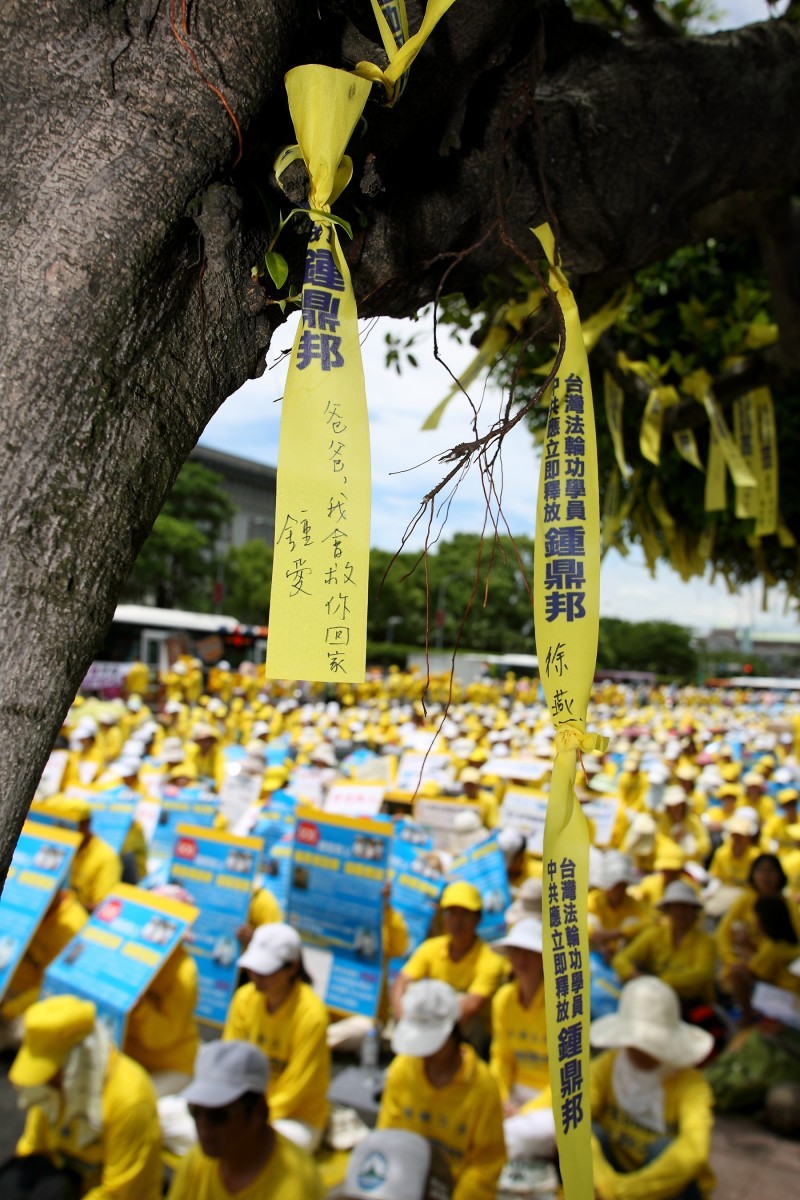 "The real reason behind this abduction is his practice of Falun Gong," Chang said. "Currently, there have been thousands of people supporting the ongoing mission for his release, and this rescue mission will never cease until Chung Ting-pang is safely returned to Taiwan."
Peng Bai-xian, secretary general of Lee Teng-hui Association for Democracy, emphasized that the case relating to Chung is not an isolated one. He believes President Ma and the Foreign Ministry must regard the security of life and property of any Taiwanese person traveling in China because the Taiwan and Chinese governments have established a program for it.
"If the protection of a Taiwanese citizen like Chung Ting-pang cannot be guaranteed, I have some serious doubt about President Ma's claim that the Economic Cooperation Framework Agreement (ECFA) would bring cross-strait development of peace and prosperity," Peng said.
William Kao, president of Victims of Investment in China Association, pointed out that approximately 1,000 Taiwanese businessmen in China have been imprisoned on trumped up charges. Kao expressed his gratitude to Falun Gong practitioners.
Kao said, "I am quite pleased that so many Falun Gong practitioners stand here today, which means that more and more Taiwanese people have come to be aware of the dire situation in China."
Read original Chinese article. 
The Epoch Times publishes in 35 countries and in 19 languages. Subscribe to our e-newsletter. 
Click www.ept.ms/ccp-crisis to read about the most recent developments in the ongoing crisis within the Chinese communist regime. In this special topic, we provide readers with the necessary context to understand the situation. Get the RSS feed. Get the new interactive Timeline of Events. Who are the Major Players?