Thousands in Hong Kong Rally for Full Democracy
October 7, 2007 12:00 am Last Updated: October 7, 2007 12:00 am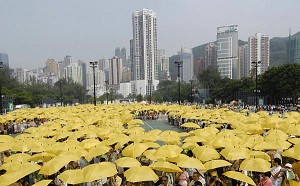 HONG KONG—Thousands of people in Hong Kong took part in a democracy march and a world-record breaking attempt using umbrellas, calling for a faster pace of democratic reforms and direct elections in 2012.
Gathered in a large park, around 5,000 people hoisted yellow umbrellas to form a massive yellow "2012" which is the date the pro-democracy camp wants direct elections to be realised.
"Fighting for democracy means you have to fight for democracy. Democracy is not going to fall from the sky," said legislator Ronny Tong, a chief organiser of Sunday's "Umbrella" rally, which he hopes will gain an entry in the Guinness Book of World Records.
Hong Kong's mini-constitution promises direct elections as the "ultimate aim" but is vague on a timetable, giving Beijing's leaders scope to dictate the pace of progress. In 2004, Beijing ruled out direct elections in the city until at least 2012.
Numerous public opinion polls have shown a majority of Hong Kong people would like to see direct elections in 2012, the earliest available window.
Sunday's activities are seen by some as a last symbolic push by the pro-democracy camp, before a watershed public consultation on constitutional reform ends on Wednesday.
The legislative "Green Paper" will seek to formulate a roadmap and timetable for the city to realise direct elections with Beijing's blessing. But some Hong Kongers remain sceptical of any quick breakthrough.
"I don't think that one activity can change anything, so I'll keep joining all the activities. Most Hong Kong people want to let the government know through all these activities that we want human suffrage as soon as possible," said Lai Kin Kwok, a college lecturer, who joined the rally with his wife and son.
Thousands later took part in a separate march for democracy, led by Anson Chan, a talismanic public figure and retired top civil servant who will run in a December election for a legislative council seat — bringing fresh momentum to the pro-democracy camp which she backs.
"We've already prepared ourselves and waited for a very, very long time. We hope there'll be (universal suffrage) by 2012," she told reporters as she marched.