Former Queensland premier and now-Senate candidate Campbell Newman said it was no surprise that Australia's official inflation rate released last week was at 3.5 percent and warned lower-to-middle income households would bear the brunt of the increased cost of living.
"This was coming. It was quite apparent in February-March last year. The U.S. Federal Reserve were in denial over this, and so was the Reserve Bank of Australia (RBA) and (Treasurer) Josh Frydenberg," Newman told The Epoch Times.
"Anybody in business and indeed households knew that the inflation tiger was on the loose," the Liberal Democrat candidate said. "You know, we get to a moment like last week where 'What a surprise! Inflation is 3.5 percent.' Well, it wasn't a surprise to people who are grownups."
"I'm really annoyed that people in the United States and Australian governments were pretending it wasn't happening," he added.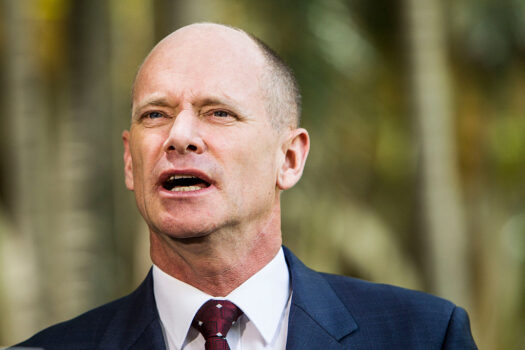 According to data released on Jan. 25, from the Australian Bureau of Statistics (ABS), the country's annual inflation rate hit its highest level since 2014, which was then at 2.6 percent.
The costs of goods and services also rose with the ABS revealing the annual consumer price index (CPI) had risen 1.3 percent over the past three months—including the basic costs of groceries, fuel, and building materials.
"I'm really concerned about it. It's going to hurt people; it's going to hurt the less well-off and middle Australia, particularly people who don't own assets and are trying to save for their first home," Newman said.
He also expected the RBA to begin increasing interest rates and this, coupled with inflation, meant young couples and individuals would be paying a lot more for their first home.
Warren Hogan, the economic advisor at Judo Bank, said that while the figures took the financial sector by surprise—while at odds with the RBA's ongoing stance—it was no surprise to ordinary Australians.
"When things are changing, we aren't hearing about it quickly enough. The RBA has been sideswiped by this," he told Sky News Australia, noting that the institution had a "horrendous communication" problem and only released inflation figures once a quarter, rather than monthly, which is the standard across developed nations.
However, Hogan did not think inflation would "run-away" because wage growth had slowed.
"The irony of all of this is wages aren't moving. This inflation is coming through for other reasons and this is what makes it difficult for everyday Australians," he said. "They're going backwards. What they're paying for—things are going up faster than their wages."
Stimulus spending from the U.S. and Australian governments had also contributed to inflation issues, he said, as well as the pandemic.
"There's a lot of global supply chain pressures coming through that are finally showing up in Australia. It's also because the economy is doing well," he said.
Newman, however, was sceptical that supply chain problems during COVID-19 were the root cause, instead, he blamed governments for "printing money."
"Supply chain issues are the fig leaf," he said. "They're caused by inconsistent COVID-19 restrictions."
"If this (mixed messaging around inflation) is deliberate, it's about trying to defray the value of the outstanding national debt. Higher inflation is one of the best ways for government to chip away at the debt and erode the real value of it."
National debts globally have ballooned over the past two years after governments rolled out stimulus packages to keep their economies afloat during extended government-mandated lockdowns and restrictions.