Epoch Times photographer Ben Chasteen shares some snippets of Occupy Central life.
Local Ginger

I came across this man who I thought looked really interesting holding his watercolor artwork. He has created over 70 pieces of art since the protest began over one month ago. 
Me: What is your name
Local: Local Ginger
Me: [Saying it really slowly]  Local Ginger?
Local: Yes, Local Ginger
Me: How old are you?
Local: Oh, I'm a youngster
Strike a Pose

So I decided one night to just wonder off away from the main protest site and  I saw a group of friends posing and taking photos in the middle of Harcourt Road, which has been blocked off by protesters.  I was hoping to snap a few photos before they saw me to not break the moment, but since there was no one around in sight, they noticed right away.
I asked them if I could take a photo and suddenly Crystal does the splits right in the middle of the road and calls her friend Kitty over to join her.  This photo is the result.
 Cleaning lady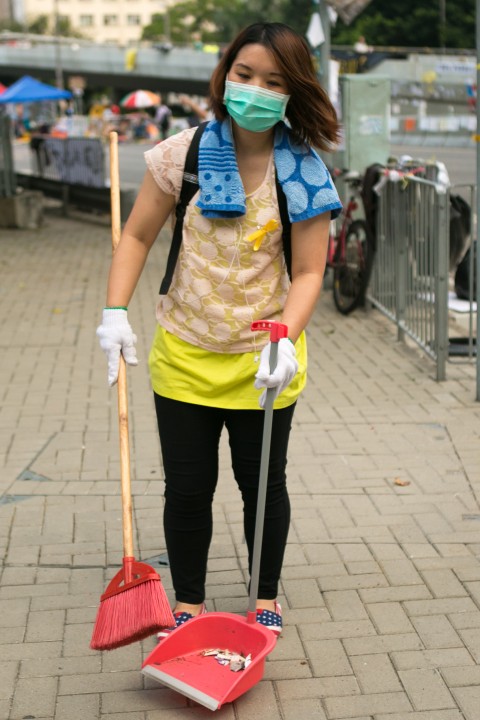 After being in Hong Kong for a couple of weeks, I am amazed by how much the Hong Kong people love their country.
I hear many people talk about how much love and care they have for their country, but never in my life have I seen anyone who walks the talk.
Right up till I ran into this "cleaning lady" that is.
She has been meticulously picking out and sweeping up cigarette butts and other litter trapped between bricks on a path in the Central District of Hong Kong.  
The woman said no one asked her to do it, and she just thought that someone should take the effort to ensure that the area is spotless.
When I asked her why she decided to take up this responsibility on her own accord, she said, "Because I love my country and I want to make sure it gets taken care of."
I watched her for a few more minutes.
Tears crept into my eyes.
3am protesters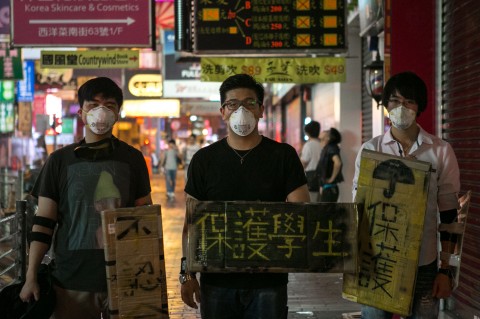 As Matt (Epoch Times journalist Matthew Robertson) and I were walking home at 3am in a dimly lit area after reporting on the Hong Kong protest, we saw these three guys approach us from the opposite direction.
They walked past, and all of them turned looked at us.
At first I was a little intimidated, then I thought  "Ooh, I should have photographed them." 
Matt must've read my thoughts, because he asked them in Chinese if they were okay posing for a photo, and they replied that they were more than happy to.
We asked them what they are doing and they said they had volunteered to patrol the area and protect the protesters against the hired thugs who are causing issues with the protesters. 
Which is what is written on their boards in Chinese, incidentally.
They talked to us for awhile and then we were on our way again.
Police laughing with Protesters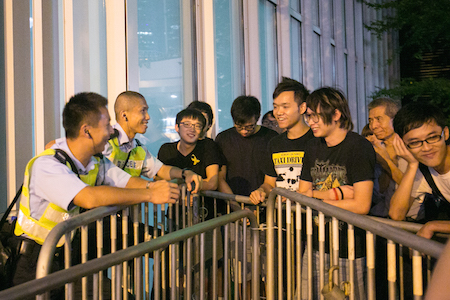 After a pretty intense experience with the police just the day before, I happened to walk by a dark corner where I saw a few people gathered.
I decided to head over to see what was going on, and I saw some of the protesters laughing with a couple of police officers.  
I didn't know what they were saying, but judging from the overall scene, they all seemed to have put aside all differences.
They have one big thing in common, I thought: they are all Hongkongers that want the situation to be resolved in a peaceful way.