NEW YORK—Julie Menin has interviewed many high-profile figures in politics, entertainment, and the media as former host of NBC's "Give and Take." On Tuesday morning at Sarabeth's Kitchen on Greenwich and Jay streets in Tribeca, Menin sat on the other end of the microphone to tell about her journey through New York's political world.
As chair of Community Board 1 in Lower Manhattan, she has been at the center of 9/11 rebuilding, Zuccotti Park protests, and ground zero mosque debates. She started filling her campaign coffer in November to run for Manhattan borough president in 2013.
"I grew up in Washington, D.C., which by its nature is obviously a political place to grow up, and I majored in political science at Columbia, but I would have never thought this is the trajectory I would go in," said Menin.
First an attorney, then a caterer, her career in the public sphere began unexpectedly on Sept. 11, 2001.
Her neighborhood lay in ruins following the 9/11 attacks and a mass exodus left an even larger void. She lived only a couple of blocks from the towers, but as others migrated, Menin began rebuilding. She mustered together 30,000 of her neighbors in a nonprofit group called Wall Street Rising.
Its first order of business was to bring business back. A dining initiative boosted restaurant business in the area 400 percent and hundreds of stores participated in a discount card initiative that brought shoppers back to Lower Manhattan.
Menin says growing up with her mother's stories of Holocaust hardships helped her remain calm through rough seas. Her mother lived in a cellar in Hungary for several years during the war. She stayed in hiding with Menin's grandmother, but most of her family didn't make it.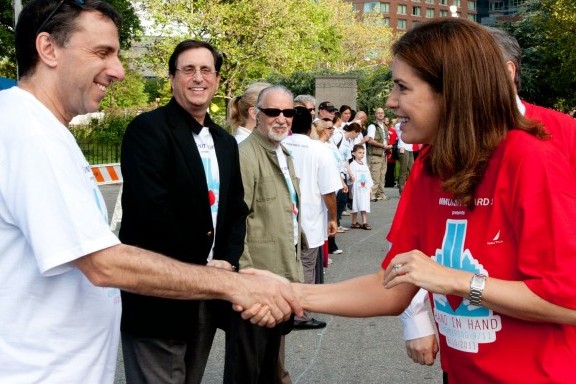 "The tenacity and perseverance that my grandmother showed as a single mother taking care of her only child—that gave me a tremendous amount of strength, and I think it puts [things] in perspective," said Menin.
The Holocaust experiences she heard about also built in her a strong sense of religious freedom. She did not hesitate to stand behind the right of Muslims to build a mosque near ground zero. She suggested, however, an interfaith center that would bring together worshipers from different religions.
"I think leadership is about taking strong positions, but also about bringing people together who have disparate views," said Menin.
Throughout the Occupy Wall Street protests, Menin opposed the use of force to remove protesters from Zuccotti Park, while encouraging them to keep it orderly for surrounding residents.
A transformative moment
As a caterer, she was going to attend a restaurant conference near the World Trade Center site on Sept.13, 2001. When the dust cleared, she was no longer in the dining industry. The attacks on WTC changed many lives and ended many as well—for Menin "9/11 was a transformative moment that certainly changed the course of my life."
After her involvement in rebuilding the community and the landscape in Lower Manhattan as founder and president of Wall Street Rising, Mayor Michael Bloomberg appointed Menin redistricting commissioner in 2002 to help redraw City Council boundaries.
She then served on the jury for the World Trade Center Site Memorial Competition in 2003. Her first son was born—the eldest of three—only two weeks before the first meeting.
"Having a new baby at home and trying to decide how to memorialize the thousands of lives that were lost was certainly a strong juxtaposition for me," reflected Menin. She now sits on the 9/11 Memorial Board.
She has served three consecutive terms as Community Board 1 chair starting in 2006, and sits on the boards of several organizations including the Lower Manhattan Development Corporation and the Municipal Art Society. She is the recipient of civic honors including the Women's Campaign Fund Rising Star award, and was named by City Hall newspaper as one of the city's 40 Under 40″and one of 100 Top New Yorkers by the New York Resident.
Menin took a last sip from her cappuccino before heading out to another meeting, then the ticker-tape parade. She wished her sons could come, laughing at the recollection of their blue wigs on Super Bowl night, but wasn't about to let them out of school for the day.
Juggling three boys and an active public life is hard, but Menin offers the counterintuitive advice to anyone who wants to get something done—"Give it to someone who's really busy. They're usually good at organizing and multitasking."