Commentary
The Chinese regime's influence is easily expanded through the pressure it can bring against small nations.
States like Iceland, the Faroe Islands, Solomon Islands, Equatorial Guinea, and Maldives are vulnerable to Beijing's efforts to expand its power through the guise of economic cooperation and exchange. In response, the United States needs to make a dedicated effort to aid these countries so that they may resist the Chinese regime's expansion.
The world has witnessed the regime's dedicated efforts to expand its influence and control through its coercive diplomacy in the South China Sea, East China Sea, and against India and Taiwan, among other states. While it has received less attention, Beijing also specifically targets small states for control through economic investment and infrastructure development.
As part of Beijing's all azimuth expansion, dedicated attention is placed upon small states to permit Chinese expansion of influence through economic and diplomatic means that will soon segue into political control and loss of autonomy for these states. While the tool to gain control often through the United Front or via economic means—with the promise of lucre for the politicians and investment to aid the development of the country—China seeks control of these states for ideological and strategic reasons.
Ideologically, the regime provides evidence of Beijing's growing influence in international politics as more countries fall into its grasp, and evidence that the future order of international politics will be created by China—this is a modern form of Mao Zedong's "East wind prevailing over the West wind." Strategically, the regime provides intelligence collection bases and might segue into military bases, as China now has in Djibouti and might soon create in Equatorial Guinea.
An excellent example of the Chinese regime's strategy to gain control in small states has been its effort over the last decades to purchase land and one of Iceland's major banks. Thankfully, the Icelandic government prevented the bank's takeover. In another positive step, the United States has once again turned attention to the value of the Keflavik facility for use by the Coast Guard to aid Iceland's ability to protect its fisheries and to provide search-and-rescue capabilities for the Icelandic population.
But the threat to Iceland is not over—tourism from China has greatly increased over the years. As the pandemic's grip weakens, Chinese investment in Iceland's travel industry is a source of vulnerability to the stability of Iceland and another avenue of potential control.
Greenland is also vulnerable to pressure from the Chinese regime. While Greenland is ruled from Denmark, Chinese mining concerns generated an unwelcome investment and presence there. Ideally, the United States would never have permitted China to make these inroads. Nevertheless, Washington had belatedly recognized that the sub-Arctic space is strategic territory. Working with allies and friends in the region can check Beijing's depredations. This also serves as a model for offsetting China's presence in other locations as well.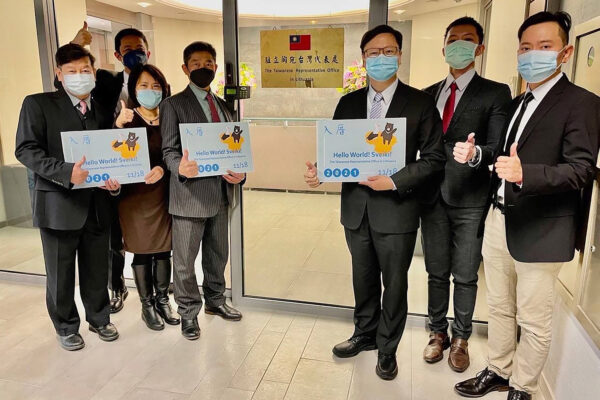 Lithuania's actions are the ideal type of what small states can do to resist the Chinese regime. Vilnius has removed itself from China's "17+1" association for central and eastern European states, and warmed to Taiwan by allowing Taipei to open a representative office in the country's own name, rather than in the capital Taipei's name as has been typical to avoid Beijing's retaliation.
Lithuania has paid a considerable price due to Beijing's sanctions and opprobrium directed at Vilnius. While Lithuania has incurred these costs, it has not received the support it should from the European Union and NATO. On a per capita basis, Lithuania has done more to combat the Chinese regime than any other country.
Vilnius should be exalted for its stance and know that its EU and NATO allies are united in their support—the Baltic David faces the Communist Goliath but does not do so alone. The United States and NATO should lend immediate diplomatic support to Lithuania, encourage all members of "17+1" to leave it, as there is no reason any state, particularly the NATO members, should be in a cooperative organization with communist China.
Having escaped the tyranny of the Soviet communist system, they should be loath to support communist tyranny in Beijing's guise. Moreover, the EU and NATO states should impose retaliatory sanctions on China. Finally, the EU and NATO should develop a strategy to shift trade from China toward other countries to reduce imports and exports to China, and so reduce dependencies upon Beijing.
The slow response in support of Lithuania by the United States is a symptom of general neglect of small nations and must be corrected. Washington needs to recognize that neglect provides an opening to the Chinese regime upon which it will capitalize in its global competition with the United States. Those countries provide bases for China, which will become more important to China's military and, thus, to the United States as the Sino-American security competition intensifies.
Being sensitive to China's penetration of small nations also permits the United States to anticipate dangers. For example, the Scottish independence movement is a source of concern in the fight against the expansion of the Chinese regime's influence. Scotland is a land of about 5.5 million people with great wealth due to its oil, oil shale, and natural gas. If it were to become independent, its strategic location would invite an effort by China to secure influence first and then control of its vital territory. Thus, Scottish independence has a strategic component that impacts U.S. interests.
Catalonia is another example. Were it to gain independence from Madrid, considerable attention will be needed to avoid the inevitable attempt by Beijing to pull Barcelona into its orbit.
In the competition with the Chinese regime, each region is significant as is each country. If given a choice, small states will choose the United States as it is a better alliance and trade partner. In contrast, the Chinese regime is defined by its exploitation of people and the environment. However, if small countries do not have a choice, they will fall under China's control by default. Thus, they need U.S. support for their economic stability and security. The United States requires vigilance concerning China's strategy for penetration and the tools it employs to gain control of small states—the greatest of which has been U.S. neglect. Due attention from Washington and its regional allies is needed.
Views expressed in this article are the opinions of the author and do not necessarily reflect the views of The Epoch Times.