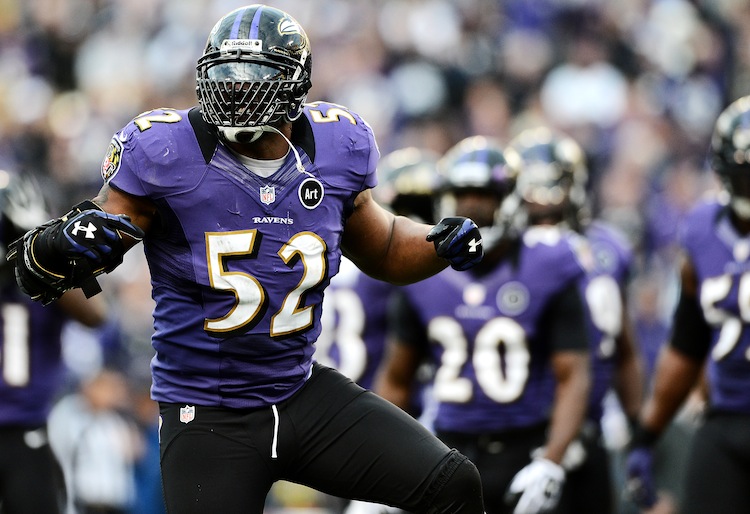 It doesn't take a genius to realize that the Baltimore Ravens are a completely different team with Ray Lewis in their lineup.
This year, with Lewis, the Ravens are 7–1, including two playoff wins. Without Lewis, the Ravens were a mere 5–5. After missing 10 regular season games with a torn triceps, Lewis made his triumphant return in Baltimore's wild card win over Indianapolis. In that game, Lewis led his team in tackles with 13.
Last Saturday, in one of the most memorable football games in recent history, Lewis spurred his Ravens past the Broncos; he led his team in tackles with 15.
Lewis, 37, is in his 17th season with the Ravens and will be retiring at season's end. He was chosen by the Ravens in the first round in 1996 and led them to a Super Bowl win in 2000. He was chosen as MVP in that game.
Lewis will go down as one of the greatest defensive players in NFL history. He was named NFL defensive player of the year twice (2000 and 2003).
He also brings a wealth of playoff experience, having played in 19 career postseason games and winning 12 of them.
"He's changed the game. He's been a once-in-a-lifetime, once-in-a-generation-type player. I have a tremendous amount of respect for him and what he's accomplished in his career," Matthew Slater, special teams captain and wide receiver for the New England Patriots, said Monday, as reported on NFL.com.
The tests keep getting bigger and bigger for the Ravens. After going on the road and beating Denver, the Ravens now have to travel to Foxborough to take on the New England Patriots.
The Patriots are perennial AFC powerhouses. They are 14–3 at home in the postseason and 7–2 all-time record (4–0 at home) in conference championship games.
The Patriots defeated the Ravens 23–20 in last year's AFC Championship.
"If you're writing it up, there's no better way to write it up. … What better way to go back and go at New England again?" Lewis said in his Wednesday press conference, as reported by the Baltimore Ravens Twitter feed.
Lewis is one of those increasingly few players who will always be identified with one team and one city. The fact that he has played all 17 of his seasons with Baltimore is impressive in itself, let alone considering his accomplishments, such as being nominated to the Pro Bowl 13 times.
"I will die a Raven," Lewis said on BaltimoreRavens.com. "I grew with this city; this city grew with me."
Ray Lewis playing for the Ravens and the New England Patriots in the postseason: The collision of two massive forces will take place Sunday evening with a trip to the Super Bowl on the line.
Follow Rahul on Twitter @RV_ETSports
The Epoch Times publishes in 35 countries and in 21 languages. Subscribe to our e-newsletter.