News Analysis
TORONTO/OTTAWA—For John McCallum, Canada's former ambassador to China and self-proclaimed "son-in-law of China," the fiasco that culminated in his resignation started with a now-infamous press conference with a group of Chinese-language media in the Toronto area on Jan. 22.
During the event, McCallum weighed in on the case of arrested Huawei CFO Meng Wanzhou and said her extradition to the United States wouldn't be a happy outcome for Canada.
McCallum's comments at the 40-minute news conference, which was attended by a select group of Chinese-language media including the Chinese state-owned Xinhua News Agency and CCTV, generated not only shockwaves but massive attention in Canada and beyond. Some, such as National Post columnist Andrew Coyne, suggested Canada's envoy seemed "to be speaking for the government of China in Canada."
Prime Minister Justin Trudeau asked McCallum to step down on Jan. 26. The resignation comes amidst a diplomatic crisis with China over the Meng case.
Questions remain as to what was behind that press conference, the setting chosen, and why it focused only on certain Chinese media.
Following the press conference, after reporters were dismissed, McCallum was the guest speaker at a forum on Canada-China relations held at the same venue attended by some members of the Toronto Chinese community.
Taking a look at the man who organized these events and his relationship with McCallum and the Chinese regime may shed more light on the issue.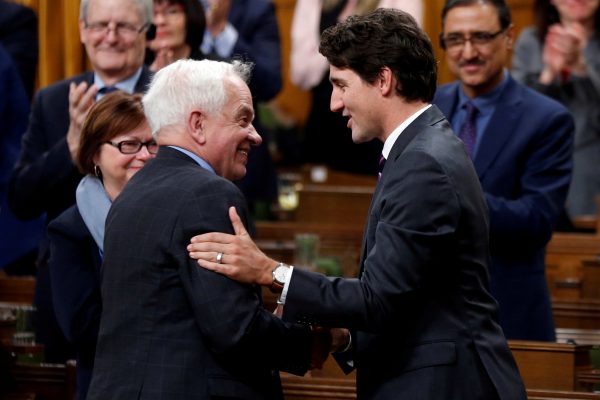 The press conference was organized by Tao (Thomas) Qu and the Canada China Guanxi Council. Qu is the co-founder and executive president of the council. "Guanxi" means "relationship" in English.
The council's main task is to "pay attention to the two countries societal developments" and "to push the Canadian government to come out with different kinds of policies favourable to China," according to a Chinese media report on Qu's speech at a news conference in November 2016 announcing the plan to launch the organization. The Canada China Guanxi Council is not a federally registered lobby group.
Qu, a retired employee of Ontario Power Generation, came to Canada from China in 1988 to pursue graduate studies. Over the years, he has founded and worked as an executive member of a number of organizations in Toronto's Chinese community that are known to take pro-Beijing positions. He is also involved in several initiatives supported by the Chinese Communist Party.
"Qu has been active to organize events and create Chinese organizations that are clearly controlled by the Chinese regime. He has been very supportive of the Chinese regime for many years," said Sheng Xue, a Chinese-born Canadian author and Chinese affairs political commentator based in the Toronto area.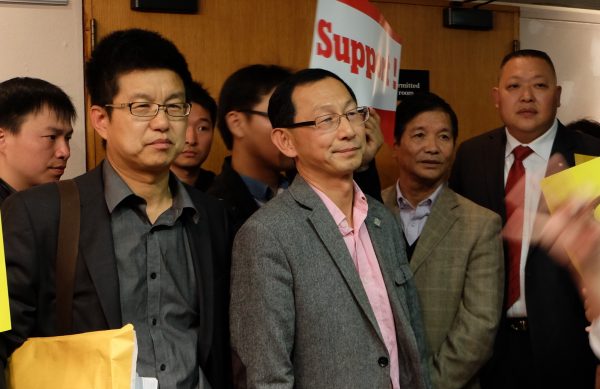 Beijing's Strategy of Using Chinese Organizations
Sheng said that since its inception in 1949, the Chinese regime has made it a principle to cultivate a global "poisonous" web of people and Chinese organizations who support and sympathize with the regime at critical times.
Chen Yonglin, a former Chinese diplomat who defected to Australia, has described a similar operating policy by Beijing. He said the regime often sets up different groups to control the Chinese community in Canada and influence the Canadian government.
According to Chen, who was first secretary at the Chinese consulate in Sydney until 2005, the Chinese organizations first focus on issues that members of the Chinese community care about. "But the real purpose is to further the interests of the Chinese regime in Canada and to lobby the Canadian government," he said.
These organizations are usually run by just a handful of people, Chen noted. Many have overlapping members and embellished membership totals, and they work under umbrella groups to make them sound credible, he said.
He added that another primary goal of Beijing in using these organizations is to intimidate the "five target groups": Tibetan exiles, Taiwanese, Uighur Muslims, democracy activists, and most of all, adherents of Falun Dafa (also known as Falun Gong), a spiritual discipline persecuted in China.
Qu helped create and now holds—or in some cases used to hold—executive positions in a number of Chinese community organizations besides the Canada China Guanxi Council.
Some of these include founding board member as well as past president and chairman of the board of the Chinese Professionals Association of Canada (CPAC), vice-president of the Confederation of Toronto Chinese Canadian Organizations (CTCCO), founding executive vice president of the Chinese Canadian Liberal Association, founding president of Durham Chinese Canadian Culture Centre, and vice-president of the Federation of Chinese Canadians in Markham.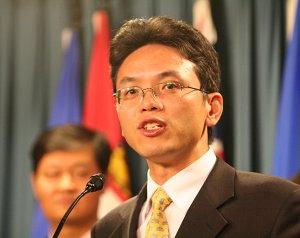 Advocacy of Pro-Beijing Issues
Qu has been at the forefront of a number of initiatives and groups in the Chinese community that are pro-Beijing.
As reported previously by The Epoch Times, a post about the CTCCO—of which Qu is currently vice-president—on the Chinese regime's websites states: "Whenever there is something against China's interests, CTCCO will organize parades to protest or use media to protect the image of China … such as [the time] they protested the mayor of Saint John who raised the Tibetan separatists flag at City Hall on the day when Premier Zhu Rong Ji arrived."
CTCCO also protested the Dalai Lama's visit to Canada in 2010 and worked to stop a motion by the City of Toronto in support of Falun Dafa in 2004.
In February 2017, then-consul general Xue Bing of the Chinese Consulate General in Toronto attended the 15th inauguration ceremony of the executives of CTCCO and presented a letter of appointment to each newly appointed executive, according to online Chinese records.
In 2014, the organization held a welcome dinner for the head of China's Overseas Chinese Affairs Office, a key part of Beijing's espionage and control apparatus.
Again in 2014, Qu was among the speakers at a Toronto District School Board hearing who, as a representative of the CTCCO, defended keeping the board's partnership with the Confucius Institute, a network of educational establishments used by Beijing to infiltrate civil and political society and spread its soft power and influence. He was also seen acting as an organizer and directing others who spoke in support of the institute.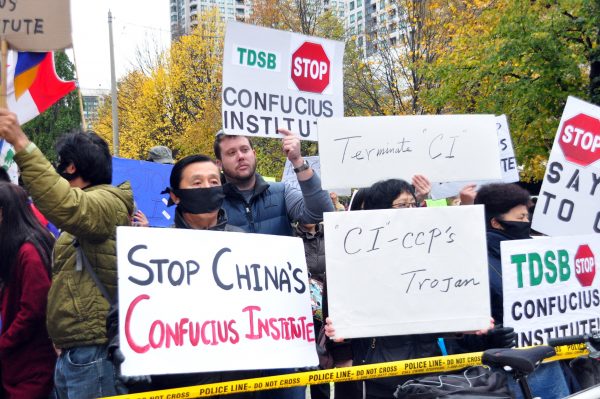 Just days before the hearings, the CTCCO hosted a farewell banquet for the departing Chinese vice-consul. At the event, then-consul general Fang Li urged the local Chinese people to come out to rally outside the school board headquarters in support of the Confucius Institute, according to a report by Chinese-language media Ming Pao.
As part of its consultations, the board trustees also heard testimony from Michel Juneau-Katsuya, former chief of Asia-Pacific for the Canadian Security Intelligence Service (CSIS).
Juneau-Katsuya pointed out that "the people and groups promoting [the Confucius Institute's] arrival at the school board are not simply acting on their own behalf. There is evidence that the Chinese government and especially the Chinese intelligence services are behind this project and these groups."
Juneau-Katsuya named two key Chinese Communist Party offices, the United Front and the Overseas Chinese Affairs Office, which are charged with carrying out espionage activities and initiatives to "advance China's policy and strategic positioning."
"Both have been established several decades ago with the mandate to actively develop 'sources' and 'agents of influence' around the world," he told the school trustees. The Overseas Chinese Affairs Office was combined with the United Front in 2018.
Juneau-Katsuya presented pictures and online records of representatives of a number of organizations, including CPAC and CTCCO, being received or praised by Chinese officials.
"What is very important [for China] is to have certain organizations that become agents of influence of their own within the community, to be capable to identify first the dissidents, and be capable after that to lobby very much the local government of any country," he said. 
During a trip to Toronto in February 2014, Qiu Yanping, the head of the Overseas Chinese Affairs Office and a member of the Chinese Communist Party, visited the Federation of Chinese Canadians in Markham (FCCM), CPAC, and CTCCO offices together with then-Toronto consul general Fang Li.
Later that year in July, at the 7th Friendship Conference of Overseas Chinese Organizations organized by the Overseas Chinese Affairs Office and held at the Great Hall of People in Beijing, CPAC received the "Overseas Chinese Organization" award. It is the only organization in Canada to be granted the award; globally, just 10 organizations have received it. Chinese Communist Party leader Xi Jinping attended the ceremony.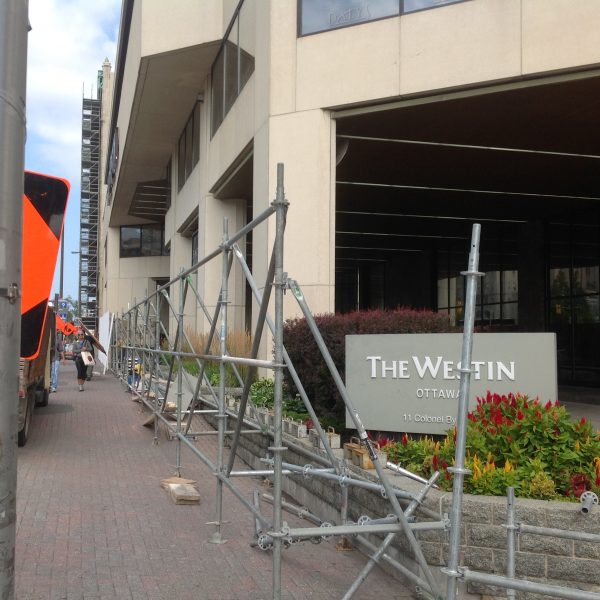 Pro-Beijing groups often also collaborate closely with the Chinese Embassy and consulates to organize the Chinese diaspora to hold rallies to "welcome" Chinese leaders visiting Canada.
Whenever Chinese leaders visit Canada, such rallies are staged to overshadow protest displays by groups being persecuted in China, such as Falun Dafa adherents, Tibetans, and others.
In a sound recording obtained by The Epoch Times, the first secretary of the education section at the Chinese Embassy in Ottawa can be heard telling a crowd of Chinese students that they had to attend the welcome events for then-Chinese leader Hu Jintao's 2010 visit to Canada. The official said the Chinese Embassy would cover all of their expenses, which would amount to hundreds of thousands of dollars, but that it was worth it to overpower the protests by the persecuted groups.
"Falun Gong, Tibetan separatists, Uyghur separatists, democracy people have already moved on to Parliament Hill. … This is a battle that relates to defending the reputation of our motherland," he said.
Qu was one of the organizers who rallied Chinese community members to welcome then-Chinese leader Hu Jintao to Toronto in 2005.
The same year, Qu was one of only 28 overseas Chinese invited to the 10-day Chinese People's Political Consultative Conference in Beijing, a privilege afforded only to the most trusted supporters of the Chinese Communist Party. The conference is linked to the United Front, the regime's agency in charge of coordinating its influence exertion and espionage activities.
Qu has also been a frequent guest at Chinese Consulate events in Toronto, including those involving meetings between Chinese and Canadian officials.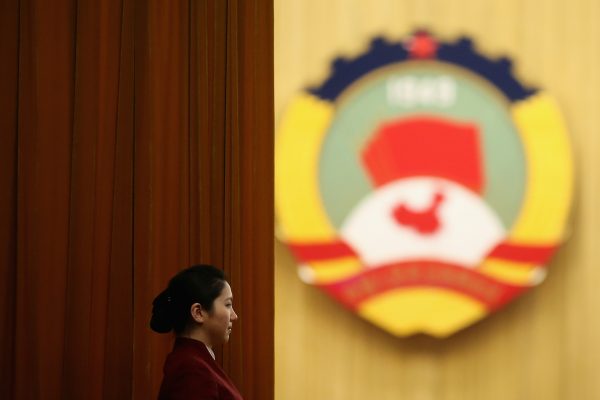 Protesting Toronto Sun Cartoon
Qu is also a founding board member, past president, and past chairman of the board of the pro-Beijing Chinese Professionals Association of Canada.
In 2003, while he was the chair, CPAC, together with the CTCCO and other pro-Beijing Chinese organizations such as the National Congress of Chinese Canadians (NCCC), protested a Toronto Sun cartoon that implied SARS (severe acute respiratory syndrome) was "made in China." The disease first appeared in Southern China in 2002.
Hughes Eng, the founding director of the NCCC and a former executive of the CTCCO, boasted to a crowd of overseas pro-communist Chinese community leaders and Chinese officials in 2003 how the NCCC had convinced the Toronto Sun newspaper to apologize for a cartoon it published that was critical of the regime.
Speaking at a Friendship Conference of Overseas Chinese Organizations event organized by China's Overseas Chinese Affairs Office, Eng said the NCCC together with the CTCCO had written letters and organized protests against the cartoon, even rallying members of the local Chinese community to boycott the paper.
"The Chinese consul general in Toronto expressed indignation at the Toronto Sun's intention to discredit the Chinese government," Eng said, adding that "the whole world admired and praised the Chinese government for its effort in fighting SARS. There was no such thing as a deliberate coverup."
Eng boasted that after members of his organization met with the Sun's editorial board, the paper agreed to print an apology.
Several of the organizations that protested against the Sun in 2003 besides CTCCO, such as the Beijing Association and Fujian Community Association of Canada, also later supported the Toronto School Board's Confucius Institute.
Indicators
In his deputation to the Toronto District School Board, Juneau-Katsuya offered two indicators of Chinese agents or co-opted organizations.
"For the Western counterintelligence agencies, the identification of agents or co-opted organizations is very simple. Their leaders are very often in China for a multitude of celebrations and 'special' meetings. They are welcomed and hosted by government high officials and most of the time sponsored by either the United Front Work Department or the Overseas Chinese Affairs Office," he said.
"Another indicator, when important historical incidents take place, you could see those organizations and leaders side with China and denouncing the opposition or any dissidence. I would like to point out that organizations controlled or influenced by Beijing are operating in Canada and the Toronto Area."
'Son-in-Law of China'
In a past interview with the Chinese state-owned news agency China News Service, McCallum said in both Chinese and English that "I am a son-in-law of China," as he is married to a Chinese woman. "I am very happy to have that role," he added.
Since his time as a member of Parliament beginning in 2000, McCallum has been a frequent guest at Chinese Consulate-related events. The Epoch Times was able to find close to 50 Toronto Consulate-related events on its website that McCallum attended as a special guest when he was an MP. Many were celebrations to welcome or bid farewell to heads of the consulate.
Online records also show him meeting both in Canada and in China with officials from various levels of China's Overseas Chinese Affairs Office.
As an MP prior to becoming ambassador, McCallum was one of the heaviest users of sponsored trips to China, accepting over $73,000 in trips sponsored by China or pro-Beijing groups between 2008 and 2015.
McCallum said last year that in some important policy areas, Canada has more in common with China than the United States under President Donald Trump.
He said at the Jan. 22 press conference that in his first meeting with an unnamed Chinese vice minister of foreign affairs after Meng was arrested in Vancouver, the minister was very hostile toward him. However, things have calmed down since then, he said, and his meetings are now "much more pleasant."
McCallum didn't indicate what he did that caused the Chinese officials to no longer be hostile. Canadians Michael Kovrig and Michael Spavor are still in detention in China on charges of endangering national security, and a third Canadian, Robert Schellenberg, had his 15-year prison sentence for drug smuggling charges in China changed to a death sentence.
The United States has charged Meng with fraud, alleging she misled American banks about Huawei's relations with a Hong Kong-based company doing business with Iran, potentially exposing the banks to violating Iran sanctions.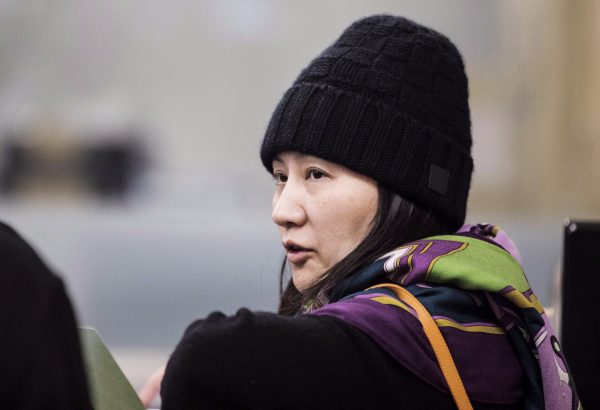 'So Many Friends Here'
Qu helped in McCallum's previous election campaigns. And when Qu ran for city council in Markham in 2003, McCallum, then the minister of national defence, spoke at Qu's fundraising banquet.
Qu also worked on the campaign of former Ontario MPP and provincial cabinet minister Michael Chan.
According to a report by The Globe and Mail in June 2015, CSIS had warned the Ontario government in 2010 about Chan's close ties to Chinese officials. The article also revealed that Chan was one of the two provincial ministers whom then-CSIS head Richard Fadden had said were under the influence of a foreign regime. Chan denied this and has launched a lawsuit against the Globe.
In a video of the Jan. 22 press conference, after walking into the room, McCallum can be seen greeting and shaking hands with Qu, who points to the room and says, "So many friends here."
According to commentator Sheng Xue, Qu "was very clever to set this up—to have McCallum come to this event and make such comments."
In the news conference, McCallum listed potential arguments that Meng could use in her defence to avoid extradition to the United States. He also listed a number of future scenarios for her case, adding that the scenario that would end with her being extradited to the United States "would not be a happy outcome."
Reference News, a Chinese state-owned media and one of the largest-circulation daily newspaper in China, said in a headline that the Canadian ambassador to China has "changed sides."
On Jan. 28, Canada's Minister of Foreign Affairs Chrystia Freeland said McCallum, who repeated similar comments he made in the Jan. 22 press conference to a reporter on Jan. 25, was removed from his position because his comments were inconsistent with the position of the Canadian government.
The Epoch Times made repeated attempts to contact Qu for comment but no response was received.
McCallum Speaks at Forum Following News Conference
The forum on Canada-China relations that was held directly after the press conference was organized by the Canada China Guanxi Council, according to Easy Ca, a Chinese-language website. The forum was confirmed by a source who attended the press conference.
An article on the website includes photos of the event, showing McCallum sitting at a table with the co-presidents of the Canada China Guanxi Council and surrounded by members of Chinese community.
According to the article, McCallum said at the forum it's possible that Meng will be found innocent after completing the process of her extradition hearing in Canada, but this could take a long time—months or even longer.
The forum was hosted by the three founders and co-presidents of the Canada China Guanxi Council: Thomas Qu, Ken Ng, and Francis Yuan.
According to the council's website, Ng is also founder and president of the Federation of Chinese Canadians in Markham, of which Qu is vice president. Yuan and Qu also served as president and executive vice president respectively of the Chinese Canadian Liberal Association.
Pictures of the forum show that Ping Tan, a longtime executive of the National Congress of Chinese Canadians and the Confederation of Toronto Chinese Canadian Organizations, was one of the attendees.
Ping is known as a go-to person for the Toronto Chinese consulate.
Chen Yonglin has said that the National Congress of Chinese Canadians is an umbrella organization that acts as a front for the Chinese regime in Canada.