Commentary
The illegal immigration numbers continue to rise. Despite the continuation of Title 42 by court order, the disaster on the U.S. southern border has continued unabated and accelerated during May.
Title 42 is a Trump-era public health provision that denies asylum requests under U.S. law and international treaty to prevent the spread of COVID-19 (the United States remains under a pandemic emergency). The Biden administration's ongoing efforts to repeal Title 42 were seen by many observers, including Sen. Tommy Tuberville (R-Ala.), as a green light for a new surge in illegal aliens over the past few weeks, who anticipated an easier time in getting into the United States without Title 42 in place.
And those predictions have been borne out by new statistics from the U.S. Customs and Border Protection (CBP). The agency released a shocking "monthly operational update" on June 15 without much media attention. Here are key statistics from that update:
Unique Encounters: This is CBP jargon for their personnel actually catching an illegal alien crossing the border. CBP reported that encounters increased 15 percent from April to more than 177,000 unique individuals in May. Amortized over a year, that works out to more than 2.1 million illegals per 12-month period.
Total Encounters: The CBP reported that there were more than 239,000 total encounters in May, of which about 25 percent represented people who had been captured previously and deported. This number is an all-time record of illegal alien encounters across the U.S.–Mexico border. Unreported was the number of illegals not encountered in May due to inadequate resources to surveil and interdict them. Due to the lack of resources, a certain percentage of illegals slip into the United States daily without encountering any U.S. law enforcement. Those who are captured and deported know full well that their odds of getting into the United States increase with each attempt.
Unaccompanied Children: The CBP reported 14,700 encounters with illegal alien children during May, representing a 21 percent increase from April. Note: Children are trafficked and used to construct family units in order to facilitate entry into the United States, as well as directly for sex trafficking.
Expulsions: Despite Title 42 remaining in effect, the CBP reported that only 42 percent (about 100,000) of the individual encounters were processed under that rule. The rest were processed under Title 8, the normal U.S. laws dealing with immigration and nationality. The CBP gave no reasons for using Title 42 or Title 8 to process these people.

Deportations Down
Also unreported in the CBP's monthly operational report are the deportation figures for May. In another shocking report, the nonprofit Center for Immigration Studies (CIS) obtained official federal government deportation statistics via a Freedom of Information Act (FOIA) request because the Biden administration has been hiding the politically inconvenient numbers from the public.
From the records received by CIS and reported here: "In fiscal year 2021, total ICE removals were 59,011, including both border and interior removals. That is nearly 70 percent lower than fiscal year 2020, when ICE removed 185,884 aliens."
CIS further points out that nearly four times more deportations (267,258) were made in 2019 than in 2021, as 2019 was the last year in which Trump-era enforcement was in place without pandemic restrictions.
Even more shocking was the precipitate drop in criminal alien deportations under the Biden administration's policies. According to CIS's government statistics: "Removals of convicted criminals fell 62 percent in 2021, to 39,149 from 103,762 in 2020. Removals of aggravated felons fell 43 percent in 2021, to 5,221 from 9,161 in 2020."
Another important statistical category from the CIS report is "interior removals." These are illegal aliens encountered by state and local law enforcement officers in the interior of the United States and subsequently turned over to U.S. Immigration and Customs Enforcement (ICE) for deportation processing. CIS reported that interior removals by ICE in 2021 dropped 50 percent from 2020, when interior removals should have increased, given the dramatic increase in illegal aliens crossing the U.S.-Mexico border in 2021, as reported by The New York Times in October 2021.
These statistics further indicate the "illegal-alien friendly" law enforcement policies of the Biden administration and a return to virtue-signaling sanctuary city policies in some states. But it's even worse, as those numbers don't support claims made by ICE Director Tae Johnson in the 2021 ICE annual report that ICE had deported "an average of 937 aggravated felons per month [in 2021]—the highest level ever recorded since ICE began collecting detailed criminality data." This statement is patently false based on the actual statistics obtained by CIS.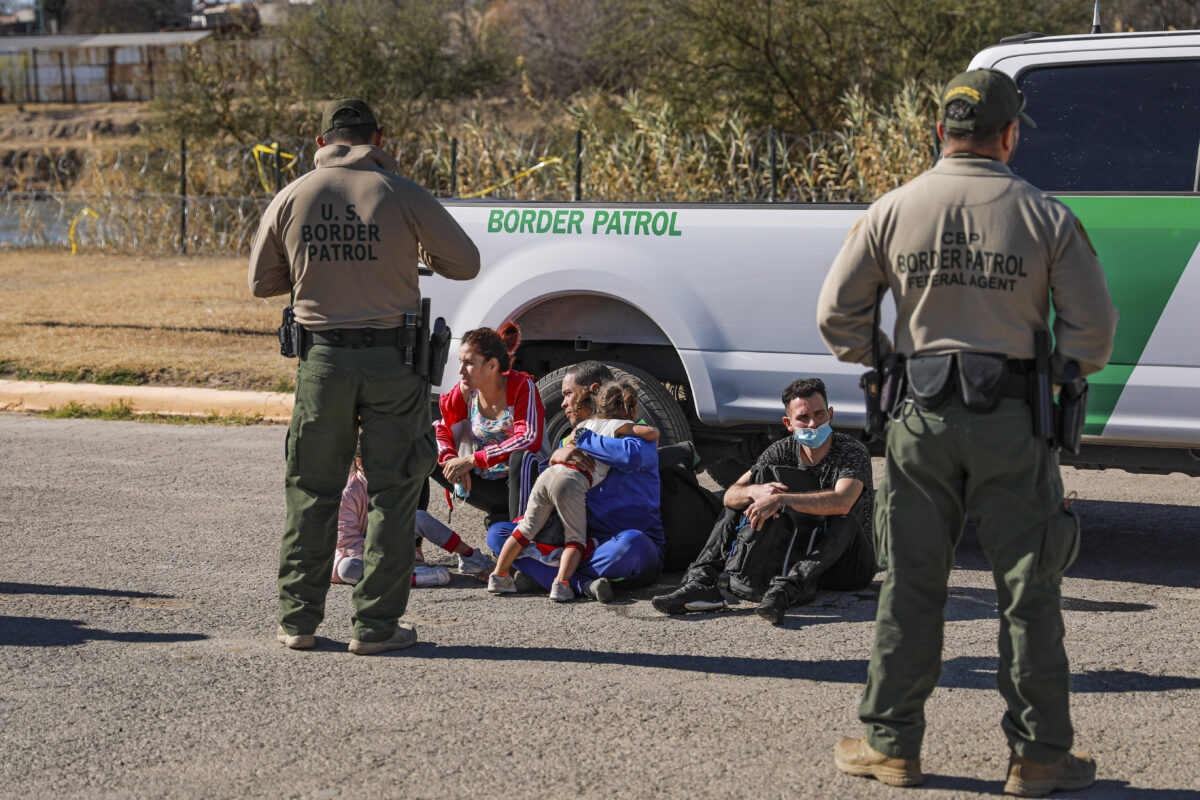 Terrorists Captured
The Washington Times reported on June 16 that CBP agents captured 15 people in May who were in the FBI's terrorist screening database—"a record for any month, equaling all of 2021 and more than the Border Patrol found from 2017 to 2020 combined."
Catching 15 potential terrorists is both good and bad, as the expert quoted in the article reported: "The big worry is with the chaos down there, when you have these kinds of people coming to the border, you have to assume that some of them got in," said Todd Bensman, author of "America's Covert Border War," an analysis of terrorists attempting to exploit the U.S. immigration system.
Bensman noted that the CBP generally captures an average of one or two people in that terrorist database per month. With 15 captured in May, that indicates a troubling surge of potential terrorists among the flood of illegal aliens coming across the border each month. The big question is how many others escaped detention (and how many have slipped through since January 2021)?
Concluding Thoughts
Due to the Biden administration's apparent weak enforcement of existing U.S. immigration laws, many illegal aliens believe that now is a good time to try to get into the United States and that they will be allowed to stay even if interdicted. Many may have even seen press reports of free airfare to interior U.S. cities being given to illegal aliens, as reported by Breitbart and other media, as well as support from open borders non-governmental organizations assisting illegal aliens who make it into the country.
The Mexican government is facilitating the transit through Mexico of "migrant caravans" to the U.S.-Mexico border; without Mexican government support, the caravans wouldn't be permitted. There is no apparent diplomatic pressure on the Mexican government from the Biden administration to shut them down.
Meanwhile, those illegals caught crossing the border and deported are incentivized to keep trying until they get through. The CBP's monthly operational report for May is proof of the pudding. The monthly statistics of border-crossers continue to increase while the number of deportees continues to decrease. That is a recipe for disaster.
Views expressed in this article are the opinions of the author and do not necessarily reflect the views of The Epoch Times.