Submitted by Diane K. Brewer, Apalachicola, Florida
Nut horns are cookies that have been in my family and enjoyed by them since the 1950s at least. They're irresistible!
I always thought that they were Slovak, from my father's family perhaps, but my Polish godmother made them, too. I read on the internet that Hungarians claim them as well. The Ellis Island Cookbook shows a recipe for these called kiflis, from a Czech woman named Koza, which is very similar to my Slovak maiden name, Kozak.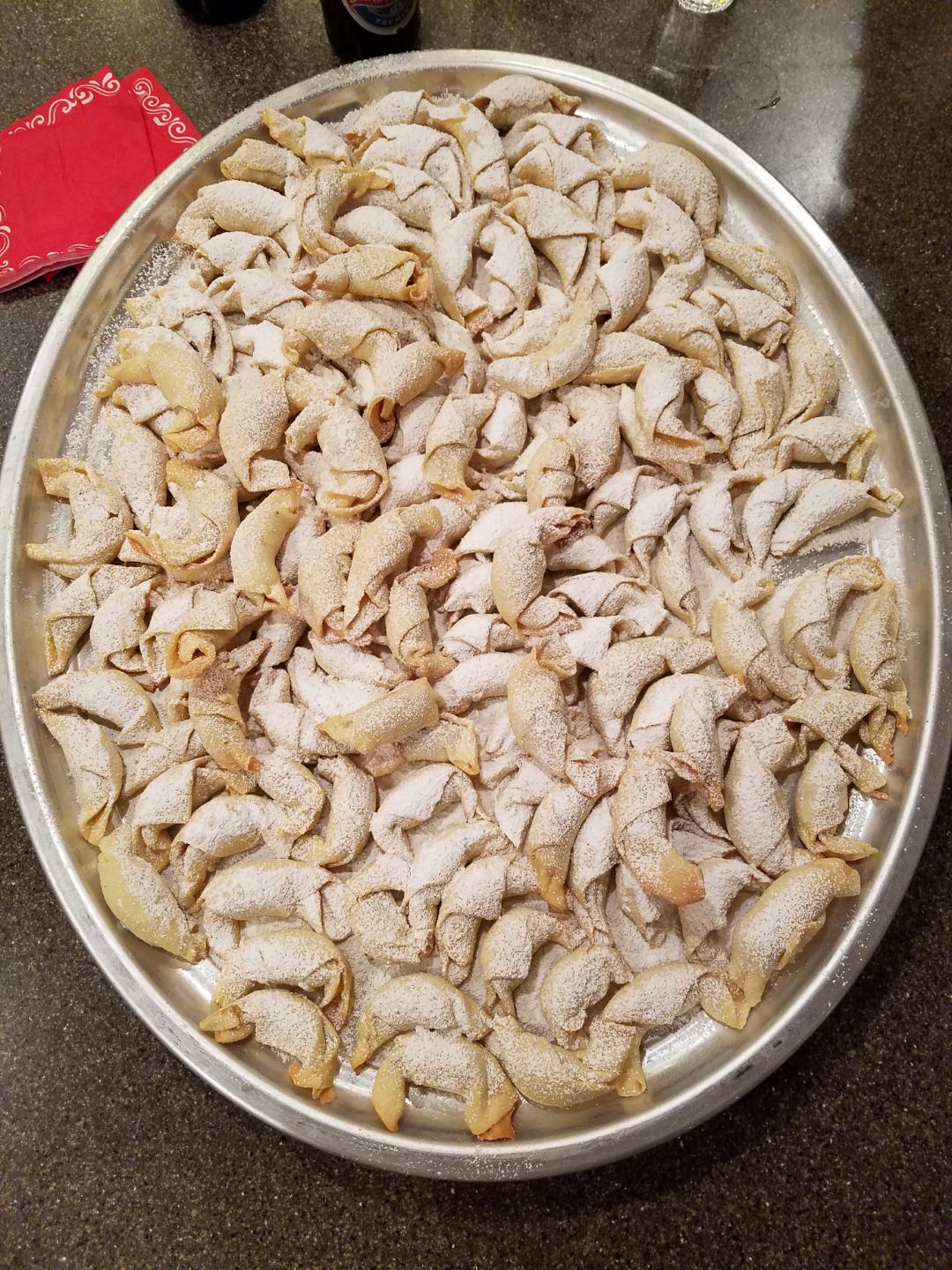 I treasure these treats not only for the cookies themselves, but for my mom and godmother, her best friend. My mom's recipe was written in violet ink. My godmother's recipe was written in her impeccable Palmer method penmanship in 1982.

When I was a kid living in Atlanta, my mother, who was Italian, made nut horns from pecans, much more prevalent there and sweeter than walnuts, which we kids shelled. She ground the nuts using a metal hand-cranked meat grinder that she had attached to the countertop. Today, I use my Cuisinart.
She and I also use a huge aluminum bowl for the dough, heavy stainless steel cookie sheets, and an oval aluminum tray with a lip. This is industrial equipment, undoubtedly from the place where my dad worked in the 1950s: Howard Johnson's Restaurant. He was the regional supervisor of their Dixie Division.
You can be sure that I treasure both the recipe and the tools—but not the meat grinder—and will pass them on to the next generation. It's important to me to stay connected to my family and their traditions, and I do so when I'm able to pass on such things as a kind of memoir.
Nut horns may be a holiday food, but in my family, we make them whenever we have the opportunity: when nuts are plentiful and sweet, helpers are available, and we all feel inspired to bake. I made nut horns recently when one of my Slovak second cousins visited me. She brought pecans from her own paper-shell pecan tree. My godmother was right—it's easier to have help.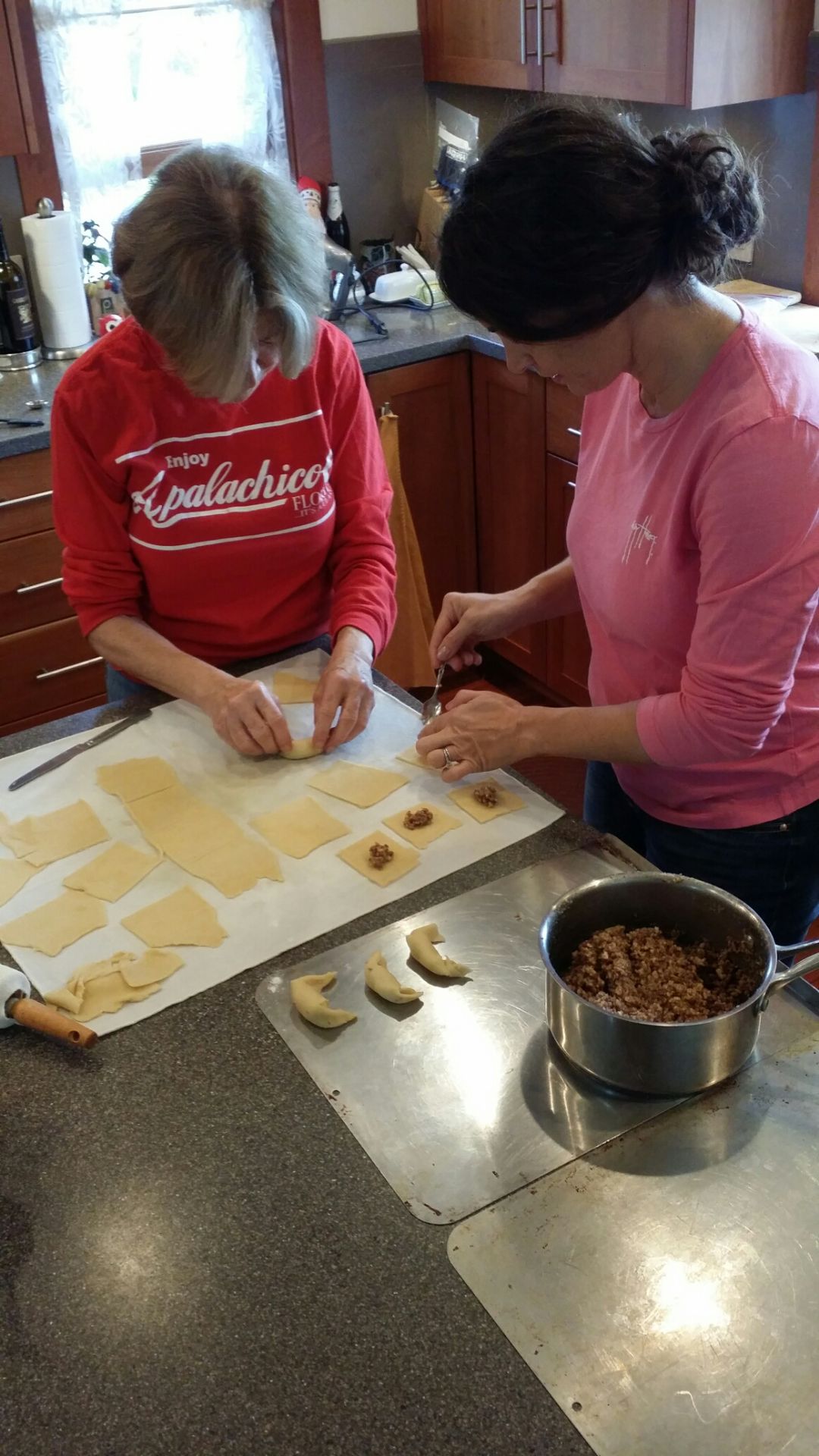 Nut Horns
Makes about 4 dozen cookies
For the Dough
1 can evaporated milk
2 packages active dry yeast
1/2 cup warm water
7 cups flour
Pinch of salt
1 pound Crisco
6 small eggs
Powdered sugar, for dusting
For the Nut Filling
1 pound nuts (we always use pecans, some prefer walnuts), coarsely ground (I use my Cuisinart, carefully, to make the nut meal small but not fine)
1 cup sugar
1 teaspoon vanilla
1 egg white
Measure out 1/2 cup evaporated milk and set aside for the nut filling. Scald the remaining milk and set it aside to cool.
Dissolve the yeast in the warm water.
In a large bowl, combine the flour, salt, and Crisco. Cut in the Crisco, like making pie crust, until the mixture is the consistency of coarse sand.
Beat the eggs and add to the cool scalded milk. Add the yeast-water mixture.
Combine the wet and dry ingredients, mix as much as you can, and then knead to a smooth, elastic dough. Wrap and put the dough in the refrigerator to rest for a couple of hours or overnight.
Meanwhile, prepare the nut filling. Combine the ground nuts, sugar, vanilla, and reserved 1/2 cup evaporated milk in a saucepan and heat on the stovetop until the sugar is melted. Beat the egg white to soft peaks, then stir into the nut mixture.
Preheat the oven to 350 degrees F.
Dust your countertop or other flat work surface with sugar or powdered sugar and roll out a portion of the dough, say 1/4 of it, like a pie crust, thin enough to work with but not see through. Cut the dough into squares, about 3 1/2 by 3 1/2 inches or however big or small you want them. Put about 1 heaping teaspoon nut filling in center of each square. Roll up each square, starting from the bottom corner, on a diagonal, and pinch its ends toward the center. Repeat with remaining dough and filling, filling up a cookie sheet.
Bake until slightly brown, about 10 minutes. Dust the finished cookies with powdered sugar.
___________________________
Do you have a treasured family recipe that holds a special place in your family history, heritage, or traditions? We would be honored if you would share it with us.
Along with the recipe, tell us its story—who gave it to you, its journey through the generations, and the personal meanings and memories it carries. Is it a special-occasion dish, or an everyday family favorite? Does it connect you to your cultural heritage, or to a certain loved one?
How have you kept the recipe alive, and why is it important to you to do so?
Send your recipe and comments, along with your full name, state, and contact information, to home@epochtimes.com, or mail it to: Home, The Epoch Times, 229 W. 28th St., Floor 7, New York, NY 10001.