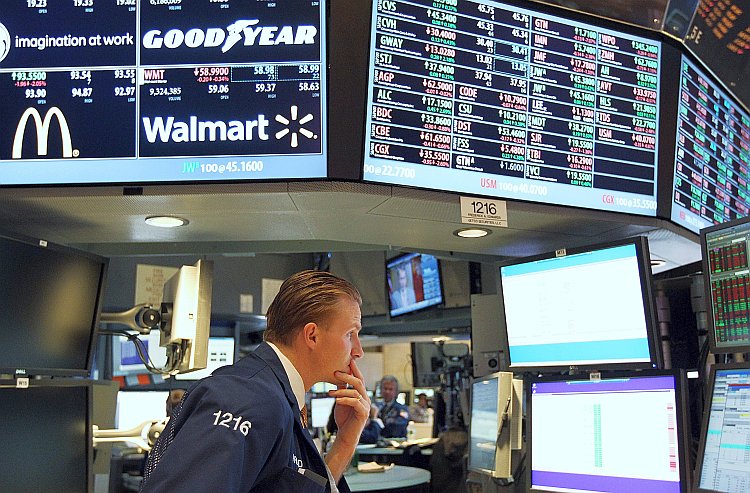 NEW YORK—U.S. stocks fell on Tuesday, as doubts over the eurozone's ability to contain its debt crisis escalated, sending stocks into the red for the fourth time in the last five days.
The Dow Jones Industrial Average fell 76 points, or 0.6 percent, rebounding after a 200 point decline intraday, to end at 12,932. The S&P 500 Index fell 6 points, or 0.4 percent, while the Nasdaq Composite Index shed 11 points, or 0.4 percent.
Recent election results in France and Greece cast doubt on the European economic recovery, as voters overwhelmingly rejected further public austerity programs. Those developments, compounded by concerns over the American and Chinese economies, have turned investors bearish in recent days.
McDonald's Corp., a Dow component, reported disappointing April same-store sales on Tuesday. Shares of McDonald's fell 2 percent.
The tumbling stock markets have put a stop to rising oil prices, as U.S. crude oil has fallen to its lowest price in 2012. Uncertainty over Europe and growth concerns in Asia are two major factors contributing to the fall of crude oil by 0.95 percent, or $0.90, on Tuesday.
Concerns Over Europe
The majority of bearish sentiment arrived from Europe, as European shares moved lower on Tuesday. Paris's CAC 40 and the London FTSE 100 indices were down sharply Tuesday, and both turned negative for the year, while the Frankfurt DAX index fell 1.9 percent.
The Athens-based Public Debt Management Agency said Greece raised 1.3 billion euros (US$1.7 billion) in government bills on Tuesday, at 4.69 percent, which is higher than the 4.55 percent the nation paid in its previous auction last month.
Last weekend's elections where voters rejected certain austerity measures called into question whether Greece would continue as part of the 17-nation eurozone.
"This summer I think is very likely [that Greece would exit the eurozone]," John Taylor, of the hedge fund FX Concepts, said on Bloomberg TV. "The Europeans aren't going to give them the money, the International Monetary Fund's not going to give them an OK. They will be out of money in June."
On Tuesday, Citigroup also increased the likelihood of a Greek eurozone exit to between 50 and 75 percent. Previously it said that the odds were even on a eurozone exit.
Currently, the European Central Bank holds the majority of Greek debt—more than 70 percent—with the remainder held by Greek banks and hedge funds. Regarding a Greek exit, some commentators say that the risk is less economic, systemic, and more political.
One concern is what a Greek exit would mean for other eurozone nations that took bailout money, such as Ireland and Portugal. If Greece was able to devalue its currency on its own to the point where it would again become competitive, would that prompt other troubled nations to leave?
That question remains to be answered.
The Epoch Times publishes in 35 countries and in 19 languages. Subscribe to our e-newsletter.