Commentary
Flush with capital from trade surpluses with the United States and other nations, China has embarked on a massive expansion to develop a global colonial empire.
And that empire transcends the commercial to the geopolitical realm. Overseas investments in infrastructure to extend that empire provide the Chinese Communist Party (CCP) with maximum diplomatic leverage.
Chinese leader Xi Jinping announced his intentions to the world with two major programs: the Belt and Road Initiative (BRI, also called "One Belt, One Road") and Made in China 2025. As previously reported in The Epoch Times here, the BRI goal is to develop a global infrastructure controlled by the Chinese regime. The infrastructure elements are largely focused on the development of transportation assets that can later be exploited by Beijing to transport the resources and raw materials needed to fuel Chinese manufacturing concerns, as well as support the exportation of finished Chinese goods to overseas markets around the world, including roads, ports, railroads, bridges, etc. BRI investments also include renewable energy projects, communications infrastructures, and cultural exchanges.
The 21st Century Maritime Silk Road (MSR) is the maritime portion of BRI that involves the development and modernization of ports and related infrastructure in various countries with which China engages in commerce via the sea. Raw materials and natural resources needed to fuel Chinese industry flow from Chinese-built overseas ports to Chinese ports, with finished goods being transported to overseas markets in China's burgeoning export economy.
Development investments from China involve conditional loans with strings attached, including provisions for Chinese control of port facilities and natural resources when a country is unable to pay back the loan(s) on time. Another "string" is that much of the construction work is performed by Chinese laborers as opposed to locals, giving the Chinese an overseas presence virtually everywhere an MSR/BRI loan is made.
A report in the Center for Strategic and International Studies states that the MSR is a "development strategy to boost infrastructure connectivity throughout Southeast Asia, Oceania, the Indian Ocean, and East Africa." The key trade routes forming the backbone of the MSR are:
• China – Southeast Asia
• China – South Asia
• China – Middle East and East Africa
• China – Europe
• China – Latin America
Some of the key Chinese ports anchoring those trade routes as the eastern end of the MSR include the following:
Shanghai: This is China's most important seaport, which is the largest in the world, handling an average of 2,000 ships per month.
Shenzhen: This is the second most important Chinese seaport and the third largest in the world. Over 40 shipping companies are located there which manage over 130 container routes with overseas trade partners.
Hong Kong: The deepwater port has been a hub of the container shipping industry for years with its nine container terminals.
Ningbo: This is a major port in southeast Zhejiang Province, serving as a major container and cargo-handling port. Ningbo services China's "Golden Triangle" and the lower part of the Yangtze River economic development area. It is a major importer of "raw materials, cargos, and finished products from North America, South America, and Oceania," according to Shiphub.
Guangzhou: This port that has been in constant operation for over 2,000 years and is now heavily involved in import-export of "coal, oil, grain, fertilizers, steel, cars, and ores." The port has direct shipping lines to Europe, North America, Australia, the Red Sea, and Southeast Asia. It is "the world's fifth largest port with annual cargo traffics of more than 400 million tons," according to official data.
Quanzhou: In the 13th century, Quanzhou was the largest port in the world and a key entry point into mainland China. Once the key Chinese port for exports of black tea and camphor, Quanzhou continues to be a key port for exporting agricultural products like rice and tea.
Others: Other key Chinese ports include Qingdao (coal, mineral oil, iron ore, and grain); Tianjin (the largest manmade port in China); Dalian (mineral oil, coal, grain, and refined oils); and Xiamen (cement, chemical fertilizers, sugar, wheat or coal).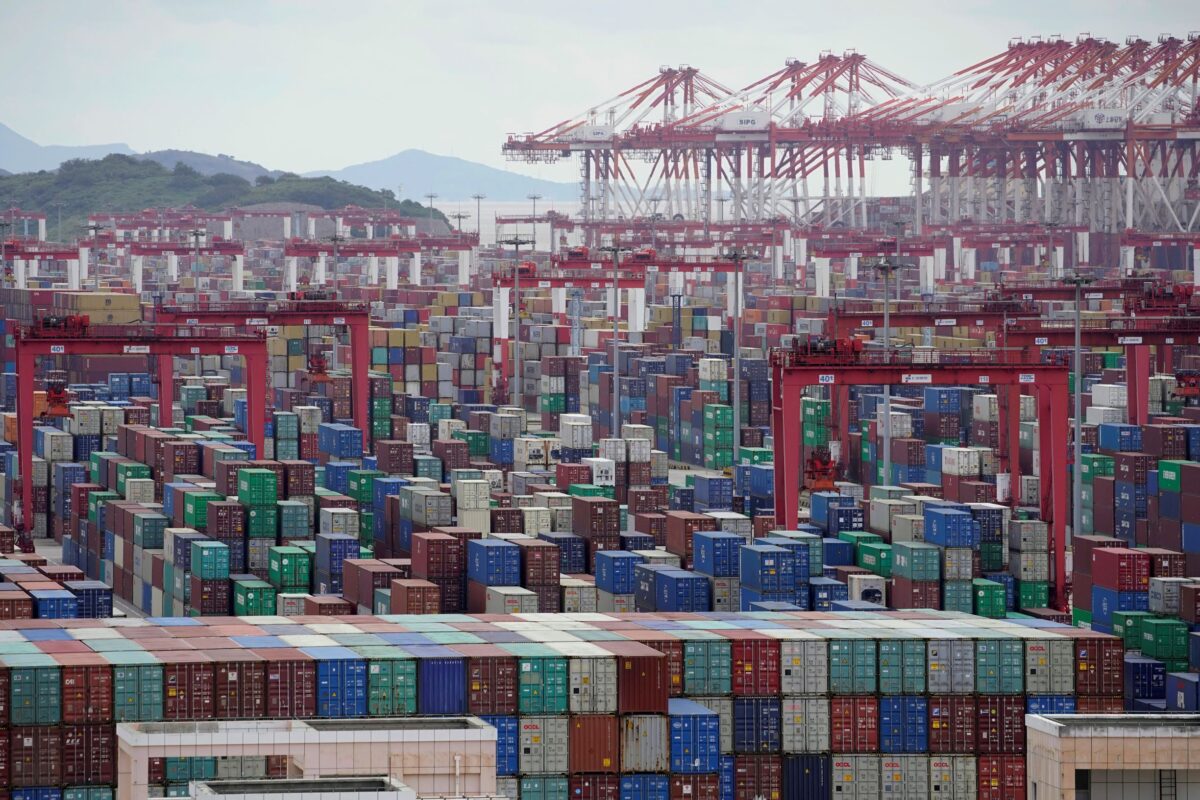 Key overseas ports involved in ChiCom (Chinese Communist) investments—and exploitation—related to the Maritime Silk Road were focused initially on facilitating trade with the Association of South East Asian Nations (ASEAN) and later countries in South Asia and East Africa associated with the Southeast Asia, South Asia, and Middle East/East Africa trade MSR trade routes. The key strategic goal was maintaining Chinese control of these facilities for decades through long-term leases by which the countries would pay back the ChiCom infrastructure investments. Below is a graphic that summarizes the leased ownership of key MSR ports in South and Southeast Asia from a Stockholm International Peace Research Institute (SIPRI) report:

Europe is the end destination for China's BRI, so it is imperative to understand the developments that are taking its southern maritime branch, the 21st Century Maritime Silk Road, from concept to reality. The European Union has been watching the expansion of China's maritime trade empire, seeking to capitalize on ChiCom overseas investment for several years. According to the SIPRI report, the MSR "is constantly expanding its geographic scope to new waters, and is seeking to diversify and secure sea lines of communication as part of China's maritime renaissance." That expansion has included Chinese investments in a number of Mediterranean and East Atlantic seaports in Europe:
• Piraeus, Athens, Greece: The "gateway to Europe," according to Chinese Premier Li Keqiang, and partly operated by the Chinese state-owned firm China Ocean Shipping Company (COSCO).
• Trieste, Italy: The central European hub.
• Valencia, Spain: A key overseas Chinese center in Europe.
• Antwerp, Belgium: Chinese investments extend to Belgium, where "the Chinese state-owned enterprises COSCO, Shanghai International Port Group (SIPG) and China Shipping Group have minority stakes in two Belgian container terminals (COSCO at Antwerp and the latter two companies at Zeebrugge)," according to a report by think tank Clingendael Institute.
And so on!
It is important to understand that the Maritime Silk Road is not a single route but is planned and being built in some cases as a web, or a network, of maritime routes throughout the world. It will become the de facto highway for Chinese container ships, for all practical purposes.
As noted here, the Panamanian government "gave the Chinese firm Hutchison-Whampoa concessions to operate ports on both the Atlantic and Pacific sides of the [Panama] canal." Other countries in Latin America are new targets for BRI/MSR investment, too.
A railroad from Port Sudan that would clear across Africa to Dakar, Senegal, will provide an anchor for a network to reap the natural resources that are relatively untapped throughout the African continent. The construction of a mega port in Algeria's Mediterranean coast town Cherchell might be in the offing North Africa, too, linked with a rail net through the Sahel and Sahara. Then there is Lamu port in Kenya, which "is part of the wider US $23 billion Lamu Port South Sudan-Ethiopia Transport corridor and has been constructed by China Communications Construction Company," according to a report by Observer Research Foundation (ORF). The ChiCom spiderweb grows larger with each passing year.
Europe, Africa, South Asia, South East Asia, Latin America—all have ports and maritime outposts that are part of the Spider Dragon's growing colonial commercial empire. And with these worldwide maritime infrastructure investments comes an enormous amount of prestige and, most importantly, diplomatic leverage for Beijing. That is the real dividend sought by the ChiComs for their troubles.
Views expressed in this article are the opinions of the author and do not necessarily reflect the views of The Epoch Times.