The Chinese regime commits and enables trafficking in persons, primarily by subjecting religious and ethnic minorities to forced labor, according to the U.S. Department of State's latest Trafficking in Persons Report.
Forced labor in China is so prevalent—that it amounts to a "government policy or pattern"—conducted by Chinese Communist Party (CCP) officials at all levels, the report stated.
Chinese citizens have further reportedly suffered forced labor at Belt and Road Initiative (BRI, also known as "One Belt, One Road") projects abroad due to the regime's neglect to supervise recruitment and labor conditions, the report added.
During the reported period—from April 2021 to March 2022—China showed indicators of state-sanctioned forced labor, did not meet the minimum standards for the elimination of trafficking in persons, and did not make serious efforts to fight it, causing the country to rank among the lowest tier of nations, the State Department said in the report.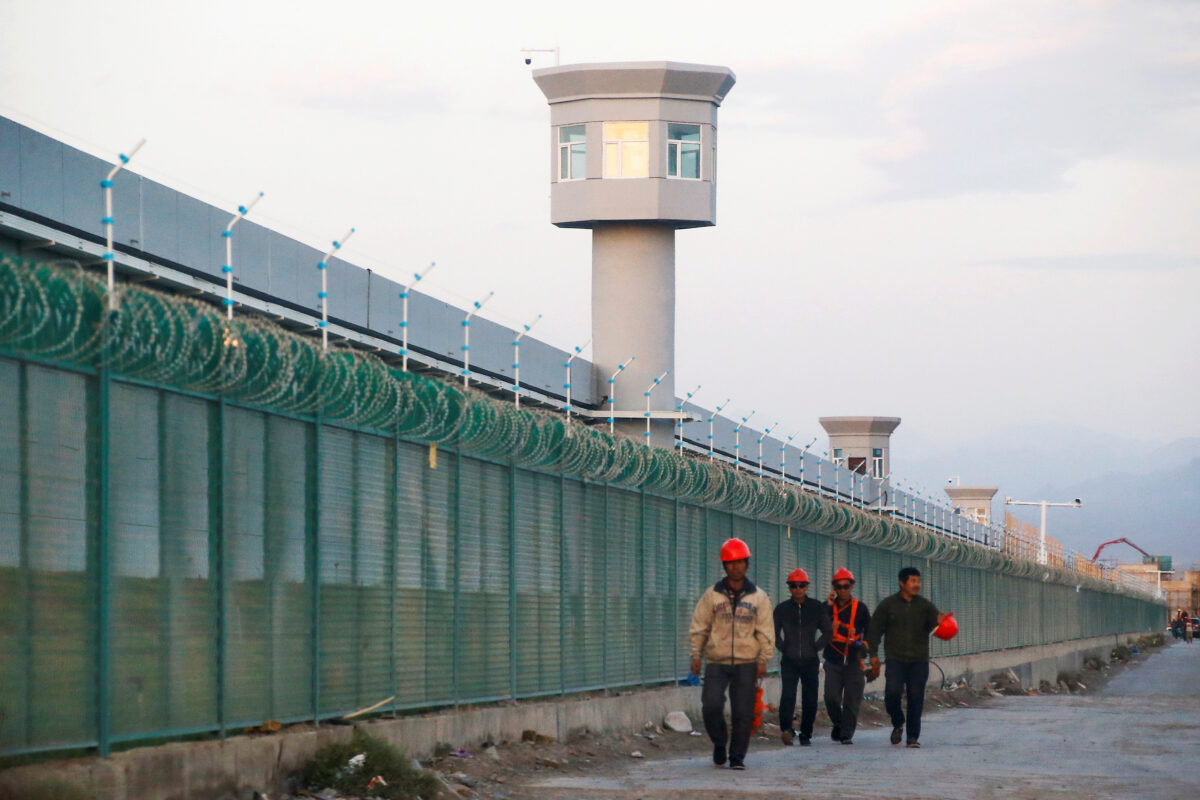 Forced Labor in Detention Centers
State-sponsored forced labor occurs mainly under the CCP's "mass detention and political indoctrination" campaign targeted against Uyghurs and other Muslim or Turkic minorities in China's Xinjiang region, according to the State Department.
Victims include Tibetans, Christians, and members of other suppressed ethnic and religious minorities, such as Falun Gong adherents.
The CCP "subjugate[s] and exploit[s] minority populations in forced labor in internment camps under the pretext of combating violent extremism and other social ills," the report stated. 
"Authorities continued to amplify the magnitude of trafficking crimes in the country and abroad, including by perpetrating genocide," it added. 
An independent people's tribunal, known as the Uyghur Tribunal, ruled in December 2021 that the Chinese regime had committed genocide against ethnic Muslims in Xinjiang—through an array of repressive acts that included mass internment, family separation, sterilizations, and forced labor.
The United Nations estimates that more than 1 million Uyghurs have been detained in internment camps in Xinjiang. 
Such internment camps are "designed to erase ethnic and religious identities under the pretext of 'deradicalization,'" according to the State Department.
Detainees may be subject to forced labor within internment camps or at near or external factories. The goods produced range from garments to consumer electronics, face masks, automotive components, and holiday decorations, among many others.
Domestic companies are incentivized to open factories near internment camps through tax cuts and subsidies, as well as to take in transferred detainees from other provinces, as stated in the report.
Local authorities are also incentivized to conduct forced labor, as they are awarded funds "for each inmate forced to work in these sites at a fraction of minimum wage or without any compensation," the report read. 
Local officials are also encouraged to meet detention quotas to keep the system functioning. They achieve this by issuing arbitrary arrests and accusing individuals of false criminal offenses or administrative violations—such as violating birth regulations. This data was extracted from the regime's official documents, according to the State Department.
Non-interned Forced Labor
Besides being subject to forced labor under detention, victims are coerced into forced labor through threats of interment. They are also transferred to manufacturing sites in other provinces under "poverty alleviation" programs.
China "has reportedly placed 2.6 million members of minority communities in agricultural and manufacturing jobs within Xinjiang and across the country through state-sponsored 'surplus labor' and 'labor transfer' initiatives featuring overt forced labor indicators," the report stated. 
"The government has transported at least 80,000 of these individuals to other provinces for forced labor under the guise of poverty alleviation and industrial aid programs," it added. 

Trafficking in Persons Linked to China's BRI
The Chinese regime has reportedly omitted to oversee BRI projects' recruitment channels, labor conditions, and contracts, which resulted in Chinese citizens being deceived into moving abroad, where they were subjected to forced labor and other abuses, according to the report.
The BRI—a tool for the CCP's global expansion—finances enormous loans to developing nations for building infrastructure. Chinese state-owned banks provide the countries with loans that experts say open the nations to the risk of being saddled with unsustainable debt levels. 
The loans are then used to pay Chinese companies to build infrastructure, including the development of roads, ports, power plants, mines, telecommunications, or banking institutions. The ostentatious projects have been described as part of so-called debt-trap diplomacy since the often-unpayable loans will force the nations to repay China with goods or land.
Chinese citizens employed in BRI projects abroad have suffered forced labor at worksites funded totally or partially by Beijing, Chinese companies, or Chinese nationals, said the State Department.
Chinese and "host country nationals employed in some BRI construction projects, mining operations, and factories in African, European, Middle Eastern, Asian, Pacific, Latin American, and Caribbean countries experience deceptive recruitment into debt bondage, arbitrary wage garnishing or withholding, contract irregularities, confiscation of travel and identity documentation, forced overtime, and resignation penalties," the report read.
Such was the case of Li Wei and Mao Chen, two Chinese citizens recruited for a rural BRI project in Indonesia, which included flights, housing, food, and wages. However, once at the smelting plant, their passports were seized, and they were subject to forced labor, working 16 hours a day without a salary, according to the report. They were accommodated in small quarters, surveilled by armed guards.
A subcontractor later took over their contracts, but their labor conditions did not change. While Li escaped the facility, Mao was still subjected to forced labor.