Thanksgiving Snow Forecast: Snow and Rain on Tuesday, Wednesday; Should Stop by Thursday
November 26, 2013 6:39 pm Last Updated: June 24, 2015 8:13 pm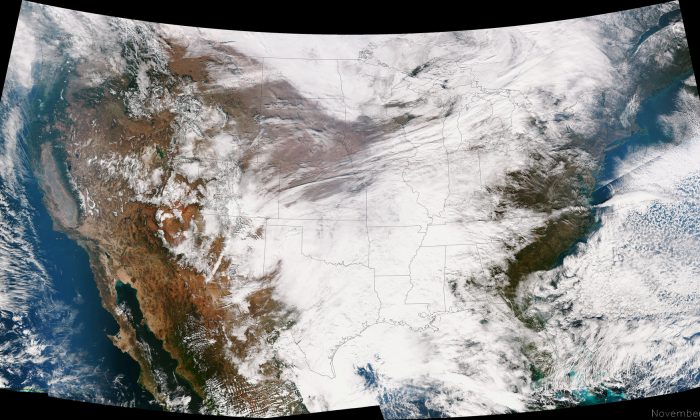 The Thanksgiving snow forecast projects snow to continue to fall across the east and mid-Atlantic U.S. on Tuesday night into Wednesday but to stop in many areas by Thanksgiving itself.
Up to eight inches of snow was projected to fall in western and central New York and parts of the Adirondacks between Tuesday evening and Thanksgiving morning in most places, but as much as 18 inches along the Lake Ontario shore east of Rochester. There will also be accumulations of ice.
Mixes of snow, sleet and freezing rain are expected from the Carolinas up through Maine, with some interior states such as Pennsylvania also being impacted.
"Don't expect a white Thanksgiving in New York, Boston, or other big cities. Along the coast, the tempest will manifest itself more like a tropical storm than a snowy nor'easter. That means a deluge of heavy rain and sustained high winds—terrible travel conditions, by any definition," writes meteorologist Eric Holthaus on Quartz. "In fact, a three- to four-inch blast of chilly rain is now expected across a broad swath of the southern and eastern US, including the major travel hubs of Dallas, Houston, Atlanta, Charlotte, DC, Philadelphia, New York, and Boston. If you plan to venture outside, this storm will likely find you."
Weather in those major travel hubs, though, will likely include sustained winds at up to or even over 40 miles per hour, along with the freezing rain.
It is possible that light snow falls from Charlotte north to Boston.

Holiday travelers walk to arrive at Pittsburgh International Airport in Imperial, Pa., Tuesday, Nov. 26, 2013. (AP Photo/Gene J. Puskar)
Meteorologists warn that the storm, which has moved across the country, will almost certainly upset holiday travel plans on Wednesday for those hoping to visit loved ones in the mid-Atlantic and Northeast. Many travelers were moving to earlier flights, taking advantage of airlines' policies to waive their normal change fees.
The good news is that the storm is supposed to pass through the northeast before Thanksgiving Day, with the weather mostly clearing up by Wednesday evening.
This holiday will likely see the most air travelers since 2007, according to Airlines for America, the industry's trade and lobbying group, with the busiest day being Sunday, an estimated 2.56 million passengers. Wednesday is expected to be the second-busiest, with 2.42 million passengers.
AAA projects 43.4 million Americans will journey 50 miles or more from home during the Thanksgiving holiday weekend, with 90 percent traveling by automobile. The average distance is expected to be 601 miles.
And the day before Thanksgiving will be the busiest single day of travel, with 37 percent of travelers departing on November 27, AAA projects. About 33 percent of travelers plan to return home on Sunday.
The Associated Press contributed to this report.