The governor of Texas is asking hospitals to delay medical procedures that aren't essential in response to a rise in COVID-19 cases in the state.
Gov. Greg Abbott, a Republican, sent a letter (pdf) to the Texas Hospital Association on Monday requesting "your cooperation to avoid a shortage of hospital capacity."
Abbott noted that the number of patients in hospitals with COVID-19 as a percentage of total hospital capacity is close to exceeding 15 percent and that he issued executive orders last year that forced hospitals to push back some surgeries and procedures.
Abbott said he could impose similar measures now but at this time is merely requesting hospitals do so voluntarily because he favors using the least restrictive means of responding to the pandemic.
"To that end, I am asking Texas hospitals to take steps to ensure the availability of adequate hospital capacity to care for COVID-19 patients. Among other strategies, hospitals could voluntarily postpone medical procedures for which delay will not result in loss of life or a deterioration in the patient's condition. Hospitals could also refer some COVID-19 patients to infusion sites, thereby freeing up hospital beds for more serious cases. By taking these voluntary measures, it is my hope that hospitals can avoid the need for an order," he wrote.
The hospital association did not immediately return an email or comment on the letter, but it did promote on social media Abbott's Monday announcement of actions taken to try to mitigate the rise in cases.
Abbott also said he was directing Texas emergency management officials to open more COVID-19 antibody infusion centers across the state. The centers treat COVID-19 patients who don't have severe enough cases to warrant hospital care.
To enter the facilities, patients must meet certain criteria and have a doctor's referral.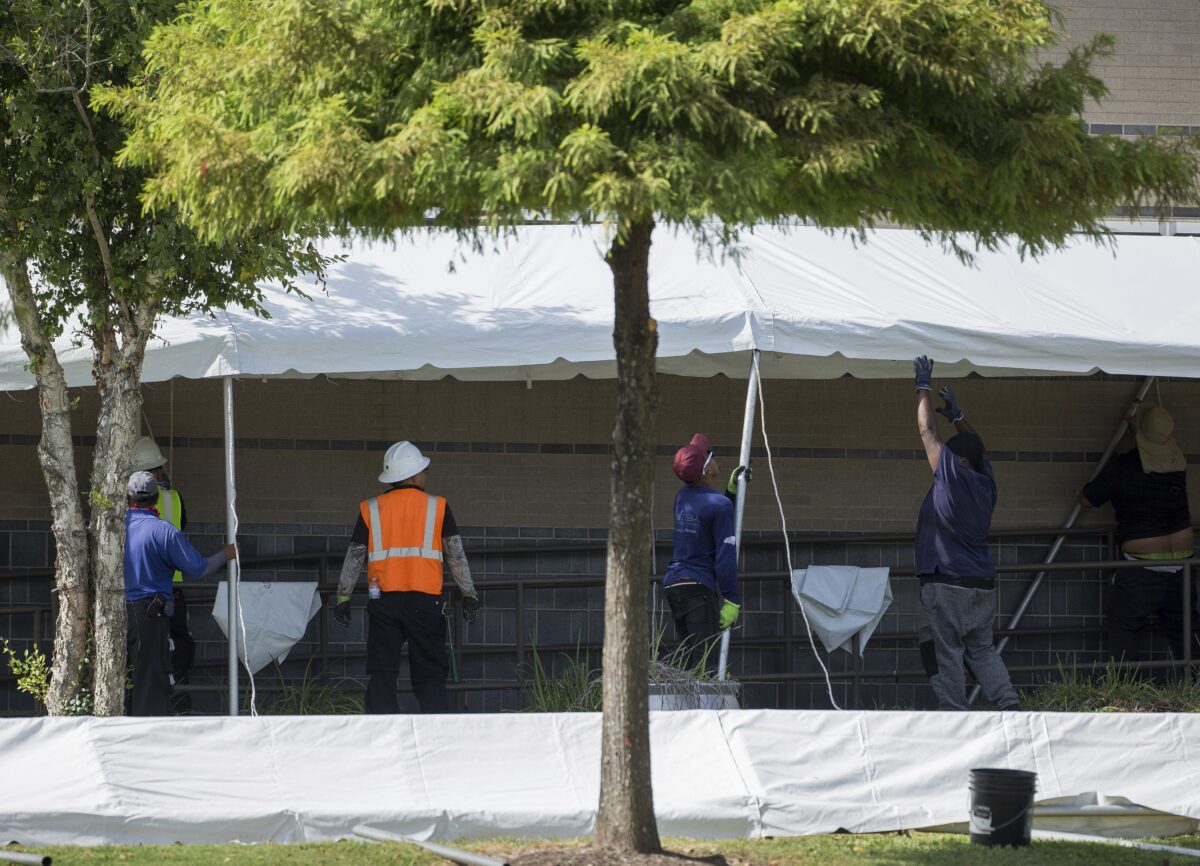 Another move is asking the Texas Department of State Health Services to use staffing companies to bring in medical workers from other states to help with the COVID-19 response. The association asked Abbott last week to help address what it described as "the critical staffing needs of hospitals."
"The State of Texas is taking action to combat the recent rise in COVID-19 cases and ensure that our hospitals and communities have the resources and support they need to mitigate the virus," Abbott said in a statement. "Texans can help bolster our efforts by getting vaccinated against COVID-19. The COVID-19 vaccine is safe and effective, and it is our best defense against this virus. Texans can visit covidvaccine.texas.gov to find a COVID-19 vaccine provider near them."
According to state data last updated on Monday, there were 9,462 laboratory-confirmed COVID-19 patients in hospitals in Texas.
There are approximately 8,280 available hospital beds out of nearly 63,000 total staffed ones. That includes nearly 400 available intensive care unit beds.
The peak of hospitalizations in Texas was on Jan. 11, when over 14,200 patients were recorded.
Texas saw 2,151 new confirmed cases, officials said Monday, along with eight newly reported deaths among those with COVID-19. The number of new cases has risen sharply in recent days, though the number of deaths remains flat.
COVID-19 is the disease caused by the CCP (Chinese Communist Party) virus.