A U.S. Air Force veteran who fatally shot at least 26 people in a rural Texas church during Sunday services took his own life after a shootout with residents, the local sheriff said Monday.
The gunman, who had been thrown out of the military for assaulting his wife and child, wounded at least 20 others during the rampage in the white-steepled First Baptist Church in the small town of Sutherland Springs.
After the gunman, dressed in black tactical gear and firing an assault rifle, left the church, two armed local residents pursued him in vehicles.
 The chase ended when the gunman crashed his car and then shot himself, Wilson County Sheriff Joe Tackitt told CBS News in an interview on Monday morning.
"At this time we believe that he had a self-inflicted gunshot wound," Tackitt said.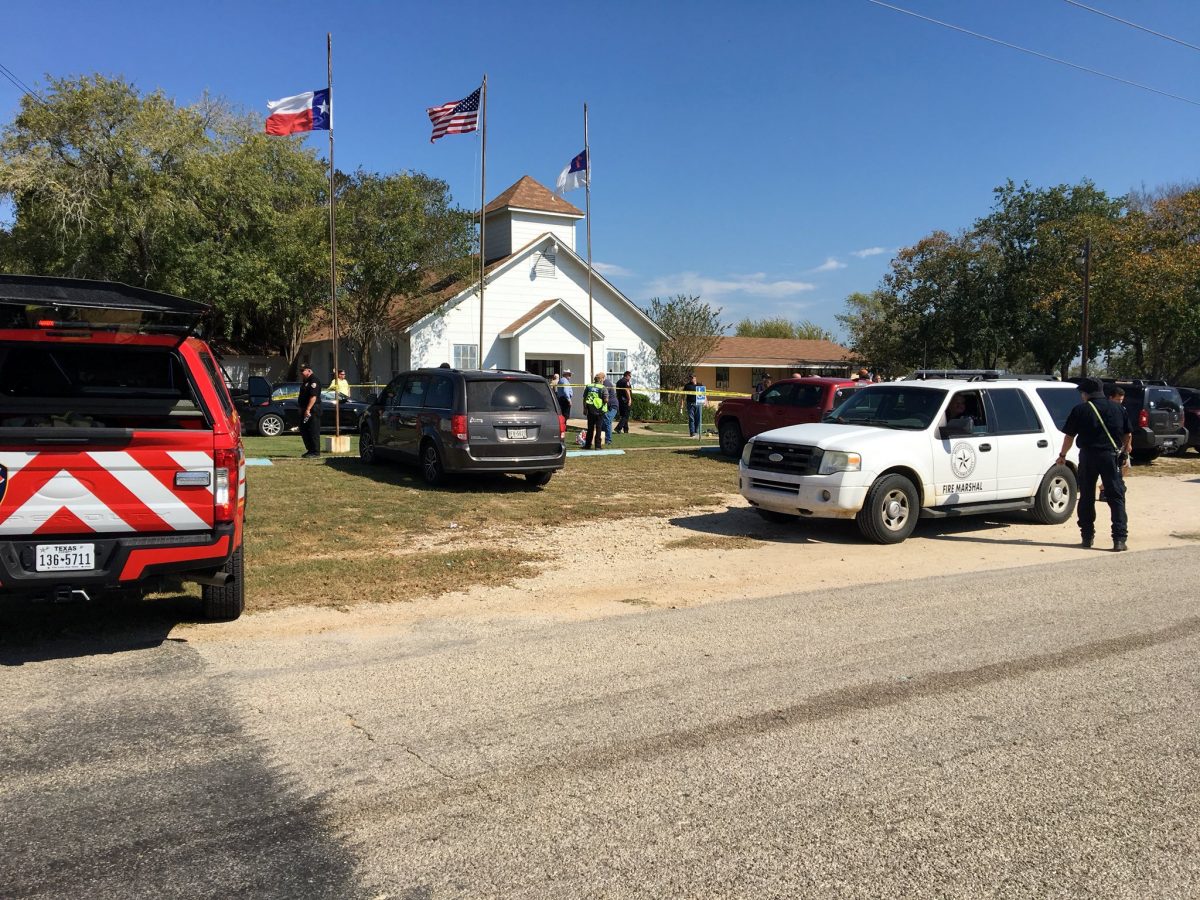 The suspect was identified as Devin Patrick Kelley, 26, multiple media reported, citing law enforcement officials.
 Texas Governor Greg Abbott told CBS News the attack on the church in Sutherland Springs, a community of fewer than 400 people, located about 40 miles (65 km) east of San Antonio, did not appear to be a "random act."
It was the latest in a long string of U.S. mass shootings in recent years, coming weeks after a gunman killed 58 people in Las Vegas in the deadliest shooting by a sole gunman in U.S. history.

U.S. President Donald Trump, on a trip in Asia, told reporters in Tokyo the preliminary reports indicated the shooter was "deranged."
"This isn't a guns situation, I mean we could go into it, but it's a little bit soon to go into it," Trump said. "But fortunately somebody else had a gun that was shooting in the opposite direction, otherwise … it would have been much worse. But this is a mental health problem at the highest level."
Among the dead was the 14-year-old daughter of church Pastor Frank Pomeroy, the family told several television stations. One couple, Joe and Claryce Holcombe, told the Washington Post they lost eight extended family members, including their pregnant granddaughter-in-law and three of her children.
In rural areas like Sutherland Springs, gun ownership is a part of life and the state's Republican leaders for years have balked at gun control, arguing that more firearms among responsible owners make the state safer.
Jeff Forrest, a 36-year-old military veteran who lives a block away from the church, said what sounded like high-caliber, semi-automatic gunfire triggered memories of his four combat deployments with the Marine Corps.
"I was on the porch, I heard 10 rounds go off and then my ears just started ringing," Forrest said. "I hit the deck and I just lay there."
Online records show a man named Devin Patrick Kelley lived in New Braunfels, about 35 miles (56 km) north of Sutherland Springs.