Terrell Owens Bears Hope: Wants Back in NFL, Eyes Chicago
April 21, 2013 5:59 am Last Updated: April 21, 2013 5:59 am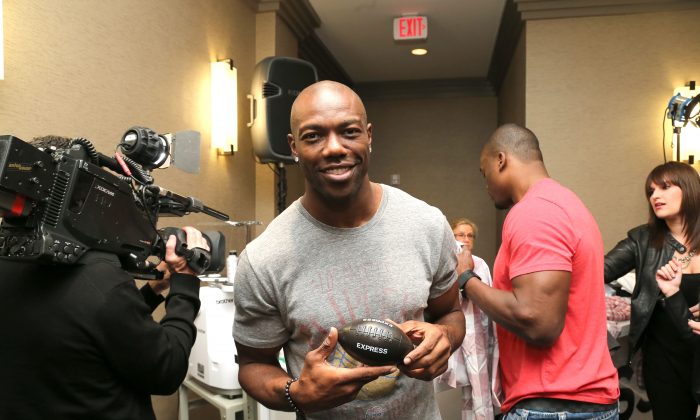 Terrell Owens Bears: He's been anxious to get back in the NFL since he left in 2011, and now says he'd love to play for the Chicago Bears, banking on a relationship with the head coach.
Terrell Owens worked with Chicago Bears coach Marc Trestman back in 1996 when Trestman was the offensive coordinator for the San Francisco 49ers. Owens, 39, left the NFL due to a knee injury in 2011 and has been anxious to return ever since.
He was in Chicago on the weekend for the McLegends charity basketball event and discussed his hopes with former NFL linebacker Napoleon Harris.  Owens told Comcast SportsNet that he never thought about playing for the Bears until he and Harris talked about it Saturday while practicing together.
"To think about [Bears wide receiver Brandon Marshall] on the other side and me on one side, that's really dangerous. I'm keeping myself in shape just for any opportunity that may come about," Owens told SportsNet.
He said he has not been in touch with Trestman "in a long while."
NFL Around the League writer Kareem Copeland is skeptical Trestman would seriously consider Owens.
"I doubt Trestman wants to deal with the T.O. circus in his first crack as an NFL head coach," Copeland wrote. "And I doubt they formed much of a serious bond 17 seasons ago when Owens admitted they haven't talked in a 'long while.'"
Copeland calls it the "T.O. Circus." Nancy Hass of GQ magazine calls it "ultimately self-destructive antics."
Hass speculated on why NFL teams have not sought Owens since his injury in her February 2012 feature on Owens—and she doesn't think it's his injury, nor does she think it's his age. Terrell heals well and is in good shape. She thinks it's his attitude and the "chemistry-killing vitriol that spewed from [his] mouth during his time with San Francisco, Philadelphia, Dallas."
He told the L.A. Times last year that he had made bad investments and was going broke without work. He had shoe boxes filled with new cleats waiting for action.
"I'm ready," Owens told the Times. "They may not be ready for me, but me: I'm ready."
Harris seemed to think Owens would do well for the Bears.
"The guy was a great player and he is in tremendous physical shape," Harris told SportsNet on Saturday. "We worked out this morning and after we ran five miles, he did sprints and lifted and he looks great. The Bears would be smart to give him an opportunity. He is motivated and ready to play."